The Total Gym line of incline trainers are all high-quality and very functional. Those two attributes are important aspects of any piece of home gym equipment, but it's especially true of this type of machine.
Total Gym offers a wide range of options from the basic and affordable to the complex and expensive.
We're going to present the best Total Gym reviews below, but first we're going to look at them as a whole.
Total Gym Incline Trainers
Here's all you need to know about them.
What They Are
Total Gym has made the same promise for years. They say their machines will give you a full-body workout on a single machine that uses only your bodyweight as resistance.
They way they work is simple. Every one is built around a board that glides up and down the frame. Of course, you are the one providing the power that moves the board. You set the inclination of the board to adjust the resistance. A steeper incline means more effort is required to pull or push your weight against the incline.
Changing the configuration of the machine or adding accessories changes the way you have to move your body weight. For example, you place your feet on a squat stand at the bottom of the machine and push your weight up with your legs to do squats. For rows, you sit upright on the board and pull your weight back with the cable pulley handles.
Total Gym vs. Other Incline trainers
Many other incline manufacturers go for the low-price hook. You can't blame them. People want and need affordable equipment. They save on costs by using cheaper materials and quicker manufacturing processes. But they often lack durability and functionality.
Total Gym uses strong tubular steel for their frames. Their bearings, rollers and bushings are of high quality, and are therefore not cheap. But they do provide outstanding durability and let Total Gym offer some of the best warranties in the industry.
Different models vary as to what accessories come with them, but they all offer some useful attachments. The ones we're going to check out below all offer the option of ab crunches, squats and more common incline exercises. Cheaper trainers often leave crunches and squats out of the equation.
The better materials and more precise engineering and manufacturing make the Total Gym inclines more stable too.
Total Gym sells some of the best incline trainers available, but expect to pay a higher price for this quality.
Things To Look For
Each Total Gym model has different features and dimensions that make them more useful for different people and situations.
Decide what you want out of your new incline trainer and check the features of the various models.
The big thing to pay attention to is the accessories. You can row with any old incline machine. The attachments are where you get the versatility that we want for our home gyms.
One model, the GTS, lets you do over 200 individual exercises. Not many people really need that much, though.
Some of the accessories that come with purchase of the different models include oval squat stands, ab crunch accessories, pullup bars, lat pulls and Pilates toe bars.
Assembly And Setup
Most Total Gym inclines come fully assembled. You just unfold them and go.
A few do require assembly, but Total Gym offers a white glove service. Basically, you schedule professional assembly when you receive the trainer. If you're acquainted with hand tools and can follow instructions, you can do the assembly yourself. But be warned: It isn't easy.
Changing the machines over to do different exercises is very simple. No tools are required. Instructions aren't even required. The incline can be set in seconds. Positioning or adding an accessory is as simple as pushing a couple pins into place.
Value
You can get an incline trainer for $100. But you can't really expect much from it. Really, all your going to get for that price is a bunch of aggravation.
There are incline trainers that are cheaper than Total Gym's. Some of them are pretty good. But none of them have the same level of quality, and none of them offer such a wide range of exercises.
I often look at it in terms of commercial gym membership prices. I used to pay about $100 per month. That's $1,200 per year. You can get a really nice Total Gym incline for that price. You can get our Total Gym budget pick for around half of that.
If you use an incline at your neighborhood gym, you're paying for equipment you'll never own. You can put that money into your own equipment for your own gym. When you think about it that way and consider the usefulness of Total Gym's inclines, these machines offer a great value.
Total Gym FAQs
Incline trainers generate more questions than perhaps any other piece of home gym equipment. Here are the ones we're asked most often.
Can I Lose Weight With A Total Gym Incline?
In short: Hell yeah, you can.
To lose weight, you generally want to shed fat and keep it off, right? Most people think of cardio to burn fat and boost their metabolism. That's where rowing comes in. A fast row at a steeper incline qualifies as HIIT. Try milder rows at shallower inclines for a slower and steadier approach.
It's not just rowing though. Any workout you do on an incline is going to burn fat and boost metabolism to some degree.
Total Gym inclines come with customizable eating plans. That's great, because diet is important if you want to drop weight.
Can I Get Toned On A Total Gym Incline?
Again, the answer is yes.
By choosing the correct accessory and using proper form, you can target individual muscle groups. That's how you define muscle and get toned on an incline.
For a full-body workout, you move from one muscle group to the next. You can work your whole body in one day or have certain days for specific muscle groups. It's up to you.
Can I Add Muscle Mass On A Total Gym Incline?
You can't really add any bulk on any incline trainer. They generally limit resistance to about 60 percent of your bodyweight, and that isn't enough for incline-type exercises to make muscle much bigger.
I'd recommend looking into free weights for adding muscle mass.
How Do The Total Gym Trial And Payments Work?
Total Gym offers a 30-day in-home trial for some models.
You have to pay the sales tax, if you live in a state that Total Gym collects taxes for, and the trail payment, which varies from model to model and sometimes changes without reason or notice. When you make that first payment, they ship the trainer.
At the time of this writing, most models had a trial payment of $1. Obviously, that doesn't include any tax you may be responsible for.
The trail period starts when you receive the trainer. You have 30 days to decide whether or not you want to keep it.
If you want to keep it, you do nothing. They will automatically charge your payment method on file, which is the one you used to make the trial payment, for the first month's payment and every monthly payment thereafter according to the plan for that specific model.
Each model has its own trial payment amount, monthly payment amount and payment plan duration.
You can pay the full amount all at once, and you can pay off a payment plan early without any penalties. No interest is ever charged.
If you decide against it, you get a refund for any sales tax you paid as soon as Total Gym gets their equipment back.
The Best Total Gym Reviews
Here are the four best Total Gym reviews. This is actually a good cross section of everything they have to offer.
Total Gym Supreme
Total Gym introduced the Supreme as a budget-friendly incline trainer for home gym owners who can't spend much but still have to have the versatility that Total Gym has become known for.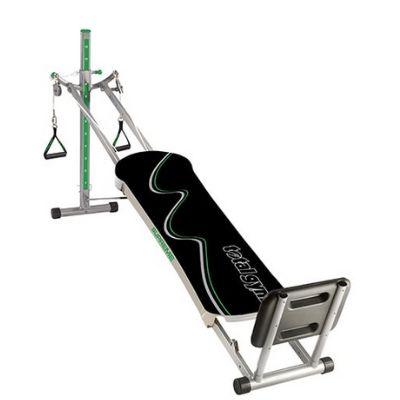 You can get one for about $600. When I checked, they were offering a six-month payment plan of $100 per month.
You can do about 60 different exercises on it, including ab crunches. You also get an oval squat stand and a leg pull accessory.
While you can get a full-body workout, the Supreme is lacking in some areas.
It's not as stable as the others in Total Gym's incline lineup. It doesn't include the versatile wing attachment either.
It does come with the ab crunch accessory, which I think is another thing that Total Gym is known for. Ten different crunches are possible with this attachment for sculpting the core.
The buzz surrounding the Supreme is generally positive. There are some complaints about the glide being somewhat noisy. Another thing that comes up is wobble. It does move side to side a bit.
If you're looking for a totally affordable incline trainer with more versatility and durability than you'd find in a department store model, consider the Supreme. It's our budget pick.
Pros:
Affordable
Good for beginners
Cons:
May feel a bit unstable
Can be noisy
We've done a full review of Total Gym Supreme that you can check out here.
Total Gym XLS
The XLS is a step up from the Supreme. It has a better build and better accessories that offer 80 exercises. It does cost more, but it's still in the mid-range price category.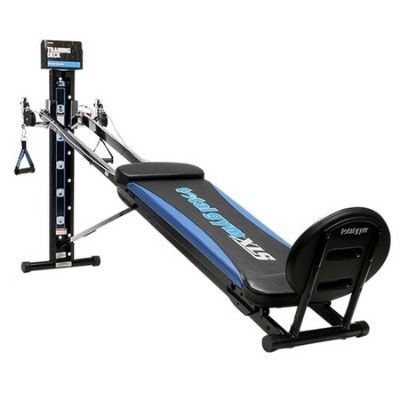 The XLS may offer the best value of all of Total Gym's incline trainers. It has a higher weight limit than the Supreme and offers more versatility.
You get the same oval squat stand, but it also comes with the wing attachment. That alone is worth a couple hundred.
The nutritional plan included with the XLS has been developed by Dan Isaacson, a fitness expert with over 30 years of experience in sculpting Hollywood bodies.
Another thing that's really useful is the training deck. It shows the correct form for 35 of the 80 possible exercises in an easy to understand illustration.
The big drawback is that it doesn't come with the famous ab crunch accessory. You can still do crunches by holding onto the wing attachment and sliding the board back and forth with your knees, but using incorrect form can be ineffective and cause soreness.
There have been a few noise complaints with the XLS, just as with the Supreme. That seems unavoidable with the smaller inclines in this lineup.
People do like the wider board, though. That makes the machine feel more solid. It's also better for bigger people who really need to lose weight. It'll handle people up to 400 pounds, in fact.
The XLS is the most balanced in the way of features vs cost, so it gets the distinction of being our value pick.
Pros:
Versatile
Includes wing attachment
Decent weight limit
Cons:
Still a few instability complaints at this level
Ab crunch accessory not included
If you are looking for more details about the XLS, you can find them here in our full Total Gym review.
Total Gym FIT
The FIT is a very solid and well-built incline trainer with some nice accessories and an impressive range of exercise possibilities.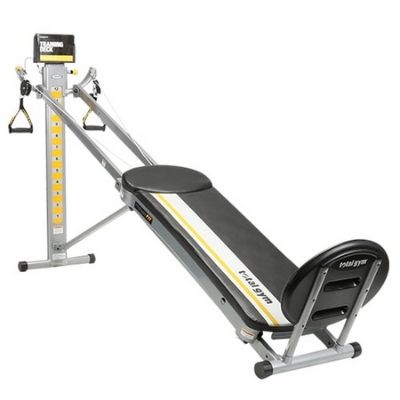 It comes with the ab cruncher and the wide oval squat stand. Those two accessories really open up some possibilities.
You can perform 85 exercises, thanks mostly to the two-piece wing attachment. Being two pieces, it is capable of a better angle. That adds some variations that you can do. It also helps with form.
The board is only 18-½" wide. That's nice if your gym is cramped as it is, but some people just like wider glide boards.
Even with a narrow board, the trainer is rated at 450 pounds. The machine is just that solid. And I couldn't find any complaints about noise or stability.
You get Dan Isaacson's nutritional plan with this one as well. And you can access Total Gym's streaming workout programming, Total Gym TV Basic, free for a year. There's a lot of great exercises in those streams, and you can really learn a lot about inclining by watching them.
Pros:
Stable
No noise
Includes ab crunch and two-piece wing accessories
Cons:
Starting to get up there in price
Narrow glide board
Click here for more info on the Total Gym FIT (full review).
Total Gym GTS
The GTS is a premium machine that is often found in commercial gyms. It isn't a watered-down version of a commercial machine. It is one.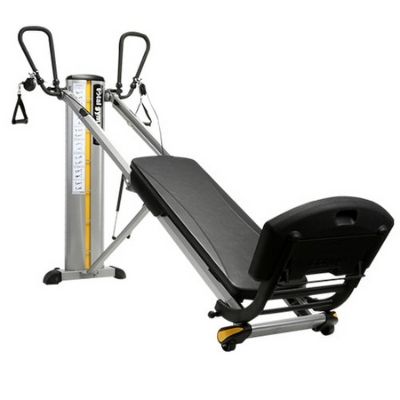 All of the accessories it comes with are the best that Total Gym has to offer. The squat stand telescopes to accommodate people of all heights and squats of all forms. The cable pulleys adjust provide the optimum angle for any person doing any exercise.
There are also several accessories, collectively known as the Strength Package, that are more or less exclusive to the GTS. You get a tri-grip pullup bar, a cushioned lat bar, an upgraded ab attachment and a Pilates toe bar.
The squat handle that's included is great for anyone who's not used to doing squats on an incline.
Another cool thing is the weight bar. It attaches to the board and carries weights to add resistance. Some inclines use bands to add resistance to the board.
But resistance from bungees isn't even. It starts out light and gets harder as the bungee stretches. Adding weight directly to the board does away with this paradox.
It's a heavy machine that requires fairly complicated assembly. But it is so solid that it feels like it's made of a single piece. That's what you'd expect from a commercial-grade piece of workout equipment, and that's what you get.
The big problem is the price. It's not overpriced. It costs about what it should. But look at the machine and you'll understand why it costs almost four grand.
Pros:
Commercial-grade
The most versatile and complete incline trainer offered by Total Gym, which is the market leader
Over 200 exercises possible
Cons:
Prohibitive price tag
May be too big for some home gyms
Does not have the long warranties included with other Total Gym inclines
Read our Total Gym GTS review for more details.
Conclusion
Incline trainers are great for getting in shape and staying there. Getting one for your home gym can save you a lot of money over expensive gym memberships in the long run.
If you're going to get an incline, why not get one from the industry leader? The extra money you spend will pay off with the wider range of workouts you can do and the better quality of the equipment.
Our budget pick, the Total Gym Supreme, is a good choice for anyone new to inclines as well as anyone on a tight budget.
On the other end of the spectrum, we have the GTS. It's a monster that lets you do a couple hundred exercises. It's the best overall if you need everything it has to offer and are able to make a sizeable investment in your gym.
The XLS is the best of the more realistically priced ones because of its versatility. But it doesn't come with the ab accessory.
If you like the XLS, but the ab cruncher is important for your routine, the FIT may be your best bet.
Remember: The XLS has a wide board, but no ab cruncher. The FIT has the ab cruncher, but its board is narrow.
Now you are armed with the basics. Check out the individual Total Gym incline reviews.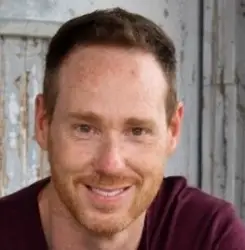 Latest posts by Jeff Carpenter
(see all)