Today we're looking at the best power towers for your home gym. I'll show you the five that I think are tops, and I'm gonna teach you what to look for. That way you'll get the best one for your particular gym.
What A Power Tower Can And Can't Do For You
First, consider whether a power tower is what you need.
Many think that power towers are just for abdominal and lower body workouts. That's true of basic, cheaper ones. But most modern models allow at least some upper body training.
All power towers offer captain's chair exercises. These are exercises that you perform by supporting your weight with your forearms on the arm rests and, sometimes, with your back against the back rests. Some examples include knee raises, ab crunches and ab twists.
Many towers now include dip bars. Dips are good for strengthening your triceps, chest and shoulders.
Pullup bars are included with many towers. Pullup and chin ups are great for building biceps, triceps, chest and back muscles.
There are a few towers available today that have pushup bars. They're really useful for doing deep, or atlas, pushups.
So, as you can see, power towers aren't just for lower body workouts anymore.
If you're wondering when I'm going to start talking about cables and weights, forget it. You'll generally be using bodyweight for resistance.
That means it will take more time and dedication if you want to bulk up. But a power tower is great for strength training and getting toned.
If you want something that can give you cable and weight workouts, look into getting a power rack.
That being said, there are a couple ways you can add a small amount of resistance to power tower exercises. Ankle weights can make knee raises more effective, for example. Weighted vests are fantastic for enhanced dips, pullups and pushups.
How To Choose A Power Tower
Whether your gym takes up your whole basement or just a small spare bedroom, there's a power tower that'll be a great fit for it.
Size
Well cover size first because it doesn't matter how good a power tower is if you don't have room for it.
The footprints vary depending on several factors. The more stable ones are usually wider and longer. But versatility plays a factor as well. Power towers that have several attachments are typically longer.
The average tower is from 40 to 46 inches long and about 26 to 38 inches wide.
All exercises, with the exceptions of atlas pushups and heavy bag work, are going to be done while you're fully inside the unit. So you really don't need much clearance room on the sides and back, unless you get a deluxe model with the heavy bag or pushup bar.
Personally, I like to have some room on both sides, though. I don't like to feel like I'm boxed in with walls.
Height varies from 60 to 90 inches. The main difference is the inclusion or exclusion of a pullup bar. Of course, a tower with a bar is going to be taller. Some towers are actually adjustable for height.
Exercises
This is crucial. Get a power tower that suits you. Don't change your routine to suit your new tower. Yeah, I know people who do stuff like that.
If you just want to do some basic knee raises and dips, you can get by with a smaller, cheaper tower.
Higher end power towers enable all of the basic captain's chair exercises and much more. Pullup and pushup bars, bag hangers, foot rollers and sling traps are all things you can find on bigger and more expensive towers.
It's best to decide what you want out of your new power tower before you go trying to spend your money. You'll be less tempted to make an impulse buy that way.
The best power tower for you and your gym is the one that is built solidly and gives you everything you need at a fair price. That's why you'll see such diversity in function and price in my reviews below.
Build Quality
Most power tower manufacturers nowadays build with tubular or square steel posts. So frame durability is rarely an issue.
I have seen some towers made of aluminum. They're expensive because aluminum is. Their only real advantage is that they're light. That's good if you're going to have to scoot it around a lot. But the big drawback, aside from the price, is strength. Aluminum isn't nearly as strong as steel.
I have a personal rule. Anything that is going to be supporting my bodyweight has to be strong enough to keep me from ending up on the floor under a pile of twisted metal. Get a steel tower.
Pay attention to how the unit is assembled. Assembly is usually a breeze. That's not the problem. But you have to look at how it's actually held together. You want nuts and bolts, not pins.
Stability
The stability of a power tower depends overwhelmingly on two factors: build quality and size.
Very cheap towers are made of cut corners. Cheap, thin steel and snap-together parts save on production costs, but they make for a wobbly tower. I've seen some towers priced at under $80 that I wouldn't even stand next to, let alone do a knee raise on.
If you see a power tower that has a too-good-to-be-true price, check the gauge of the steel it's made of. You want at least 18 gauge. Keep in mind that the lower the gauge, the thicker the steel. For specs listed in American or metric equivalents, get at least 1/20″ or 1.2 mm.
As far as size goes, towers with bigger footprints are more stable. That's a no-brainer. But that's not to say that you have to get a wide tower for stability. Get the width you need, and check the build quality.
Weight Limit
Make sure you get a tower that can support your bodyweight and any additional weight, like from a weighted vest or arm and ankle weights, that you may use.
Smaller people don't really have to worry much about this. But when you get into the 220-pound-and-up range, you have to pay attention. I've seen weight limits on cheaper towers as low as 180 pounds.
There are other weight limits to think about as well. At least there is for some towers. Some have barbell racks and dumbbell storage pegs. You don't want to overload any part of the tower.
Power Tower FAQs
Here's the questions that most power tower noobs ask.
How Much Do Power Towers Cost?
You can get a power tower for $80. But please don't. You're going to get junk for that price.
Quality towers range from $150 to over $300. Higher priced models usually offer more exercise possibilities.
Are Power Towers Hard To Assemble?
All you need to assemble a power tower is a few basic hand tools and the ability to follow instructions. You can put most together with an adjustable wrench, a screwdriver and maybe a rubber mallet.
If you can put together an Ikea bookshelf, you can put together a power tower.
What Exercises Can I Do With A Power Tower?
It all depends on how much you want to spend. More expensive models come with more attachments and, therefore, offer more versatility.
To give you an idea:
Low-end models:
Knee raises
Crunches
Oblique twists
Mid-priced power towers offer more possibilities, like:
Higher end power towers offer all that, and sometimes:
Atlas pushups
Barbell exercises, just like a mini power rack
Resistance band workouts
The 5 Best Power Towers For Youy Home Gym
We looked at over a hundred. Some dropped off the list pretty quickly. Others took some more scrutiny. In the end, we narrowed it down to five.
Hi-Mat Adjustable Power Tower
This power tower almost performs like a little rack. You can get a bench for it. What good would a bench be, you ask? Well, this tower has an adjustable barbell catch. The armrests have dumbbell racks on the sides, too.
You can also do dips, knee raises, squats, pullups and chin ups, among other workouts.
The arm rests are padded very nicely. You won't bruise your forearms on this one. That's actually a problem with some cheaper towers that have shoddy padding.
The wide backrest is also padded well, and it has six angle adjustments for comfort during any workout.
This Hi-Mat's footprint measures 41″x41-½", and it's 82″ high. That's pretty wide for a tower, but it makes this one of the most stable towers out there. It weighs 77 pounds, so you can move it around if you had to.
A thick, high-quality steel alloy frame ensures durability and stability. Even the paint is durable. And it's rust-resistant. You could set this thing up outdoors if you wanted to.
Pros:
Great build quality
Very versatile
Thick armrest padding
Cons:
Too narrow to function well as a squat rack
A bit difficult to assemble compared to other power towers
Relife Rebuild Your Life Power Tower
If you're not familiar with this brand, Relife Rebuild Your Life is the manufacturer's actual name. Here we'll look at their new updated power tower.
Its minimalist design, with a footprint of about 26″Wx36L", offers a surprising variation in workouts.
The vertical handles, which you use for captain's chair exercises, are adjustable. They slide out. That's great for people with longer arms. It's also good for comfortable dips.
Those things that look like dip handles near the bottom are actually pushup handles. They're more out-of-the-way than a typical pushup bar, and they allow really deep pushups.
The pullup bar is adjustable for height from 58-½" to 89″. And it's wide.
What they call a "leg press" is a nice touch. You can't do any exercises with it. It's for pre- and post-workout leg stretches. It adjusts from about 30″ to 40″ off the floor.
With a 330-pound weight limit, very few people are excluded. You can probably even wear a heavy vest for dips, pullups and chin ups without coming close to the weight limit.
Heavier people have noted that this unit has quite a bit of bounce to it. It's a sturdy tower, but the bounce can be disturbing.
Pros:
Great price and excellent value
Decent weight limit
Versatile for the price
Cons:
The suction cups on the feet are a selling point for some, but they don't stick to most floors
Although sturdy, this tower has a bouncy feel
Sportroyals Power Tower
CityBird's tower offers all the same exercises as the Relife one, but it adds some key quality points. And it's just a tad more expensive.
The fully adjustable back and arm rests are well-padded and upholstered in synthetic PU leather. One cool thing is the 10-degree inward angle of the armrests. It's more comfortable.
The build quality of this tower also exceeds Relife's economy model. The steel is thicker, for one thing. And there are eight contact points between the frame and the floor, instead of just four.
Where you would normally find flat disc feet or suction cups, you have a short piece of horizontal steel. There's a foot on each end of those for a total of eight little feet. It's really stable.
At 27″x43″, it's size is similar to Relife's tower. This space saving design makes both of these power towers good for smaller or more cramped home gyms. This one's weight limit is 70 pounds higher. That 400-pound limit is a testament to the stability of this tower.
The pullup bar's height can be set to a minimum of 64-½", which is good for kids. Adults will like the four heights between 82-½" to 88″.
Pros:
Sweet value
Very stable
Good padding and upholstery
Angled armrests
Cons:
Doesn't bounce much, but flexes quite a bit when doing pullups
Titan Fitness Heavy Duty Power Tower
Even though it looks a little weird compared to most other power towers, Titan Fitness's tower is highly functional and well-built.
This model has done away with the pullup bar in favor of two multi-grip pullup handles. You can target a wider range of muscle groups with the versatility offered by this upgrade.
The pushup handles are adjustable to seven different positions, which makes situps possible as well.
One thing I noticed is that the spacing between the arm rests is a bit wide. This shouldn't be a problem for anyone except smaller people, though.
Its dip station design is just about perfect. With a height of 54″ and a spread of 24″, almost everyone will find it comfortable for dips and leg raises.
The price on this one is about a hundred bucks higher than the CityBird or Relife towers. Some of that increase comes from Titan Fitness's brand recognition. But a lot of it is due to the superior build.
The steel posts are a full 2″ wide. This tower is the most stable on this list, with almost zero bounce or flex.
This may be the best for you if you're willing to spend extra for that rock-solid feel and versatile pullup and pushup handle designs.
Pros:
Tough and solid
Versatile pullup and pushup variations for targeting different muscle groups with these exercises
Awesome dip station
Cons:
A bit pricey
Armrests are just a tad to close together for bigger people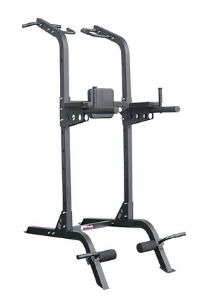 Zenova Heavy Duty Yellow Power Tower
This one compares pretty well to the other mid-priced tower on our list, the Hi-Mat.
Its about 41″Wx41″L. That wide, square footprint makes for an impressive stability.
You can do pullups, chin ups, pushups, leg raises and dips with it. I like that the pullup bar is wide enough for true hammer pullups.
The armrests are removable, so you can use this tower as a real squat rack. And you've got barbell catches, just like the Hi-Mat, so you can do bar lifts and presses. This adds a layer of versatility that is unmatched by some power towers at nearly double the price.
The total weight limit is 500 pounds. Thats pretty high for a tower like this.
If you have a small home gym and are trying to decide between a tower and a power rack, you should take a really good look at this one. Just keep in mind that there is no cable attachment points.
Pros:
Sturdy
Good value
Removable armrests make more room for squats
Barbell-friendly
Cons:
Time-consuming and somewhat difficult to assemble
Conclusion
The best all-around power tower is the Hi-Mat featured here. It was a close call, coming down between it and the very similar Zenova tower, but the awesome padding on the Hi-Mat won out.
The best power tower for those on a budget was also a tough one. Both the Relife and CityBirds towers have a great price and offer a great value.
They both offer a versatility usually seen only on more expensive towers. But CityBird gets the award because it is much less bouncy than Relife.
The best high-end power tower is made by none other than Titan Fitness. Their tower is built so solidly that there is almost no flexing of the unit whatsoever. And it has a design that allows a near-total body workout.
If you are on the fence about picking-up any in this Top 5 Power Tower review, then give Amazon a look as well.
Latest posts by Jeff Carpenter
(see all)