In this Total Gym Supreme review, we'll examine the claims that Total Gym makes and look at how well this trainer is made, what it's capable of, and whether or not it's worth it's salt.
What To Consider Before Buying A Gliding Incline Trainer
Incline trainers like this use your body weight as resistance instead of plates or bands. You can vary how much of your weight is used with a simple adjustment, but you are ultimately limited by your own weight.
They're a cool way to stay fit or get into shape. You can also gain definition, burn fat and shed some pounds with them.
But they're not the best for bulking up. If you're wanting to add mass, consider a free-weight system. You can even add muscle with a Bowflex or similar machine.
Another thing to consider is space. Don't we all wish we had more room in our home gyms? This kind of trainer is generally narrow but long. Some are over 100″ long, in fact.
Check the specs before you spend your dough. Make sure your gym can handle the length and about twice the width of the trainer. You do need some space on each side.
If you're wanting to get or stay in shape and have the room, a gliding incline trainer can offer you a versatile way to maintain your health and physique.
Introducing The Total Gym Supreme
The Total Gym Supreme is an incline trainer designed for beginner or budget-minded trainee who wants a top-tier machine.
Total Gym claims that it provides a whole-body workout without free weights, using only the user's body weight as resistance. They further claim that 60 different exercises are possible with this particular machine.
The package includes:
The Total Body Supreme Incline Trainer
Ab crunch accessory
Standard squat stand
Tri-grip shaper bars
Leg pull accessory with two ankle cuffs
Nutritional program and meal plan
Total Gym TV Basic streaming workouts
Two-year frame and one-year parts warranty
Pros:
Several attachments are included for a wide range of workouts
Long gliding board compared to main competitor – Weider Ultimate
Folds nicely to about 51″Lx16″Wx8″H for vertical or under-the-bed storage
Nutrition and eating plan included
Access to streaming workout videos specific to the Total Gym Supreme
Total Gym offers a free trial and a few different payment options
Cons:
Despite a good overall value, the $600-ish price is prohibitive for some
The 275-pound weight limit excludes many overweight people
Some have complained that the machine is noisy while in operation
Total Gym Supreme
Here's how it's designed, what it's like to use it what it can do for you.
Design
The frame is made of strong tubular steel. Heavy-duty rollers enable the 16″ wide bench, or board, to glide smoothly up and down the length of the frame.
Tough vinyl covers the board's firm padding. Overall, the quality of materials and durability of the build is excellent.
The frame locks into twelve incline positions to adjust the angle of the board. Compare that to the Weider Ultimate's seven inclines. More positions mean you can better customize your resistance.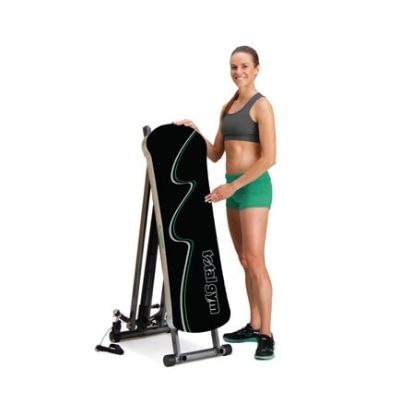 If you have a hardwood or linoleum floor in your gym, and some of us do, you'll be glad for the rubber everywhere the frame meets the floor. This is an awesome feature if you'll be using your trainer in a living area instead of a dedicated gym.
Upper body exercises typically involve pulling yourself up. That's where the comfy and durable handles come in. The tri-grip shaper bars let you pull in various ways for a more effective and safer workout. You can use an intuitive grip instead of forcing yourself into an awkward one.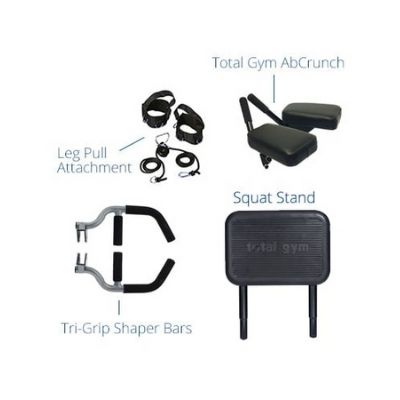 The cable handles are wide enough that you won't have to worry about raising blisters on your thumbs, which is a problem I had with one particular incline trainer I used to have.
Using The Total Gym Supreme
Total Gym claims you can do 60+ exercises on the Supreme. That looks accurate, considering the workout attachments you get with it.
Setting the trainer up for any particular exercise takes less than a minute. You set the incline by locking the support beam into place in one of the twelve notches in the leg and secure the accessory if needed. That's it.
Upper body workouts are smooth. The best things an incline trainer can offer for this type of exercise are a nice even glide and a good grip. The Total Gym Supreme delivers on this in spades.
The ab cruncher adds 10 core workouts, including one-legged crunches. These 10 crunches together work the entire core and are great for lengthening obliques.
You brace yourself by holding the tri-grip handles and position your knees on the glide board. Your abs, of course, do the work.
You can do some effective squats with the squat stand. Some, like the iron cross and plyometric squats, are only possible to perform as intended on an incline. It takes just a few seconds to hook the squat stand up to the bottom of the trainer.
I've seen some videos online of people using the Supreme with the oval squat stand. I want you to know that, while the oval squat stand comes standard on some Total Gym models, it is an option on the Supreme. You have to buy it separately.
If you're not familiar with doing squats on an incline machine, just imagine doing squats with your back on the board. It's effective and easier on your knees and back.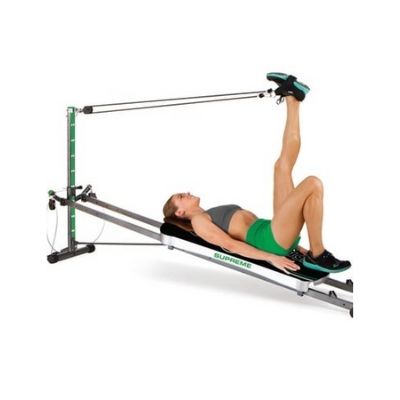 You can also use the squat stand as a handle for decline pushups.
And leg extensions, often difficult or impossible with a typical incline machine, are easy and effective with the leg extension accessory.
The ankle cuffs are a good touch. They have just enough stretch to fit well, but not so much that they feel like they're going to come loose.
What People Are Saying
I checked online reviews, social media posts, and videos to see what the average person thought of the Total Gym Supreme.
The general consensus is that it's a high-quality incline trainer that's easy to use.
The most common complaint is the noise that it makes when gliding. None of the ones I've seen squeak. They just make a gliding noise. Imagine that.
What people seemed to like most is the ab crunch accessory. I can see why. Crunches on cheaper inclines that don't have an attachment like this are pretty pointless.
All in all, most everyone seemed happy with what they got for their money.
The Best Alternative
The Supreme is essentially Total Gym's economy model. If you want a step up, I'd recommend the Total Gym XLS.
The XLS substitutes a one-piece wing bar for the tri-grip handles. The wing offers the versatility of more upper and lower body exercises.
An oval-shaped, ribbed squat stand replaces the standard model you get with the Supreme. The improvements to the squat attachment are aimed mostly at comfort and better form.
You still get the leg pull accessory with the XLS, but no ab cruncher. You can buy the ab accessory separately.
Keep in mind that the XLS costs about $300 more.
While the XLS might be the best alternative it is still worth looking into the Total Gym Fit as well.
Conclusion
Adding a gliding incline trainer to your home gym can open your routine up to many new exercises. You may find it easier to stay in shape without the hassle and expense of free weights.
I believe that this Total Gym Supreme review has shown that this trainer delivers on its promise of a challenging whole-body workout that can get you in the best shape of your life. If you're looking for a serious incline trainer for under $700, this may be yours.
If you are still on the fence check out our guide to the best Total Gyms. You are sure to find one that fits you best.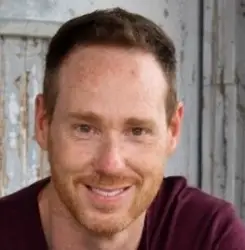 Latest posts by Jeff Carpenter
(see all)