Total Gym's FIT incline trainer offers some advantages over their lower-priced trainers, like the XLS and Supreme, but it lacks in a couple other areas.
In this Total Gym FIT review, we'll weigh those pros and cons and help you decide whether the FIT is a good fit for you.
What To Consider Before Buying A Gliding Incline Trainer
There's really nothing else like an incline trainer for staying in great shape in a small space. Even the cheapest ones let you do dozens of exercises, and the better ones enable whole-body workouts.
A weight bench with an assortment of bells and bar weights or a power rack is a better choice for adding bulk, but an incline machine can help you define muscle and lose fat.
As a general rule, you need an area of about eight by three feet in your home gym for an incline, when you factor in the room you'll need on each side. Make that eight by four for the deluxe models. Most fold up and can be hung vertically. In that case, you need an eight-foot ceiling.
Introducing the Total Gym FIT
The FIT trainer is, in some ways, an upgraded version of the Total Gym Supreme. I'll compare those two below.
This incline may be a good pick for anyone who wants a very solid and well-built, versatile machine.
Anyone looking to get away cheap needs to keep looking. This one is nearly $1,400. Compare that to the Supreme's price tag, which is less than half as heavy.
It's important to look at the included accessories when making the choice. Most Total Gym accessories are interchangeable and fit most of their inclines, but going out and buying the accessories you want can drain your wallet quickly.
Total Gym promises that they deigned the FIT trainer "to deliver results." Well, I'd certainly hope so. Specifically, they claim that 85 exercises are possible.
That's undoubtedly true, considering the endless variations of basic exercises made possible by their awesome accessories. For example, you can do more than 10 crunches with the ab crunch attachment.
Here's what you get with the FIT incline:
The Total Gym FIT incline trainer
Ab crunch attachment
Standard squat stand
Tri-grip shaper bars
Leg pull accessory
Total Gym Exercise Wall Chart
Total Gym training deck
Dan Isaacson's nutritional program and eating plan
Total Gym TV Basic subscription
Lifetime warranty on frame and two years on parts
Pros:
Upgrade package is available – Wing attachment and ribbed squat stand for a couple hundred extra dollars
Very durable – Supports up to 450 pounds
Practically zero wobble
Folds to 50-½"Lx18-½"Wx9″H and can be hung on a wall
Expert-formulated meal plan included
Comes with a subscription to Total Gym's basic streaming workout service
High weight limit makes it among the sturdiest workout equipment of this type
Extended warranty on parts
Free trial and easy payment plan available
Cons:
It's priced on the high side for what you get
Board is a bit narrow considering the overall size of the machine
The Details
You've seen the basics, now look closer to see if the FIT is best for you and your gym.
Design
I wish the board was a little wider. It's only 18 inches. That's odd when you look at the overall awesome build quality of this model. This can be a big advantage in smaller gyms, however. And it is wide enough for the average person, so it isn't really a big con to begin with.
Total Gym has so much confidence in the design, materials and engineering that goes into it that they offer not only their standard lifetime frame warranty, but a long two-year warranty on all the parts.
If there is a problem, it's likely to be a bushing or bearings. They're covered, so there's no worries during the break-in period and long thereafter.
Here we have the same two inches of firm padding and thick vinyl as the other Total Gym inclines. That firm foam is nice and easy on your knees when kneeling on the board for ab crunches.
It does a good job of cushioning the pressure points of your shoulders and hips when lying back too.
You have 12 levels of resistance, like some of the other trainers in this line. Take note of that if you like to micro-manage your resistance. A few other Total Gym inclines have only six levels.
The FIT has one notable improvement that the others haven't acquired yet. The locking bar that holds the board in place for the various inclines snaps into place automatically, rather than you having to hold the board in position and lock it manually.
It's easy to operate. The others will undoubtedly soon feature this improvement, so keep an eye on that when you do decide on the various models.
The dimensions of this one are 93″Lx18-½"Wx44-½"H. That's pretty average for an incline trainer, although it's a bit narrow for Total Gym. Nonetheless, it's a good fit for most home gyms.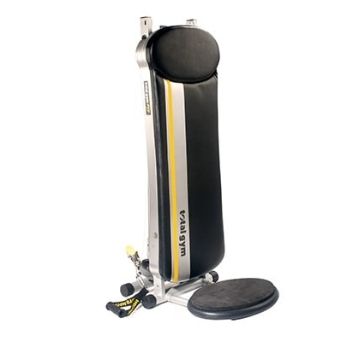 I keep my incline set up along a wall and just scoot it out a couple feet when I want to do some rows or leg pulls.
The standard FIT is equipped with the tri-grip shaper handles. If you want the two-piece wing handle, which affords you some extra versatility, you'll have to go for the upgraded version. The upgrade also comes with the oval squat stand.
The standard FIT model that I checked out came with the standard squat stand. It's not as wide as the oval, or ribbed, squat stand, but it's totally functional.
You also get the ab crunch and leg pull accessories, both of which come with most other Total Gym models.
I really like the training deck. It's called a deck because it's a stack of cards. Each card shows an exercise. You attach the holder at the top of the machine so you can refer to the card when needed. That's great for beginners.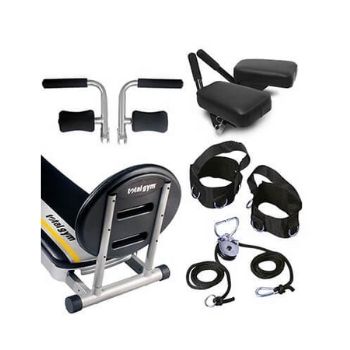 Using The Total Gym FIT Trainer
Like most Total Gym inclines, the FIT arrives already assembled. Setting it up for any exercise is as easy as setting the incline and maybe attaching an accessory. It literally takes a minute.
The feel of the glide is firm and smooth. This is one area where Total Gym excels. All of their inclines are solid, and that gives operation an awesome feel with little wobble.
If you go with the standard FIT, you get the regular padded squat stand and the comfortable tri-grip handles. With the upgrade package, you get the wider ribbed squat stand and the more versatile wing grips.
Kudos to Total Gym for including the leg pull accessory with most of their inclines. This accessory's attachment point makes for an effective and comfortable set of leg exercises.
What People Are Saying
The FIT is one of the most popular Total Gym incline machines. At least that's the impression I got from the hundreds of online reviews I studied.
A few wanted a wider board. Some complained that it cost about $200 extra for the wider squat stand and wing grip.
What people liked is how solid it feels when working out on it. The diet that Dan Isaacson developed just for Total Gym is a big hit as well.
All in all, there was almost no buyer's remorse to be found. The biggest complaint, it seems, is the price.
Alternatives
Are you on the fence? Maybe it'll help to compare the FIT with a couple alternates.
Total Gym FIT vs Total Gym XLS
The XLS comes standard with the wing attachment and an upgraded squat stand for almost $500 less.
They're about the same size, but you can do several more exercises with the FIT. The FIT seems a bit more solid too, and the parts warranty is four times longer than the XLS's.
If you're willing to pay extra for a little more versatility and stability, go with the FIT.
Total Gym FIT vs Total Gym Supreme
The Supreme costs less than half, but it's nowhere near as stable and offers about 20 less exercises. On the other hand, it comes standard with the two-piece wing grip and upgraded squat stand.
One again, the FIT beats it's alternative in the stability and versatility departments, but the Supreme is way cheaper. If cost is a major consideration, you may be better off with the Supreme.
Conclusion
As you've seen in this Total Gym FIT review, incline trainers are the most practical machines for keeping up your overall health and fitness level.
The FIT has some really useful accessories for a full-body workout, and you'll enjoy exercising on it because of its rock-solid design. It's a little expensive, but you get what you pay for.
Is the FIT for you? Be sure to check out out Total Gym Buyer's guide as well. We cover the best 4.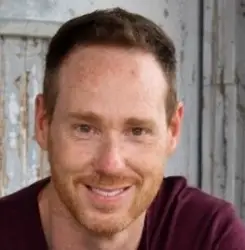 Latest posts by Jeff Carpenter
(see all)