The Rogue Echo Fan Bike Reviewed In Depth
I'm a big proponent of HIIT and full-body workouts. That's why I was so disappointed in myself when I realized that I hadn't looked into fan bikes in such a long time. I was really impressed with the advancements made over the years.
In this Rogue Echo bike review, I'm going to show you all about one of the best modern fan bikes and help you decide if it's something you want in your home gym.
Short on time?
Pick up your Rogue Echo bike direct from Rogue Fitness. Available discounts apply through our link.
Consider These Things Before Buying A Fan Bike
Is a fan bike right for you, or should you go with a different piece of equipment to hit your fitness goals?
Fan bikes are great for anyone who wants to torch calories, burn fat and get toned. I say anyone because the cardio opportunities they offer are so customizable. You can go from low intensity interval training, or LIIT, up to HIIT and everything in between.
In fact, you can burn up to 75 calories per minute during an intense fan bike workout. The world record for calories burned on one of these bikes is 87 calories in one minute.
One advantage that most fan bikes have over standard spinning bikes is the upper body aspect. By getting your arms involved in the workouts, your whole body has to get in on it. If you just want an exercise bike that works your core and lower body specifically, a stationary bike would be a better choice.
Fan bikes provide resistance by forcing you to move air. You pedal, and that energy is transferred to the fan. It's a simple concept. But that limits the control you have over the level of resistance.
The faster you pedal, the more resistance there is. Stationary bikes, on the other hand, usually allow you to adjust the resistance in a more precise way. If that kind of resistance control is important to you, a stationary bike may be a better choice.
While fan and stationary bikes are good options for cardio, toning and strengthening various muscle groups, they can't help you add much mass. If you want cardio that can bulk you up a little, you'd be better off with free weights.
Both fan and stationary bikes are easier on your joints than most free-weight cardio. This is why so many older folks like spinning and exercising on fan bikes. They're also really good for rehabilitation after an injury or extended illness.
So, do you think a fan bike is right for you? If you do, let's take a good look at Rogue's Echo.
Introducing The Rogue Echo
The Echo is a commercial-grade fan bike that is often seen in neighborhood gyms. It appeals to people with home gyms because it is sturdy and effective.
Rogue claims that it is more solid, quieter and smoother than the competition. We'll be evaluating these and other claims if this review.
The Echo seems to borrow the best features of Schwinn's AirDyne Pro and Assault's AirBike and combine them into an awesome piece of exercise equipment.
One thing's for sure. This isn't anything like your average spin bike. And it's several steps above your run of the mill air bike, too. It's a high-end exercise bike that's loaded with features and made for serious home gym owners.
Rogue Echo Fan Bike Pros and Cons
---
The good:
Belt-drive system is smoother and quieter than chain-drive bikes
Adjustable for people of all sizes
LCD display gives you a complete assessment of your performance
All-steel powder coated finish is very strong and durable
The extra weight of the steel frame makes it very stable
Big wheels let you move the bike around pretty easily
The bad:
Expensive
Relatively large footprint is a con for home gyms that are already tight on space
Limited resistance adjustment capability
---
The Rogue Echo In Depth
Now we'll go over all the important features and how they apply to you and your gym.
How To Use The Rogue Echo
I always like to imagine what it would be like to workout on a piece of equipment before I go and buy it.
There are several different ways to exercise on an Echo. There's really no wrong way.
The benefits of a fan bike really shine through in HIIT workouts. The harder you workout, the more resistance you get. So let's look at that.
First, you need to establish a baseline. Ride at a steady, challenging pace for five minutes. The LCD display will give you your average RPM during this test. That RPM would be a good pace for your medium intensity workouts.
For HIIT, do 110-115 percent of that for 20 seconds per interval. I like to do 25 seconds on and 10 seconds off. Of course, you'll want to customize your intervals for yourself.
Many people like to use fan bikes for lighter workouts too. I like to take an easy ride when I have to think through something that requires concentration. And why not? You can burn a couple hundred calories while figuring up your bills for the month.
There's a limit to what you can do on an exercise bike. You ride. That's really it. Your arms and upper body get in on the action for a whole-body workout, at least on a fan bike, but you're limited to riding exercise.
You can add a little resistance in the form of wearable weights. Ankle and wrist weights will help build leg and arm muscle and force you to burn more calories and fat. A weighted vest will help you condition and tone your balancing muscles, which are mostly in your core.
Smart Features
Remember the simple days when only TVs and computers had screens? It seems like everything other than barbells have screens now. But displays like the one on the Echo can help you keep track of your progress and see exactly how your workouts are benefiting you.
The screen itself measures just a hair under 6-½" square. It's amazing that two AA batteries can provide this much brightness and crystal clear contrast. It's easy to see.
You can set timers for intervals. The display will tell you when to push and when to back off. Use one of the presets, like 10/20 or 20/10, or program your own custom intervals. This is useful because you don't have to watch a clock.
There's a target mode that you can program for a preset time, distance or amount of calories to be burned. You watch the countdown in real time until you reach your goal and the alarm tells you it's time to rest.
Another trend that I like is heart rate tracking. The Echo has it. You'll have to get a tracker separately, though. Check out the "extras" section below to see which one you need.
Drive
Most older spin bikes use a chain to transfer the power from the pedals to the resistance mechanism. Some new spin and air bikes do as well. The Echo features a belt-drive system.
Chains have their advantages, but so do belts. In the Echo's case, the belt makes for a much smoother feel. It's so smooth, in fact, that it almost feels as if the pedals are connected directly to the fan.
Doing away with the chain means there isn't any chain noise, either. That's great, because a grinding, popping chain can be irritating and distracting.
The belt drive also allows quicker starts and stops. You'll get up to speed quicker and with less effort. A quicker stop means that you'll get a more accurate reading of the calories you burn. The bike won't keep going by itself, thinking that you're still pedaling.
Size And Build
It's big. People who own an Echo use words like "tank" and "hulk" to describe it. These words describe not only the size, but also the strength of the bike.
It's footprint is 44-½"Lx23-¾"W. The actual length, including the fan cage, is just under 59″. At its widest point, which is the handlebars, it's a hair under 30″ wide. The height is 52-¾".
Those 1″ rubber wheels will come in handy when you move this 127-pound bike.
The frame is made of square steel pipe of varying thickness. All parts of the frame are powder coated with a cool textured, low-gloss black finish.
Stability
Stability is an important feature of any piece of gym equipment. You don't want a power rack that's going to creak and sway or a bench that wobbles. You also don't want a bike that feels like it's going to tip or scoot around your gym.
This bike has the advantages of being bigger and heavier than most others. The wide, long footprint and extra weight gives the Echo superior stability. It's made with bigger and taller people in mind. The weight limit is 350 pounds, and someone of that size could use it with minimal rocking.
I know of a few people who stand at 6'4″ and are totally comfortable doing HIIT rides on the Echo.
A key stability factor that you should look for in this type of equipment is feet. The contact points between the machine and the floor are paramount to stability.
These feet are adjustable for leveling the bike, and they're made of some exotic strain of sticky rubber. They really grip the floor. That keeps it from scooting about, even during explosive starts.
Adjustability
A bike's stability and comfort both depend at least partly on how adjustable it is. If you have to sit in an awkward way to fit on the bike, your balance will be off. And if your balance is off, the bike's will be. You need to be able to get the bike set up right for the best stability and optimum comfort.
Comfort
The Echo is comfortable for most people. You have to keep in mind that it was designed for bigger people, and that's who will find it most comfortable. It's a great option for tall men and women and those with longer arms and legs.
What about short folks? Don't count yourself out just because you're on the smaller side. If you're under 5'7″, then you may find that the handlebars are too far apart and too high.
While the five-position seat scoots back a good ways, it doesn't go forward much. And it goes up in eight increments, but the lowest seat setting doesn't jive well with the lowest handlebar setting, if you get my drift. It's just not a good option for small people.
Handles are more important for air bikes than they are for spin bikes. You'll be pushing and pulling them, not just stabilizing yourself. These grips are 1-½" in diameter. That's a good size, even for small hands. If you prefer something thicker, you can always get beefier grips. Any bike shop will have what you need.
Extras
This bike's awesome steel fan generates a lot of wind, and it tends to direct more of that airflow back toward the rider than any other exercise bike I've seen. That can be a good thing, especially if your gym isn't air conditioned. But some people can't stand air to be blown in their face like that.
That's what the Echo Bike Wind Guard is for. It diverts the airflow more to the sides. This adds just a little extra resistance, too.
Everything has to have a phone holder nowadays. Am I right? The Echo Bike Phone Holder screws onto the mast to hold just about any phone. It measures 6-⅛"x3-½", but the top and bottom are open for long phones. This is a practical feature, especially if you listen to music on your phone while you workout.
Two different sets of Shimano pedals are available from Rogue for this bike. The Shimano PD-EH500 pedals have step-in stirrups. That's useful for quickly getting your feet in the proper position on the pedals.
The Shimano PD-RS500 pedals are wide and long for comfort and optimum power transfer. They'll run you about an extra $60, and the PD-EH500s cost a little over $80.
Two Polar heart monitors are compatible with the Echo. The most affordable one is the T31C coded heart rate transmitter. The Polar H10 heart rate sensor is a step up, and it can be paired with your smartphone.
Warranty
The Echo Bike is covered for defects in materials and workmanship for a period of two years from the date of purchase. I couldn't find many reviews from people who've actually had to make a warranty claim, which is a good thing, but those few I found ended with Rogue making things right.
Price And Value
The base price of the Rogue Echo is close to $800. But there are often sales and promotions going on.
The price you actually pay may be higher than $800 if you want add-ons. The wind guard, for example, will raise the price by about $30. The compatible heart rate monitors run from $40 to over $80.
But price is only one half of the value equation. The quality and usefulness of what you get for your money is the other half. Value, therefore, is subjective. You have to decide for yourself whether it's a good deal or not.
If you are looking for a high-end air bike that's solidly built and will last for many years, I think you'll be happy with the Echo.
On the other hand, if you're willing to deal with lower quality in order to save hundreds of dollars, there are better choices for you.
What People Are Saying
It wasn't hard to find glowing reviews of the Rogue Echo. It was a bit harder to find negative opinions of it, but there are some complaints floating around out there in cyberspace.
People are impressed with the size and stability of the bike. But for some, the size is a big drawback. Smaller people may find the width of the handlebars and the overall size of the bike to be awkward.
Those who have used other air bikes before, especially chain-driven bikes, often comment on how quiet the Echo is.
One complaint that comes up from time to time is the wind that is generated and how it's blown back toward the rider. "I shouldn't have to spend extra money on the wind guard to keep the air from being blown in my face.
But what about the people who like the cooling effect the air blow back has? Well, they save money on the wind guard, and they don't complain as much.
In general, there were no major complaints. I was hard pressed to find any user reviews that indicate the buyer would not make the same choice again.
There were some circumstances where people wished they had bought an Assault AirBike Classic or a Schwinn AirDyne Pro instead. There are various reasons for this. Study the section below to see some of these reasons.
The Rogue Echo Fan Bike is at the topi of the food chain when it comes to fan bikes. Click here to visit Rogue and get yours direct.
Alternatives
---
There are two other air bikes that may appeal to you if you like the Echo so far. You may want to consider them before you take the plunge and make your investment.
---
Assault AirBike Classic
Both the Assault AirBike Classic and the Rogue Echo are often seen in official Crossfit competitions. They're both just that good. But there are some key differences between the two of them that you should consider before making a decision.
The AirBike Classic is a bit smaller in all dimensions, which is better for smaller people. The size difference won't make a whole lot of difference in the space it takes up in your gym, though. Were talking about inches, not feet.
While the Echo is belt-driven, the AirBike Classic has a chain. It takes more effort to get up to speed and it takes longer to wind down. It's more like an actual bicycle in that respect.
As a mountain biker, I really like that. But chains aren't as durable as modern belt systems. They also generate more noise, which can get irritating in a small home gym.
You won't have to buy a wind guard to keep the air from the fan from blowing in your face if you get the AirBike Classic. Personally, I don't mind the wind. It's kinda like flying downhill at 30 MPH on a bicycle.
---
Assault AirBike Pros:
Better for smaller people
Feels more like a mountain bike or cruiser
You probably won't need a wind guard if the wind in your face bothers you
Assault AirBike Cons:
A bit noisy
The chain presents the same problems that a bicycle's chain does: It can pop off and it needs occasional oiling and replacement
Not very comfortable for bigger people, say over 6'5″
---
Click Here to get the Assault Airbike Classic (Also Available from Rogue)
---
Schwinn AirDyne Pro
This fan bike gives the Echo a serious run for its money in some respects, but it falls short in one key area.
It uses a belt to transfer the energy your arms and legs provide to its fan. That makes your workout just as smooth and quiet as the workout you'd get on the Echo, which has the same type of belt system.
It's a little smaller, which is really good if you have short arms. The Echo can be frustrating for shorter folks because it doesn't have much forward seat adjustment.
The AirDyne Pro's fan consists of 26 blades. That enables more resistance at lower RPMs. This is a great feature for older people and those new to exercise or recovering from any kind of injury. That's why some physical rehab centers use AirDyne bikes.
There something disturbing about the AirDyne Pro. There have been some pretty serious complaints about its durability. Granted, most durability complaints about products like this turn out to be somewhat frivolous.
In fact, many problems can be traced back to poor assembly or indifferent maintenance. But I found a lot of complaints, so I took some extra time to look into them.
The two biggest and most common problems both have to do with the belt: It can squeak, and it sometimes frays. Schwinn, to their credit, has been wonderfully responsive to these complaints.
They have sent repair kits and free replacement belts to many. Others have received replacement bikes. But filing a warranty claim can be a hassle. I'm sure the belt problems will be fixed on future production runs.
Another problem that comes up is various squeaks, pops and clangs during operation. I'm not talking about belt noise, but metal to metal sounds. This is most assuredly due to sloppy assembly. But you should be vigilant if you do end up getting an AirDyne Pro. Put it together right and contact Schwinn customer service if you hear any unusual noises.
---
AirDyne Pro's pros:
Belt-drive is quiet and smooth
A good size for all but the smallest or biggest people
Great for more moderate and light exercise
AirDyne Pro's Cons:
Those frayed belts and mysterious noises are worrisome. But we have faith in Schwinn. They'll get it sorted out.
---
Click Here to get the Schwinn AirDyne Pro (Amazon)
---
The Rogue Echo In Summary
I hope you found this Rogue Echo Bike review to be helpful. You can burn dozens of calories per minute, slim down and stay fit with an air bike and the Rogue Echo is among the best out there.
It's smooth and sturdy, if not a little on the bigger side. But there's a reason why so many commercial gyms have them. They're dependable and effective. That's what you would expect of a product from one of the fitness world's biggest names, isn't it?
Take a look at the Rogue Echo bike. But make sure you study our other fan bikes reviews before you buy. You're about to make a big investment in your health. Make the right choice and go Rogue.
Click Here To Visit Rogue Direct And Get Your Rogue Echo Fan Bike (Discounts apply).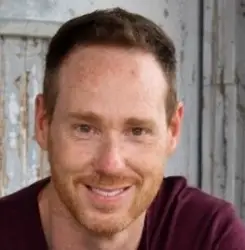 Latest posts by Jeff Carpenter
(see all)