What's The Best Power Rack For Your Home Gym?
A good power rack can turn an exercise room into an activity-dense home gym. They allow you to perform a variety of exercises in a small space.
I should have gotten one a long time ago. I cringe every time I think of the money I wasted on gym memberships. And I don't miss having to wait for everyone else to get done sweating on the equipment.
Now that I have a nice power rack, I can do just about any lift and exercise I want to do when I want to do it. Are you ready for your own? Let's examine them in detail so you can find the best power rack for your home gym.
Get The Most For Your Money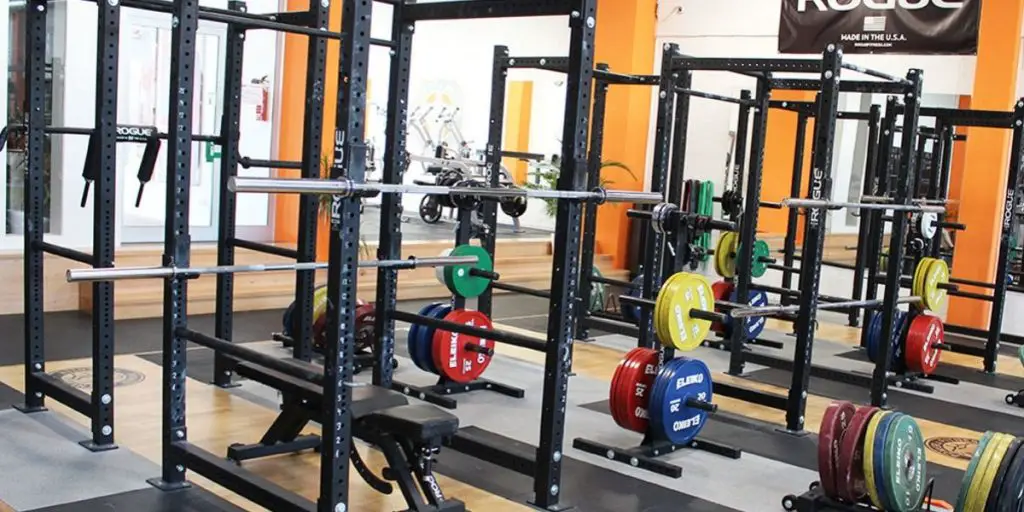 Ever since I ditched my expensive, crowded neighborhood gym, I've been on a mission to help others do the same. I would be failing in that mission if I let people buy junk or equipment that wasn't right for their own particular workout routine.
Here I'll outline the things you should pay attention to when you shop for the best power rack for you.
Size Matters
A few months ago, I helped a friend put together a family gym in his basement. We spent most of the weekend framing, drywalling and moving in some aerobics equipment.
Guess what happened when we started to put his power rack together. It was too tall for his ceiling!
Most racks are a full 80″ tall or more. Pay close attention to the height of the rack compared to the height of your ceiling. Most basement ceilings are 80″ to 87″, and most garages are several inches higher.
Watch the footprint too. Measure out the area in your gym to be sure there's enough room. Don't forget you'll need room to maneuver around it. You'll want to make sure that it won't be too crowded with your other equipment in place, if you have any.
Do you want a rack with storage pegs for weight plates? Factor this into your measurements as well. Check out where the plate storage pegs are on the rack so you know how you'll have it orientated before you measure anything.
Let's not forget about the space you'll need for your workouts.
Most good racks have a side-to-side clearance of 24 to 27 inches on the inside. This should be plenty of room, considering that the depth is usually twice that. You're not going to be doing cartwheels in there.
Strength Is Important
I seriously doubt your rack will ever collapse, as long as you put it together correctly and don't overload it. No manufacturer is going to open itself up to a lawsuit like that.
But you need to look at stability. Setting a bar on a rickety rack can be a disturbing experience.
There should be very little or no side-to-side movement when a bar with a few hundred pounds of plates are set on the lift-offs.
Given the same wall thickness, or gauge, square posts are stronger than tubular posts. Look here for more details on that. But suffice to say that all racks from reputable manufacturers are strong enough, regardless of post shape, as long as you don't exceed their weight limits.
Stabilization bars or braces are a must. Many racks utilize a pullup bar as one of the stabilizers, which is cool and efficient. Saber-shaped stabilizers are the strongest, and they virtually eliminate movement.
If you are bent on creating an outdoor Venice Beach-like gym in your yard, look for a rack with a galvanized steel frame. But be aware that any dents and dings will eventually rust.
Function Over Style
So, say you've found a nice, solid power rack that'll fit well in your home gym. What if it doesn't have all the features you need for the workouts you want to do? Then you'll have to compromise.
No! Don't sell your workout regimen short to suit your new rack. Get a rack that has everything you need.
The price difference between the most basic racks and the more complicated ones are relatively small, so you're still not going to go broke even if you're looking for the best budget power rack.
Lift Offs
These are the pegs that you set your loaded bars on. Make sure your rack comes with two. Some racks come with extras so you can have an extra loaded bar ready to go on the back.
You want strong steel lift offs. Heat-tempered steel is a plus, but it's not totally necessary.
Sometimes J-hooks are included as lift offs. This is fine, but check the weight rating to be sure they're strong enough for your loaded bars.
Pullup/Chin up Bars
You probably want one of these. They're so easily incorporated into a rack's design that I don't understand why they're not standard.
Anyway, the pullup bar should be high enough. The exact height you need obviously depends on your height, but consider reach and headroom. You'll generally need about 18 inches between the bar and ceiling to keep from bumping your head. And you should have enough room between the bar and floor so you can extend your arms almost fully to grab it.
Pullup bars should be knurled. Whether the knurling extends the length of the bar or is split is purely a matter of personal preference. If you go with split knurling, keep in mind that you want the grips to be about shoulder-width apart.
Benches
If you do bench presses, you'll probably want your bench to be part of your rack to save room in your gym.
With most power racks, a bench is an option. That means it will cost extra. Considering your space savings, it's worth it for the average-sized home gym.
Some rack benches are too narrow. Check out both the width and length. Height is important too. I recommend all of the bench's dimensions be within a couple inches of what you're used to.
Lat Pulls
These are also usually an option. But, as with benches, not all racks offer them. Lat pull rigs also add considerably to the overall price.
Pulleys and cables can become a complicated mess in a rack. Simplicity is key here. Look at the attachment points and clearances for obvious design flaws. I get into more detail about this in my Valor Fitness rack review below.
Crossovers
Higher-end racks include crossovers as an option. What a time to be alive!
The same clearance and attachment considerations apply here, but they are more important because your movements will be wider with most of these exercises.
Extras
You'll find many racks that offer things like pushup bars, dip handles or bars and the like. If one of these accessories are important to you, look for it.
You may not want to overlook dip bars. Check out this cool YouTube video for a quick demonstration of how versatile they can be.
Plate storage pegs and J-hooks for extra bars on the back are nice little extras that can come in handy. Just be sure that the additional room they take up is OK for your gym space.
Safety
I've never really seen a rack that I would consider unsafe, but some are safer than others.
All racks come with braces that span the vertical posts and sometimes the overhead bars. They should be made of steel, not plastic.
I bolted my rack to my concrete basement floor, but I like to do DIY projects like that. Bolting to the floor is overkill.
Many racks have rubber feet. This does more for the rack's stability than it does for its strength. The rack isn't going to slide around, but you should still have something between the steel frame and the floor just in case.
Don't fret if the rack you like doesn't have rubber feet. You can get small sheets of rubber pretty cheap. Just trim some rubber with an X-acto knife and put it under the frame. No glueing should be necessary. Keep in mind that this will add a fraction of an inch to your racks height. That's important if you're close on overhead clearance.
Here's Are Our Best Power Rack Reviews
I'm not necessarily trying to sell you on any of these racks, but one of them may work well for you.
At least check these out so you can better understand what goes into the best power racks.
Body-Solid Powerline Power Rack (PPR200X)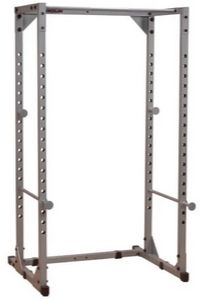 This mid-priced rack is made of strong tubular steel and backed by a 10-year warranty on the frame. All other parts are covered for a year. Two saber-shaped safety braces keep it stable.
It's 82 inches high and has a 44″x46″ footprint. You'll want to measure your ceiling height carefully before considering this one.
The two heat-tempered lift offs have 18 adjustment heights spaced three inches apart. You won't need any more than this range for presses or squats. The weight limit is 600 pounds.
The pullup bar is knurled across its entire 41″ length. It's an inch in diameter, which is standard for racks with included pullup bars.
A dip bar and lat pull kits are available for this model, as is a nice wide bench. They all fit well into the rack without being obstructive.
Even if you don't need the options, its good to have that kind of flexibility so you can expand your routine later if you want to.
Pros:
Cons:
This is a good basic rack with expansion possibilities. If you're on a budget, you can start with the basic rack and add the attachments later.
Valor Fitness BD-7 Power Rack w/LAT Pull Attachment and Other Bundle Options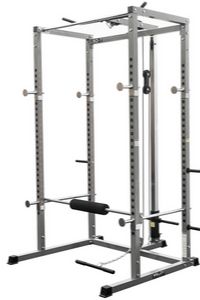 This awesome rack has endless possibilities. You can even get a crossover rig for it.
The frame is 12-gauge 2″x2″ square steel and is covered by a three-year warranty. Cables are covered for two years and other hardware for one.
This is a tall rack at 86 inches. You'll need 64″x56″ of floor space for it. Add another 16″ to either side if you'll use the plate storage pegs. That'll give you enough room to get your plates on and off easily.
The lift offs have 27 positions from 17.5 to 68 inches off the floor. I like the color-coded notches for quick adjustments.
You can place the lift offs inside or outside the rack, so you can even do a modified clean and jerk if your ceiling is high enough.
This model comes with a knurled pullup bar and lat pull. A crossover attachment is available for it too. That combo makes this rack one of the most versatile I've seen. A bench and dip bar are also options.
It's so well-designed that you'd have plenty of room to maneuver inside the rack even with the crossover set up.
The maximum bar weight is 500 pounds, but that's using the lift offs outside. It's 650 inside. The lat/crossover limit is 250.
Pros:
Cons:
As you can see, there's not many cons to this rack. It's a good one if you want to be able to do the full range of power rack workouts.
Fitness Reality 810XLT Super Max Power Cage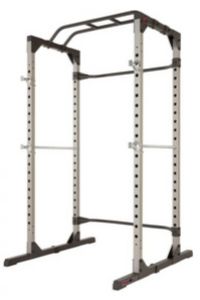 This is one of the best budget power racks I've seen lately.
It's another tall one at 83.5 inches. The footprint is also on the larger side as well at 50″x46″.
The 2″ tubular steel frame and sturdy safety bars allow a nice weight limit of 800 pounds with 18 height adjustments for your bar.
It's strong, but I'd still recommend springing for the three-year protection plan.
This is a very affordable rack until you start adding options. But the accessories are still worth it.
The lat rig, which has to be purchased separately, is unobtrusive. You can also get a bench, dip bars, plate holders and multi-function J-hooks.
Here's a cool feature I like: The pullup bar can be moved to the overhead-center of the rack. That means you can put this rack closer to a wall than you would most others and still have plenty of room for pullups.
Pros:
Cons:
This is our budget pick. It may be a good one for you if you are looking for the best value or are a beginner not wanting to break your workout budget all at once.
Titan T-2 Series Short Power Rack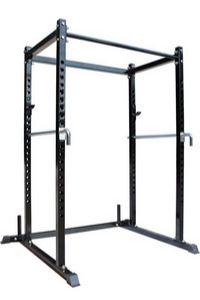 Do you have a very low ceiling? Well, this is a very short rack. It's 71.5-inch height should fit in any full-sized basement. The rest of it is 48″x58″.
The 11-gauge 2-inch tubular steel frame is tough. In fact, it'll support 700-pound bars. That's more than I'd ever need!
As far as accessories go, there are dip handles. You may find plate holders and other accessories that fit, but there doesn't seem to be any specially made for this rack.
Sorry, there isn't a lat pull for it. That's too bad, because this rack was a contender for our budget pick award before I found out that a lat rig wasn't an option. It's still a good value, but it's just not as customizable.
Pros:
Cons:
Here's a good little rack that may be your best bet if you want a basic one for a smaller space.
HulkFit 1,000-pound Power Cage
Ahhh, it's refreshing to see a rack that's not a natural steel color. It's yellow, but other colors may become available soon.
This very strong 44″x47″ rack is 81 inches tall and can handle 1,000 pounds of weight. That's impressive.
The optional lat and crossover rigs hug the sides and stay out of the way when you're not using them. You can get a nice, reasonably priced bench for it too.
Two dip handles with rubber grips are included with the basic rack package. The adjustable pullup bar also features a rubber coating. This may seem to be a bit much, but it's thin, high-density rubber. It won't absorb sweat, and it's not too spongy.
Pros:
Cons:
This is a strong rack that's designed for comfort.
Here's The Takeaway…
This is the part where I have to choose some winners.
The overall best of these, in my opinion, is the Valor Fitness BD-7 because of its expandability and general sweet value.
Titan's T-2 series rack is the shortest on our list (the full-sized Titan T3 power rack is a solid contender also), and it may have been the best overall if there was a lat pull for it.
My budget pick is the Fitness Reality 810XLT, due to it having a low price without skimping on quality.
The other two are solid racks with their own unique cheers and jeers. Don't overlook them. They wouldn't be on this list at all if they weren't a good value.
If you bade fare-thee-well to your neighborhood sweat shack and are looking for the best power rack for your home gym, take a while and consider some of the great models we've reviewed here.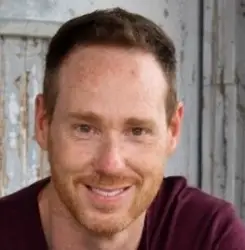 Latest posts by Jeff Carpenter
(see all)