Choosing the best adjustable weight bench doesn't have to be a daunting process. You just have to know what to look for.

What's best for my home gym isn't necessarily best for yours. That's why I put this buyer's guide together. Familiarize yourself with it, and use it to weed out substandard benches.
Check out the reviews of five nice ones that pass my high standards of quality, function and durability.

Adjustable Weight Bench Buyer's Guide
Here are some important things to consider before you spend your money.
Adjustability
This is obviously an important consideration since you're looking for the best adjustable weight bench.
You should have the kind of exercises you'll be doing in mind when you shop. If the bench you get doesn't adjust the way you need it to, your workouts will suffer. Not all of them decline, so you need to watch for that if declination is crucial to your workouts.
A bunch of micro adjustments that you don't need will cost you an unnecessary amount of cash. Get what you need now, but keep in mind what you may want later.
Check the angles of the incline and decline to be sure they'll accommodate your workouts. This is especially important for military presses. A good military press requires about an 85-degree incline.
Know how you make the adjustments. There are countless ways. Quality benches, like the ones I've reviewed here, have ladder-type adjustments. Make sure that there are no tools required to change the incline or decline. The more you have to loosen and tighten nuts and bolts, the weaker the entire unit will become.
You don't want a big gap between the seat and back pads. It's not a big deal when inclined, but trust me, it can be very irritating in the flat position.
Materials And Construction
Both of these factors affect the strength, safety, durability and comfort of the bench.
Cheaply made benches consist of thin steel or mild steel alloy frames. You don't want any part of your bench bending. If that does happen, it'll happen when there's a lot of weight on it, like when you're working out on it. Be safe and look for a heavy-guage tubular steel frame.
All metal surfaces should be coated with a rust-resistant finish. Paint will scratch off quickly, and you'll have a rusty bench. No painted models made it into my reviews.

You want good padding. It should be firm, yet yielding. One of the most common mistakes I see beginners make when shopping for a bench is choosing padding that is too soft. It's a bench, not a bed. You don't need thick foam. You want a little cushioning so it doesn't feel like your lying on a sidewalk. That's it.
The upholstery that covers the padding has to be durable enough to last for years of frequent use. If it's vinyl, it needs to be thick enough to resist tearing. The various types of faux leather are tough and make good upholstery for benches.
A commonly overlooked aspect of bench construction is the feet. Shoddy feet make for a wobbly bench.
The feet should attach firmly to the frame. Some are welded directly to the frame. Some bolt on. Both are fine. The main thing is that they are stable. Wheels make moving it around easier, but they should fold up and allow the weight to be put on the feet when the bench is in use.
Also consider your floor. You don't want hardwood scuffed or scratched, so you'll need non-marring feet for wood floors. Wide casters are best for carpeting. Concrete can handle anything. I have rubber tiles on my home gym floor, and I found that no feet at all works best for me.
Many benches today have only rubber or plastic end caps on their tubular steel base. That's great for any flooring type, except for carpet. You want to spread the weight out to avoid damaging the pile.
Size
It would suck to start putting your bench together just realize that it's too big to fit your gym. This won't be a problem if you have a nice-sized gym, like an entire room, but many of us have smaller areas.
Think about the spot you have to devote to your bench. Remember that you'll need room for the movement of your arms or legs, too. You can't workout effectively if you're cramped.
This is especially true if you do bar presses. I recommend an seven-foot wide space at a minimum, and that's for a shorter power bar. Seven-foot olympic bars need more room. Think of any accessories that you're going to get now or later, and factor their dimensions in as well.
It would be a good idea to do some careful measurements if you have limited space. Consider your other equipment and how you will place your bench. You need a good idea of what your space can handle.
Maybe you don't have a home gym, per se. You can still have a bench. Look for a folding or collapsible one. Decide beforehand where you want to store it. Again, do some measuring. Some collapsible benches can fit under a bed or in a closet. With a little ingenuity, you can even hang a folding bench on a wall.
Weight Limit
The bench you get should be able to easily hold your weights combined with your body weight.
Some of the super strong, heavy-duty benches have limits of over 1,000 pounds. That's more than you'll ever need.
If I were you, I would get a bench that could handle at least 50 pounds more than I thought I would need. You may want to add more resistance at some point. It would be nice to have that kind of flexibility.
If you're trying to pack on a bunch of muscle mass and get swole, factor that in too. In that case, you'll be adding more weight to your routine and getting heavier yourself. It adds up.

Accessories
Many adjustable benches are customizable with accessories that expand their capabilities.
The most popular accessory is a leg attachment that braces your legs. I couldn't bench without one. Other attachments can be loaded with weight plates for leg curls and other exercises for the legs.
Cable tower sets, chin up bars and preacher curl attachments are also available for some pricier models.
One really cool thing I've seen available for some newer benches is a spotter's platform. Rogue's new bench has one.

Assembly
Weight capacity ratings are meaningless if the bench isn't assembled correctly. Know your skills. You should spend the extra money and pay for professional assembly, when available, if you think you'll have trouble putting it together.

Some of the higher-end benches sold by online retailers come fully assembled, or at least have that option. This usually adds quite a bit to the cost, but it can save you anywhere from 15 minutes to over an hour of time. I'd still double check all of the hardware to make sure everything's good and tight before using it, though.
Most of the budget adjustable benches require pretty extensive assembly. That's one of the trade-offs for the cost savings. But most of these include detailed instructions. All you'll need is the most basic hand tools, like an adjustable wrench, a screwdriver and maybe allen wrenches.

Price
Are you in the market for a budget adjustable bench? Expect to pay around $150.
More deluxe models run from $200 to over $300. Top-of-the-line adjustable benches go anywhere from $550 to over $1,000.
You get what you pay for. Better padding, tougher upholstery, stronger steel and more intricate design engineering all cost more on the production level.

Warranty
The length of warranties vary widely. I've seen them run from a year to a lifetime. Most of them cover materials and workmanship.
I recommend a minimum of 10 years on the frame warranty and at least six months for the upholstery and padding.
If you get any accessories of upgrades with your bench, check and see if they are covered. Sometimes they'll fall under the bench's warranty, but some manufacturers guarantee their extras with a separate one.

Here Are Five Of Our Faves
There is a nearly endless supply of adjustable weight benches out there. Sorting through all the noise can lead you off the beaten path and wondering where to start.
I've pulled 5 adjustable weight bench reviews together here to fit every budget. These are the best ones I've seen and they are packed with all the features anyone needs.
There's something for everyone here.
Bowflex Adjustable Weight Benches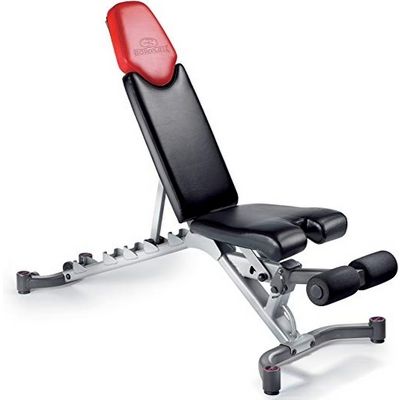 Bowflex makes a few good benches: the 3.1, 5.1 and 5.1S. The differences are in the adjustments, weight limit and stowability.
All of them have a footprint of about 60″ by 28″. The 5.1S has a feature that allows the legs to fold so the whole bench kinda stands up on its legs. In this storage position, it takes up 30″ of floor space. That's a great size for storing in a closet.
All three of them have wheels. That sure beats dragging it over your floor when you have to move it.
They all include a leg brace, too. You'll appreciate that when you use the decline angle.
The 3.1 locks into four positions. There's 17-degree decline, flat, and inclines of 45 degrees and 90 degrees.
Add 30 and 60 degree inclines to that for the 5.1 and 5.1S models.
I'm glad that Bowflex went with soft, thick vinyl for the upholstery. It has just enough give to compliment the thick padding. The vinyl and padding together is covered by a one-year warranty.
The frame is so strong that it has a thirty-year warranty.
480 pounds is the capacity for the 3.1, which is on the low end, but the 5.1 and 5.1S have a respectable 600-pound limit.
Pros:
Easy to adjust
Includes leg brace
Wheels make it easy to move around
30-year frame warranty
5.1S stores in a 30″ space
3.1 is pleasantly affordable on a budget
Cons:
Good for beginners, but intermediate and advanced fitness enthusiasts will find the availability of accessories limiting
This is a good bench for beginners or anyone who likes simplicity and doesn't need accessories.

Xmark Fitness Adjustable XM-7630 Weight Bench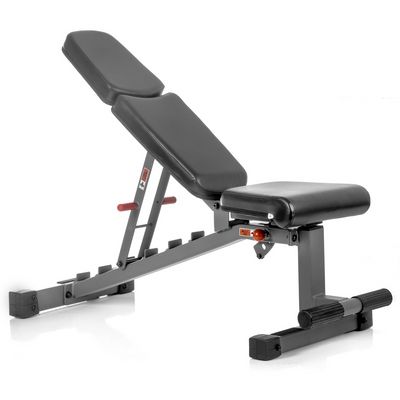 This is a solid commercial quality bench.
It carries an impressive weight capacity of 1,500 pounds. When I saw that weight limit, I had to look at the construction. It's 11-gauge steel, so that 1,500-pound rating is legit.
If you want cushy padding, you'll be happy with the 3″ of firm high-density foam under the thick Duralast vinyl covering.
Seven adjustments qualify it as fully adjustable, in my opinion. It goes -20, flat, 20, 35, 50, 65 and 85 degrees. I couldn't imagine needing finer tuning than that.
The seat adjusts to three different angles to compliment the back's setting and provide extra comfort. A good seat angle can ease the strain on your lower back.
You can either slide it on its non-marring feet or scoot it on its folding wheels when you have to move it.
The thing that stands out the most is the construction quality. It's made to last a lifetime, and it's accordingly backed by a limited lifetime warranty.
This one is a basic adjustable bench. There aren't any attachments available for it, not even a leg brace. But it pairs nicely with Xmark's half rack and other gym equipment.
If you don't need any accessories, this would be a fine bench. But if you'd like to add a preacher curl or other accessories that attach directly to the bench, the XM-7472 offers many expansion options.
Pros:
The frame should last for a lifetime
It is compatible with some of Xmark's gym equipment, like the functional trainer, for true commercial gym-style versatility
Fully adjustable back and seat
Limited lifetime warranty
Cons:
Price is intimidating for beginners
Doesn't come with a leg brace
If you get this one, I doubt you'll ever have to buy another. It has awesome expansion possibilities, but adding the premium gym equipment that's available for it will run into some serious money.
Rep Fitness AB-3000 Adjustable Bench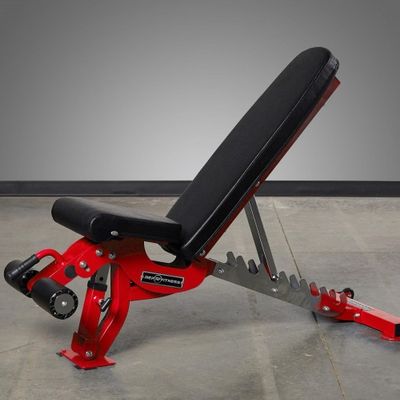 This bench is built almost as solidly as Xmark's. Its frame is made from varying thicknesses of steel tubing, from 7 to 14 gauge, depending on the part of the frame. The total capacity is 1,000 pounds.
Most of it is held together with bolts, not welds. That doesn't sacrifice strength. If anything, it adds to durability. At worst, you might have to retighten a nut one day. That's easier than welding.
It arrives mostly assembled. There's a YouTube video that details how to finish putting it together, which takes about 20 minutes. All of the tools you need are included.
The back adjusts from -20 to 85 degrees, just like Xmark's. But this seat adjusts to seven angles, not just three. That's nice if you are obsessive about seat inclination. With 21 possible seat/back adjustment combinations, you can really dial in the comfort.
I like how the leg brace has upholstered rollers, instead of just stationary cylindrical pads. It's a nice touch.
The padding is a bit thinner than Xmark's. It's 2.5″ thick and covered with textured vinyl. That's still plenty of padding.
You can roll this bench right into a rack, thanks to the wheels at the head of it. There no need to lock anything in place to use the wheels. You just lift the handle by the leg brace and push it where you need it.
Pros:
Strong and durable
Fully adjustable
Roller leg brace
10-year warranty on frame
Cons:
Only a 30-day warranty on vinyl upholstery
There have been instances of purchasers having to exchange the bench because of a bad seat weld. This is fully covered under the warranty, but it can cause some inconvenience
Seems a little overpriced for what you get
Overall, this is a solid and durable bench. It's fully adjustable and easy to maneuver in a small home gym. But be prepared to pay a slightly higher price for the instantly recognizable name: Rep Fitness.

Steelbody Deluxe Adjustable Bench – Our Top Entry Level Pick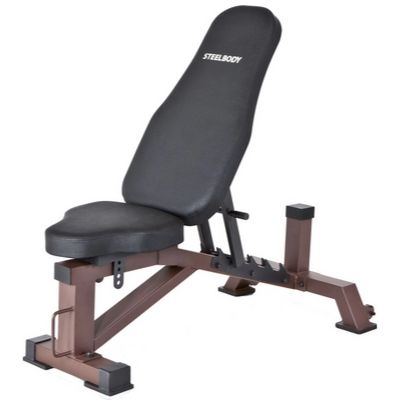 Here's a good choice for a first bench. It's simple, affordable, and strong. It'll fit in just about any rack, so it can be part of a growing home gym.
The back adjusts from flat to military press positions, with six increments. There is no decline. Five seat positions allows a fine-tuned setup. That's more than a beginner should need, but you may appreciate that kind of versatility as your workouts evolve.
But still, there's no decline? Come on, Steelbody.
I've seen the weight capacity advertised as 300 pounds, but it's actually 800 pounds, according to the manufacturer's online manual.
Two inches of padding may not sound like much, but you don't really need any more than that. The faux canvas vinyl covering is tough and easily wipes clean.
Assembly will take about an hour, but the instructions are very detailed. All the nuts and bolts are either 1/2″ or 5/8″.

Pros:
Totally affordable for everyone
Strong
Fully adjustable
Cons:
No decline
Extensive assembly required
If you're looking for an affordable beginner bench that can grow with your workout regimen, check this one out. Just be aware that it doesn't decline.

Rogue Adjustable Bench 2.0 – Our Favorite High-end Model
Rogue has expanded the available options and improved the quality of its adjustable bench, and they also found a way to bring the price down.
2″x3″ 11-gauge steel makes for a very strong frame. It'll handle 1,000 pounds with no problem. This bench weighs almost 130 pounds and is made to tight specifications, so it's not going to wobble at all on a flat floor.
There are six back adjustments. There isn't a decline, but it goes from flat to military inclinations. One thing I like is that there's almost zero gap between the seat and back, regardless of the back's position. That's an indicator of high quality and precise engineering.
The seat adjustments are simple and make sense: flat for flat presses and angled toward the back for more support on inclines.
One cool feature is the optional spotter deck. It attaches to the bench to set a few inches off the floor. That'll give your spotter a better vantage point to grab your bar.
The quality and durability surpasses many commercial gym benches. But it comes with a hefty price. Expect to pay double what you would for a mid-priced bench.

Pros:
Superior strength, durability and quality
No wobble, ever
Bolt-together construction – no welds
Ships fully assembled
Many accessories available
Spotter deck option
Cons:
No decline
A bit pricey
When you compare the high price to the outstanding quality, you get awesome value. This bench is better than what many commercial gyms have. If you want the best, this may be it.
Click here to get the Rogue Adjustable Bench direct from Rogue Fitness.
Which Is the Best Adjustable Weight Bench after All?
The clear winner here for a high-end adjustable bench is the Rogue 2.0. I wish it had a decline option, but other than that, it's all you'll ever need out of a bench. Rogue went all out and made a supremely functional and versatile bench that rivals or exceeds the strength and durability of those found in neighborhood gyms.
Hands-down. The Rogue is the best adjustable weight bench available right now.
However, Steelbody gets the nod for the best budget entry-level bench. It's well-made, durable and offers several expansion options. Its price is low enough for even the tightest budgets.
The other three I've reviewed are all excellent mid-level benches. Each one has its pros and cons, but all three are winners in their own right.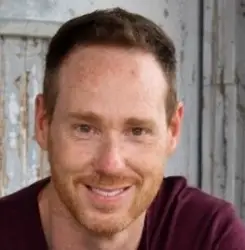 Latest posts by Jeff Carpenter
(see all)