My home gym is centered around my power rack. With the attachments and my bench, it replaces all the equipment I used to use at the commercial gym I belonged to years ago.
If the Titan T3 power rack had been around when I bought my mine, I probably would have went with it. It offers everything my current rack has, but it costs much less.
Consider These Things Before Buying A Power Rack
First of all, do you have enough room in your home gym for a rack? The Titan T3 is available in two different heights, with the taller one being just over 91″. We'll get into the sizes more later because it's an important consideration.
Price is usually a factor too, isn't it? Expect to pay a couple hundred for a cheap bare-bones rack. Mid-priced models have a better range of accessories and run in the $350 to $600 range. This Titan T3 review is about a cool rack in this cost parameter. More expensive racks usually have more accessories included with purchase, but not always.
Since you're reading this, you're obviously interested in a rack. But do you need one?
A good power rack really can offer almost everything a commercial gym can. If you are enhancing your home gym, or just starting one out, a rack may be the way to go. You won't be sorry when you kiss your neighborhood gym goodbye. I wasn't.
The Overview
This rack brings all the functionality and options of more expensive models together into a more affordable unit.
But isn't there always a catch when you find a cheaper alternative to some great products? Of course there is.
Titan saves money by cutting a few corners on their racks' construction and passes that savings along to the customer. That's their business model. That doesn't mean that their home gym equipment is inferior. As you'll see in the next section, nothing could be further from the truth.
The Titan T3 was made to directly compete with Rogue's R3. Titan claims it's the same thing, only cheaper. Most of the differences between it and the R3 lie in construction quality. We'll get into more detail on that later.
If you've ever worked out with the previous version, the Titan T2, you'll be happy that the T3 has done away with some of the T2's annoying flaws.
titan T3 Power Rack Review
Here's where we'll break down the features of this rack and look at how they affect the value of the rack.
Size
Titan offers two height and depth options for a total of four sizes.
The Titan T-3 Series short power rack is 82-¼" tall. The taller rack stands at 91-⅛". Both are available in depths of 24″ and 36″. I like shorter racks because they just feel more stable to me, but taller ones give you more flexibility with the pullup bar placement.
Consider the outside depth when you decide between the deeper or shallower rack. That's 44-¾" and 32-¾", respectively. All of the Titan T3 racks have an inside width of 42-⅛" and an outside width of 53-¼".
Frame Construction, Stability And Durability
No one likes a power rack that sways too much. You don't want one that looks like it may pop a weld and fall apart while you're in it, either. These two issues, the wobble factor and possible instant death, are directly related to what the frame is made of and how it's held together.
This particular Titan power rack has 2″x3″ steel uprights that are slightly thicker than 11-gauge. That's thicker vertical support than most other racks on the market today have.
The cross-members, which are the horizontal beams that join the uprights, are thicker than that. They're ⅜" thick, which seems to be a bit of an overkill. But sometimes it's cheaper to manufacture thicker steel components.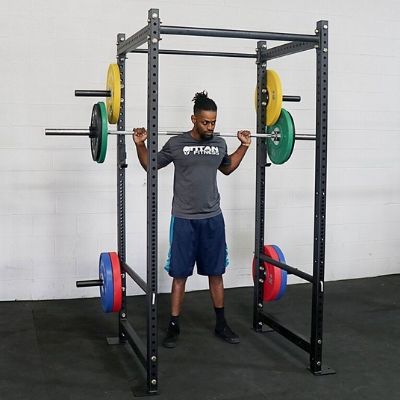 You'll have to bolt the cross-members to the uprights with the included hardware.
This makes shipping cheaper because all of the pieces fit into a smaller box.
There's a possibility that the bolts will loosen a bit over time, but you'll notice a sway long before there's any real danger of collapse. Invest a dollar in some extra nuts and double them up. They'll never come loose that way.
While the frame is solid, the powder coat seems to be hit or miss. Some Titan power racks have a nice, even coat, but others seem inconsistent. There are several possible reasons for this. It's likely that they're using a quick coating process to save on costs.
Regardless of how it looks, all of the racks have sufficient coating to protect the metal underneath from corrosion. That's its job. The coating itself will scratch easier, but that's the only real drawback. If it worries you, you can spend a little money and time spray painting the uprights and cross-members before assembly and still come out ahead on cost.
By the way, you don't have to be stuck with an ordinary black rack, unless that's what you prefer. You can also get green, red, blue or white.
The short rack weighs 230 pounds. That hefty weight adds stability if you can't bolt it to your gym's floor. Keep in mind that, for safety's sake, it's always best to bolt racks down. This also reduces sway and helps to prevent the cross-member bolts from loosening from the flexing that comes from sway. If you're going to work outside the rack, you really should anchor it.
1,100 pounds is a very good rating for the spotter bars. The total limit for the rack frame is 4,400 pounds. That's double most lighter models.
Accessories
The Titan T3 rack comes more or less complete. You'll need a bar and plates, and some bands if you use them. Let's take a closer look at what you get.
Like the cross-members, the safety pipes are surprisingly thick. I can't imagine them ever bending.
Left and right-handed 1″ steel J-hooks are included. They're basic. Some Titan T3 power rack reviews say that both J hooks are right-facing, but this is not true. One's left and one's right, just as you would expect.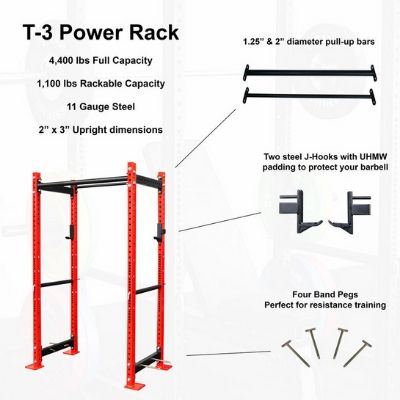 I like that band pegs come with this rack too. Power bands can add some versatility to your workouts. Get some.
You get two knurled pullup bars: a standard 1-¼" bar and a 2″ one.
You can do more pull-ups and chin-ups with the thinner bar, and therefore get a better body workout. Many prefer a thicker 2″ bar because they force the hands and forearms to work more, which strengthens grip.
Some racks have pullup bars that are welded in place. You can adjust these to a max of 77″ off the floor on the Titan T-3 Series short power rack, and a max of 89″ for the taller one. This adjustable bar height feature is great for gyms with low ceilings.
There isn't an option to bundle a rack and bench, but Titan does have some nice benches. Or you can probably use what you have now.
Strangely, only the black racks come with plate storage pegs.
So, it comes with pretty much everything you need for freeweight workouts, except the weights and bars, but there are a few attachments you can get for a more varied routine.
24″ parallel bars, which adjust with a pin, are great for pushups and dips. I prefer the Y-dip bars, tbough. They adjust quicker and offer a wider grip.
There's a multi-grip pullup bar attachment available as well. That's nice if you like corner grip pulls.
You may want to invest in the cable pulley system if you go with the Titan. Even if you don't want it right away, it's nice to know that you can add one of you want to.
One cool thing is that you can use Rouge R3 attachments on the T3. Keep in mind that Rouge products are expensive, so buy from Titan unless they don't have the accessory you want.
Here's another cool thing. The holes run from the top to the bottom of the pillars in a Westside spacing pattern. I think all racks should be designed like this. Why not give us that versatility? And if you don't know what "Westside spacing pattern" means, it's the technical term for holes every inch.
What People Are Saying
I studied reviews from all over the internet to see if people generally had as good of an impression of the T3 as I did. I found out that this rack has a lot of fans.
The most common comment is about the value. "How can they sell this rack so cheaply?" I read a few Titan T3 reviews by people who were pissed off that they didn't find it before they spent almost double on a similar one.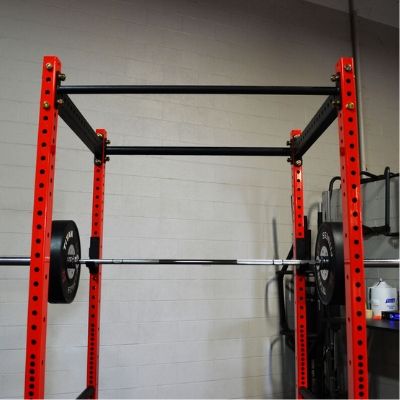 Of course, there were some who weren't that happy.
A few legitimately griped about the powder coating. You can't really blame them.
When you excitedly open a box and pull your new toy out, you want it to be pristine.
All in all, most everyone who went with the T3 is happy with their choice, and they'd do it again.
Alternatives To The T3
I want to show you a cheaper version and a more expensive one so you'll understand the difference in value.
Since the T3 was designed to compete with the Rogue R3, the R3 is a natural point of comparison.
You may want to look at the T2, which is basically the predecessor to the T3. It's cheaper, but it has some drawbacks.
Titan Vs Rogue
Rogue is high-end and high-quality; Titan is mid-priced and totally decent quality. That statement pretty much sums up the rivalry between the two competing rack makers.
What we're concerned about here is the T3 vs the R3.
The T3 comes with two pullup bars, instead of just one like the R3. Other things the T3 comes with that the R3 doesn't are band pegs and two sets of pipe posts.
Rogue's racks are lacking in included accessories compared to other high-end racks.
But Rogue beats Titan in the cosmetic department. The R3's powder coating is really good looking and has no shiny spots. Titan should work on their powder coating process some.
And then there's the welds. Titan has come a long way, but they still have some highly visible welds. Rogue's welds appear to be ground down by hand after the welding process. That looks neater, but it adds to the cost.
Speaking of cost, the R3 is nearly double the price of the T3.
In a nutshell, the R3 is better looking and more expensive. The T3 isn't guaranteed to be pretty if you go looking for flaws. But it comes with more accessories and costs much less.
Titan vs Rogue basically comes down to looks vs value. If you your are interested in Rogue, you can buy direct from here:
Click here for Rogue Fitness (pick-up your Rogue Power Rack here)
Titan T3 Vs T2
The T3 is taller and has a higher weight capacity. The T2 is rated for 700 pound bars, which is 400 pounds lower than the T3.
Another improvement that came with the T3 is stability. It's heavier and more solid.
One big complaint people had with the T2 was the welding. It looks like an amateur did it, even though it is all doubtless done by machine. The T3 doesn't have the best welds, but it's definitely neater.
If you can deal with big ribbons of weld and a lower weight limit, you can save some cash with the T2. But if you need a good spotter bar capacity and want an all-around bigger and better looking rack, the T3 offers an awesome value.
So who wins in the Titan T3 vs T2 contest? More serious bodybuilders with the extra cash vote for T3, while anyone on a tight budget should be happy with the T2.
Titan T3 in a nutshell
We want to cram a lot of exercises in a small space. That's really what a home gym is: an activity-dense workout area.
Power racks are the way to go if you want a serious gym at home. But it has to be high-quality and, for most of us, affordably priced.
In this Titan T3 power rack review, we looked at what this rack has to offer and how it stacks up against its main competitor and its cheaper alternative.
What do you think? Click here to see more about the T3.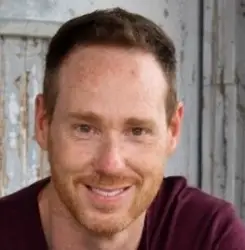 Latest posts by Jeff Carpenter
(see all)