No gym is complete without a good set of dumbbells. Those of us who workout at home usually don't have all the extra space and cash for a set like you'd normally see in a commercial gym. That's where adjustables come in.
Read on and see if they're right for you and how to pick just the right version for you from this list of best adjustable dumbbell weight sets for your home gym.
These adjustable dumbbell sets were chosen based on reader and user review, price, functionality, quality, and durability. The best adjustable dumbbells list changes with the times as new products are released and older ones go by the wayside.
So check back here often whether or not you have a a set, because there might just find something new and worthy of an upgrade to your current kit. A new contender is Nuobell adjustable dumbbells. They are not on this list yet and will be summarized here soon. Expect them to be high on the list, if not the top contender.
Check out my complete Nuobell Dumbbell review but be sure to read through this list too because these are all excellent options and should be considered for your home gym.
Why Adjustable Dumbbells?
Regular fixed-weight dumbbells are a mainstay in every commercial gym. But in most cases, adjustable ones are a better fit for a home gym. They offer three main advantages: space, versatility and cost.
Obviously, one pair of adjustables occupy less room than the up to 18 sets of fixed-weight dumbbells they can replace. Think of the racks you would have to buy just to store them.
That brings us to the versatility factor. A good adjustable weight set can provide from five to 90 pounds of weight resistance in each hand. You'd have to buy an expansion set to go above 50 pounds per hand with most sets, but you'd still save a ton of space and need only one handle.
Have you figured out the cost benefit yet? You would need 16 pair of fixed-weight dumbbells to match the weight versatility of a basic Powerblock adjustable set, without the expansion weight set. Those 32 dumbbells would set you back about $2,600. A set of Powerblocks will run you around $300.
Traditional dumbbells do have a place in some home gyms. You may prefer them if you have the space and money. We'll look at the best fixed-weight dumbbells another day.
Disadvantages Of Adjustables
There are a ton of reasons fixed weights are used in neighborhood gyms. Durability is one. Fixed-weight dumbbells are basically formed pieces of iron coated with some kind of rubber.
All adjustables have moving parts. And all of the ones that aren't ridiculously hard and time-consuming to adjust have plastic parts. You don't have to treat them gingerly, but I wouldn't drop them on purpose.
Honestly, that durability factor is the only major drawback to adjustable dumbbells.
How Do They Work?
The most basic ones work just like barbells. Take the AmazonBasics set I looked at, for example. You have to unscrew a cheap collar to add or remove plates on each side. It's straightforward, but it takes a while.
Better, and therefore more expensive, adjustables take only a few seconds to adjust. Most of the high-quality ones reviewed below adjust with the turn of a couple dials or a twist of the wrist. Basically, a stand holds the weights. Setting the adjustment while the handle is also on the stand either locks more plates in or unlocks some, depending on which way you go. Then you lift the handle off the rack and workout with the weight you've selected.
How To Choose
The best adjustable dumbbells for your home gym will match what you need in several critical areas. Consider these features to make the best decision.
Weight Range
Figure out not only how much weight you'll need now, but how much you'll need in the future. You'll be spending hundreds of dollars. Spend a little extra now, if you need to.
Let's say you're curling 40 pounds now. That's pretty good. But do you want to progress? If not, just get a standard adjustable set with a max of 50. But if you want to push it and break the 70-pound mark, go ahead and get a set that you can get an expansion for.
Most adjustable sets go from 10 to around 50 pounds on each handle. Some have expansions sets that allow for up to 90 on each.
This weight is usually adjustable in increments of five pounds per handle. Compare that to fixed-weight dumbbells, which are generally available in increments of 10 pounds.
Some adjustable sets have a feature, like a removable weight that goes inside the handle, that essentially allows adjustment in 2-½ pound increments. That's great for isolation exercises, but not really necessary for lunges, curls and the like.
Ease Of Adjustment
If you get a complicated adjustable set, you'll probably end up wishing you mortgaged your house and got a huge fixed-weight set instead.
Pay attention to how the sets I've reviewed below adjust. They're all easy. If you don't get one of my picks, get one that adjusts similarly to them.
That's all I'm going to say on this topic, because that's all that you need to know. Avoid sets that make you remove collars to add or take away weight.
Durability
Here's the adjustable dumbbell paradox: Plastic almost always becomes a critical point of failure, but all high-quality adjustable sets have plastic components.
The adjustment mechanisms have plastic parts. Weight plates are sometimes separated by or coated with plastic as well.
Don't worry. Unless the set is cheaply made and poorly engineered, it will last for years or even decades. The plastic doesn't bear any real weight. It just helps the adjustment mechanism move and lock.
Listen to trusted reviewers who actually workout in a home gym and use adjustable weight sets, like yours truly. I've paid very close attention to the durability aspect while choosing which sets would be in this top-five list. At least do your due diligence in researching the build quality of the sets you consider.
Comfort
Almost all of the mid to high priced adjustable sets have comfortable ergonomic handles. Uncomfortable handles are rarely a problem.
The biggest comfort-related complaint I hear is about the length of the handle, especially when expansions are used. Have you ever used dumbbells that were so long that you'd hit your hips at the low point of a curl? Maybe you got irritated by the way they would clang together over your head while doing presses. These are the drawbacks of long dumbbells.
This usually isn't a problem with standard adjustable sets without expansions. It's the expansion weights that make the handles so much longer. But some adjustables are designed to take expansion weights without adding any extra length. We'll look at a really good one below.
Here's The 5 Best Adjustable Dumbbell Weight Sets
I used all the recommendations above to narrow the field of adjustable sets down to the five leaders. Check out the specifics and decide which will be best for your home gym.
Bowflex SelectTech 552 and 1090s
Bowflex has a solid reputation among home gym equipment manufacturers for a good reason. They make dependable and easy-to-use products. I was glad to see that reputation extend to their adjustable weights.
They make three SelectTech models: 552, 560 and 1090. But this is a review of the best, so were going to focus on just that. Sorry 560, ya didn't make the cut.
The 552 and 1090 sets work and are built the same way. You just twist a dial on each end of the handle to select the weight you need. That's it. They come with a stand, which is really a plate holder, but you can get an elevated stand for a slightly higher price.
Overall, both sets offer outstanding quality. They are durable, simple and comfortable. Bowflex offers a two-year warranty on the 552s and three years on the 1090s.
Now let's compare the 552 and 1090 sets.
There are two main differences you need to consider: weight range and size.
Each 552 adjusts in 2-½ pound increments from five to 25 pounds. You go from 25 to 52-½ pounds in increments of five pounds. That finer range at the lower end is great for isolation training.
Each 552 dumbbell is 15-¾"L x 8″W x 9″H. That's nice and compact.
The 1090s go from 10 to 90 pounds each, in five-pound increments. This heavier max weight is better for lunges and shrugs.
Of course, more weight means a bigger unit. Each 1090 is 17-½"L x 10″W x 10″H. That couple inches shouldn't really make much of a difference. Measure what you're using now for a comparison.
---
Bowflex Selecttech 552s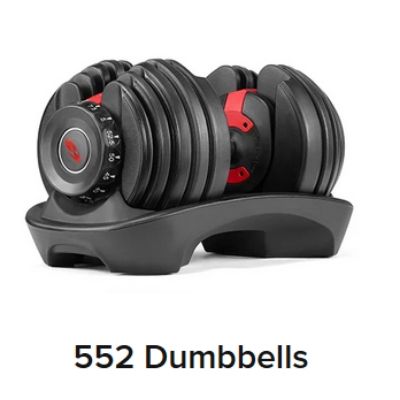 ---
552 Pros:
Durable (that doesn't mean you can just drop them on the ground!)
Easy to adjust
Lower end of weight range is adjustable in 2-½ pound increments
552 Cons:
Where to get them?
Bowflex Selecttech 552 (Amazon)
---
Bowflex Selecttech 1090s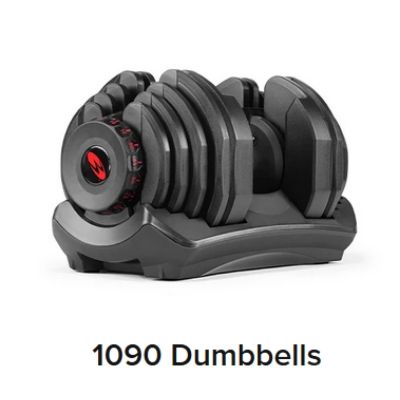 ---
1090 Pros:
Durable (same as above. These are robust but adjustables should not be hurled around)
Longer warranty
Easy to adjust
90-pound weight limit
1090 Cons:
Longer than the 552s
Less versatile than 552s at the lower end of the weight range
Where to get them?
Bowflex Selecttech 1090 (Amazon)
---
Core Fitness Adjustables
Core Fitness did away with the dials and went with an easy one-handed adjustment mechanism. You place the dumbbell in the cradle and twist the handle to the weight you want. The weight is marked and clearly visible from above.
The range is five to 50 pounds for each handle going up five pounds each click. There's no expansion set available, but think about whether you'll need one. 50 pounds is good for all but the most serious curlers. Still, do you think you'll ever want to squat or lunge more than 50?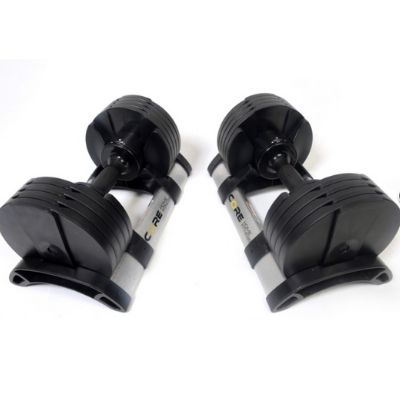 I really like the cradle. It's made of strong aluminum. I've seen cradles and stands that sit flush to the floor.
That makes them hard to pick up and move. But this one has an open design. You can easily get a grip on each side and pick it up with the dumbbell sitting in it.
Let's talk about grip comfort. Here we've got a nicely knurled and contoured handle that will fit just about any hand well.
The length varies with the weight selection due to the design. They're 9-⅜" long at the 10-pound setting, and they get just over an inch longer for every 10 pounds you add. The maximum length at the 50-pound mark is 14-⅜". That's about an inch shorter than the Bowflex SelectTech 552 at at any weight.
Core Fitness offers the standard warranty of two years.
---
Pros:
Super easy one-hand adjustment
Cool lightweight aluminum cradle
Cons:
No expansion sets available
Where to get them?
Core Fitness Adjustables (Amazon)
---
Merax Deluxe Adjustable Dial Dumbbell Set
This set adjusts much in the same way the Bowflex SelectTech models do. After setting the dumbbell in the cradle, you push and hold a red safety lever and dial the weight you want. This has to be repeated on each side and each handle, so it's not nearly as quick to adjust as Core Fitness' set.
These are kilogram weights, so there may be a learning curve for you. Print a chart and tape it to your wall.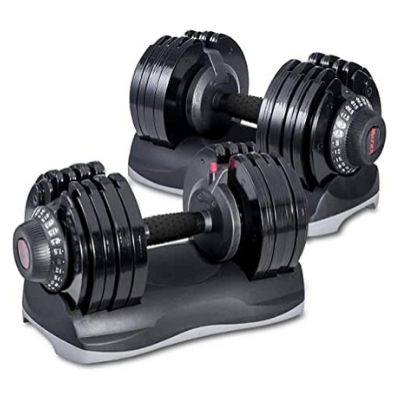 The minimum weight is five kg, or 11 pounds. You go up in increments of 5-½ pounds to the max of 32-½ kg, or 71-½ pounds.
Of course, you may not want or ever need that much weight, but it's there if you want to progress.
I did find a couple complaints about it getting difficult to lock the weights in after some time. After some research, I'm convinced that most or all of these complaints come from people who drop the dumbbells when they hit their limit. Don't drop adjustable sets, please.
The 16-½" length puts them smack in between the Bowflex SelectTech 552 and 1090. That length is fixed. It doesn't get any shorter when you remove plates. This is a manageable length.
It's pretty comfortable and offers a good-feeling, hefty grip that's coated in really grippy rubber. These ones won't slip in sweaty hands.
---
Pros:
Good weight range
Awesome rubbery no-slip grip
Cons:
Where to get them?
---
Powerblock Classic Elite Series Adjustable Set
The first difference you'll notice about Powerblocks is the shape. The ends are square. I love this. Others don't. I just think they have a heftier feel to them, given the same weight.
They adjust from five to 50 pounds, mostly in 2-½ pound increments. The weights are five pounds per plate, but you get a small 2-½ pound weight that goes in the bar when you want it.
 The length of the basic 50-pound set is just 12″, with a height and width of 6″.
You can get two expansions to add on to the basic set. The 20-pound expansion brings tour max weight to 70 pounds, with a length of 14″. That's a really good weight for super curls and heavy shrugs.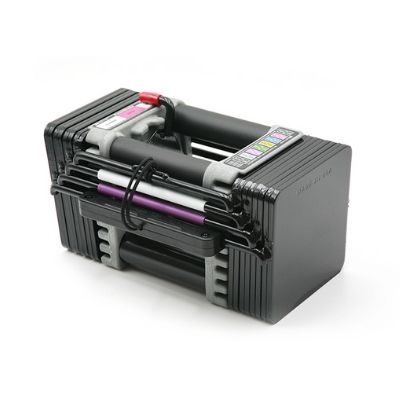 You have the option of adding another 20-pound extension for a killer max weight of 90 pounds.
There's not much you can't do with that kind of resistance on a dumbbell. Even with both expansions, the length is only 16″, which is comparable to the Merax's 71-½ pound max dumbbell.
This is the most versatile one on the list, but what about everything else?
The square design makes for heavy-duty durability.
As for comfort, the handle itself is straight. But it's covered by a padded no-slip grip. That's a drawback for anyone who prefers knurling, but it is easy to handle and keeps your hands from getting fatigued.
---
Pros:
The two 20-pound expansion sets allow a max weight of 90 pounds – Love it
Strong square design
2-½ pound ballast tube weight allows precise weight adjustment
Cons:
Some just aren't going to like that padded grip
Where to get them?
Powerblock Classic Elite (Amazon)
---
Powerblock EXP Pro Series Adjustable Set
This set is from Powerblock is similar to their Classic Elite series, but there are a couple differences that are worth mentioning.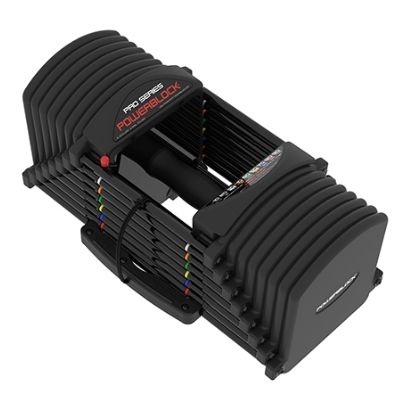 The weight range is the same, and you do get the 2-½ pound adder weight.
The two expansions are available for this series as well, so you can turn the 50-pound set into a 70-pounder .
The 70 can be upgraded to a serious 90 pounds.
There are 32-pound and 50-pound non-adjustable dumbbells available in this series. But why not go for the adjustables?
One nice improvement is the handle. It's knurled steel with rubber wrist supports. Pros love that. I still like the padded handle of the Classic Elite, though.
---
Pros:
All the same pros as the Classic Elite Series
Rubber wrist guards
Cons:
A bit more expensive than the Classic Elite
Where to get them?
---
Adjustable Dumbbells in Summary
We know that the best adjustable weight sets save us money and space while adding to the versatility of our home gyms.
The winner of our list of the best adjustable dumbbell sets is the Powerblock EXP Pro Series. They build on the solid foundation of the Powerblock Classic Elites by improving the handle and adding wrist support.
You can save a few bucks and keep the expansion capabilities by going with the Elites, but, personally, I'd go with the Pros.
Either way, both of the Powerblocks are expandable to 90 pounds, which makes them versatile enough for anyone who will eventually want to progress to competition-level workouts.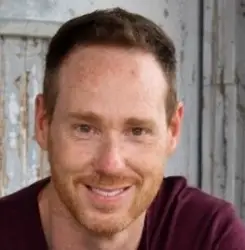 Latest posts by Jeff Carpenter
(see all)