Nuobell Dumbbell Review
$595
Nuobell Dumbbells Review
The "World's Smartest" dumbbell from Swedish company SMRTFT. It's touted as the "world's smartest" adjustable dumbbell that uses steel machine weight plates instead of a clunky weight adjustor dial found on cheaper alternatives. They are sold in pairs from 50 to 80 LB models and have a solid and natural feel to them. I prefer these much more than other adjustable dumbbells like Bowflex and even Power Blocks. The form factor alone made them an instant favorite of mine. Top it off with high quality, weight ranges and competitive price, they are a perfect fit for any home gym.
Pros
High-quality construction No sloppy weight adjuster dial Excellent form factor Balanced and comfortable Wide Weight range
Cons
Like all adjustable dumbbells, the Nuobells are not meant to be dropped or tossed on the ground like a good ole iron dumbbell.
This is a Nuobell Adjustable Dumbbell review. As an Amazon affiliate, this site may earn from qualified purchases made through our links. This comes at no added cost to you and helps us with product research and creating content for our beloved readers.
Overview of the product
Are you interested in avoiding an entire weight rack taking up space at home? So are we. In this NUObell adjustable dumbbell review, we tell you exactly how this set of adjustable dumbbells fits the bill. 
Ever since gyms closed due to the pandemic, people have had to work out at home. That includes getting their very own dumbbell sets for their home gym. But why get a whole set when you can get a single adjustable dumbbell instead?
NUOBell Adjustable Dumbbells by SMRTFT are one such brand and model of adjustable dumbbells. Although it's not the only model floating around the market, we think it's one of the newest and best options out there for anyone working out at home. 
SMRTFT made it their mission to provide an innovative and effective home gym set up for athletes. After years of design and innovation, they have finally produced the NUOBell.
It isn't perfect, but we have plenty of reasons for recommending it to you — everywhere from its design, features, and even durability. Although we're just about to go in-depth about every aspect, here is a quick rundown of pros and cons for you to know:
Pros
Well-designed for quick weight adjustment
Ergonomic grip and handle
Sleek aesthetic
Come in different weight options
Cons
More expensive than other models
Has a few major plastic components
Now, we prepared this full product review of NUOBell Adjustable Dumbbells for you. Let's dive even deeper in!
Things to consider before buying an Adjustable Dumbbell
How Often You'll Use It
The price, design, and quality of an item don't matter if you don't plan on using it anyway. Before you buy an adjustable dumbbell, make sure that it will fit your home gym needs.
It will be worth it if you plan on using it several times a week. But if you're unsure about your workout routine, maybe consider different workout equipment.
Price
We'll warn you now: the NUOBell Adjustable Dumbbells are not cheap, sitting at around $750. Its fantastic design costs a lot to develop and reproduce. You are getting your bang for your buck — but it'll be a big buck.
Quality
Although it's one of the more expensive adjustable dumbbells on the market, it's still more convenient than getting a whole weight set. Not only that but the quality and design are well worth it. You'll find out why soon.
Features & Benefits
Adjustability
The biggest and best thing about the NUOBell Adjustable Dumbbells, in our opinion, is its adjustability design. No other adjustable dumbbell on the market can match up this easy mechanism and design as far as we've seen. It is seriously as easy as one two three.
Changing the NUOBell weights only requires a twist of the handle while it is in its holder. Twisting the handle immediately adjusts which weights are attached to it. The small dial on the side will tell you how many pounds you're at. 
Once you are done turning the handle to the desired weight, all you need to do now is pull it out of its holder. The rest of the weights get to stay safe and secure on the holder itself.
With how incredibly easy it is to change weights with the NUOBell Adjustable Dumbbells, there is no reason to keep an entire dumbbell set at home.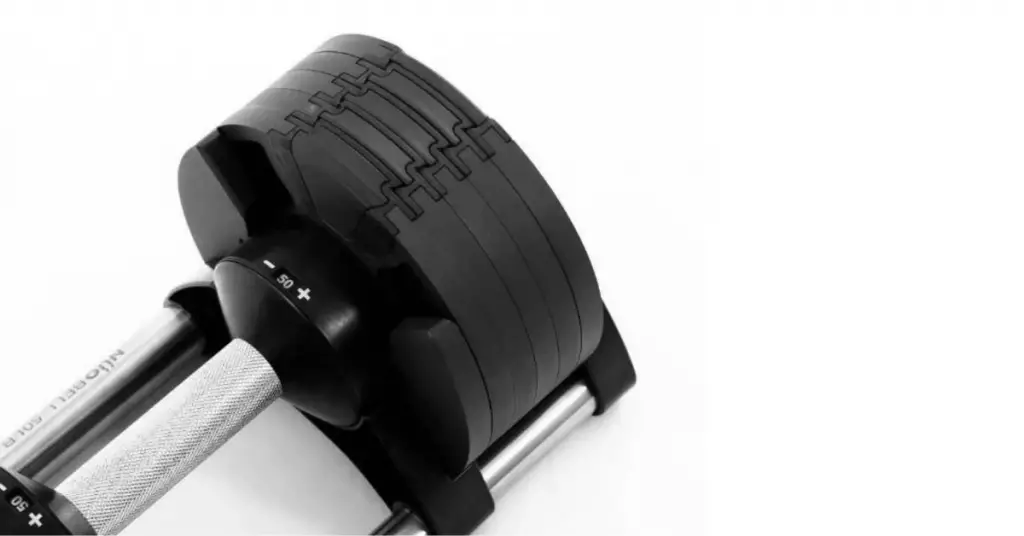 Weight Options
Now that you know how easy it is to adjust the weights on the NUOBell, you're right to look for more information. NUOBell can be bought in its 50lb edition or 80lb edition.
If you're on the lighter side, you can first get the 50lbs. But since it's adjustable anyway, it's not a bad idea to buy the 80lbs edition so you can work up to a more extensive range. Of course, make sure you can afford it.
We appreciate these weight options since they provide a lot of flexibility for athletes and non-athletes alike. Now, the weight adjustments themselves come in increments of 5 lbs each. Like we said, do so by twisting the handle. 
You will know it's adjusting by listening for the clicks and watching the dial. It will change the weights on both ends of the dumbbell at the same time.
In the same way, the central bar will also have to adjust. The heavier a weight you will lift, the longer the central bar will get, too. 
When you reach 80lbs, the bar will have extended long enough for both your hands, reaching 17". You will pretty much be able to perform your entire range of weight-lifting exercises with this adjustable dumbbell.
Of course, this is all a different story if you want something heavier than 80lbs. If you are a hardcore and well-trained weight lifter, you will likely want something beyond 80lbs.
In that case, NUOBell won't be the best adjustable dumbbell for you. Similarly, since NUOBells aren't cheap, we recommend you check your budget. The NUOBells will only be worth it if you value design and adjustability as much as we do.
Ergonomic Design
NUOBells features a knurled handle, which is in sharp contrast to the usual finger-contouring grips that most other brands like to use. If you're still warming up to using dumbbells and weights, those foam-contoured grips might be better for you to start with.
But for those who are already used to professional-grade equipment, you will appreciate the knurled handle. Just by gripping it, you'll feel like you're back at your regular gym or training center.
It might seem like no big deal. However, we think that knurled handle overall works well for the rest of the NUOBell's design. Honestly, it's probably the most visually pleasing adjustable dumbbell we've seen. 
There's no piece out of place, and it looks like one well-functioning package that is both nice to look at and great to use.
However, we did spot a small user problem in our experience. The second or third time we were testing it, we noticed the problem: if you don't put the dumbbell back at the right angle or way, it can get stuck. 
Because of how exactly the ridges and holes have to align, and the adjustment mechanism can work. Still, it can be easy to miss the target if you are careless. 
We didn't notice it at first because we handled it with a lot of care. However, as you get more comfortable with the dumbbell, you still have to be precise with how you put it back or pull it out. Or your workout will consist of just trying to pull the dumbbell out!
Material and Construction
NUOBell is primarily made from steel. Of course, this means it's heavy, but it also makes it insanely durable. Most adjustable dumbbells use much plastic, but NUO went the tougher (but more expensive) route. 
With primary steel construction, you feel the professional grade with every lift.
However, even if steel is the primary material, we noticed some key areas are still made from hard plastic. Although, in most cases, hard plastic is not an issue, it can affect long-term durability. 
The plastic parts serve as a connector to the plates, which would receive a lot of stress in the long run.
 If you use the NUOBells properly, they likely won't cause any problems. But we're afraid that it will only take one good drop for it to crack.
There are also plastic components in the weight selection dial and lock. But these are at a much smaller risk of being damaged. Still, after some years, the locking and twisting may get less smooth. 
Bowflex models have had problems with these in the past. We will have to wait a few years to test this out with NUOBells, but it's holding up for now.
Nuobell Dumbbell Reviews From Around The Web
There are plenty of NUObell reviews and testimonials out there on the internet. Here are some great ones that sum up how we feel about these adjustable dumbbells too.
"So far better than Powerblock, but I hope the plastic components hold up."
"The design and function are excellent. Changing weights takes only a few moments."
"These DUObell adjustable dumbbells will make you feel like you're not adjusting them at all. Feels like a full set without noticing."
"Very good, but expensive. Shipping was hefty too."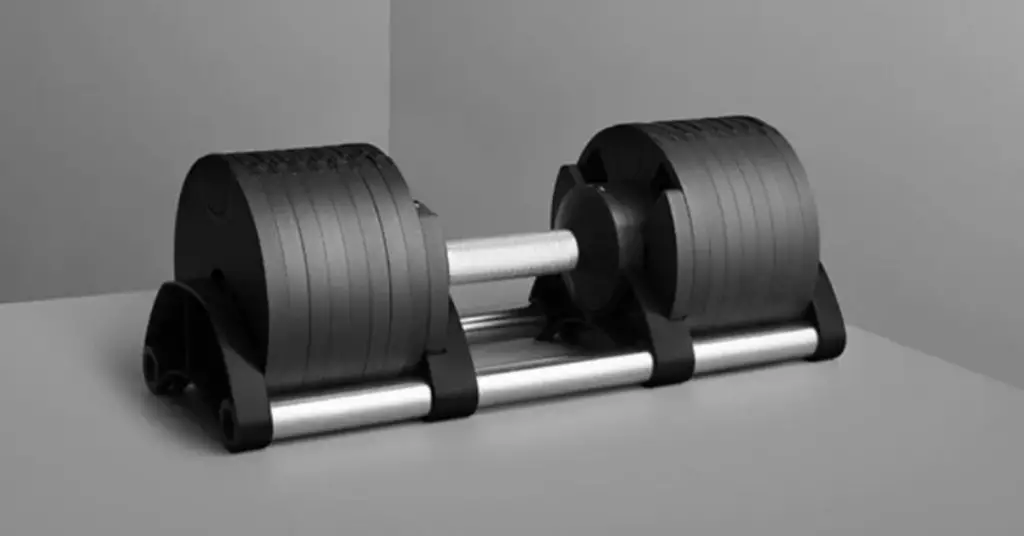 Nuobell Adjustable Dumbbell Alternatives
At this point, we're pretty positive that NUOBells isn't the first adjustable dumbbell you have seen. There are several other popular adjustable dumbbell models out there that are often compared and contrasted to NUOBell. So here's our quick and comprehensive rundown of alternatives and how NUOBell matches up to them.
Bowflex SelectTech
Bowflex Adjustable Dumbbells are famous for those on a budget. They also come in two weight options like the NUOBells do. But Bowflex and SMRTFT share many issues when it comes to the design of their adjustable dumbbells.
Like we mentioned earlier, Bowflex is somewhat prone to getting damaged through its weak plastic points. But again, that's what you get for their Bowflex's weight options at $350 and $700 on the market, respectively.
Although it will be years before we find out, we hope they will last longer for just fifty bucks more.
Comparing the two, the NUOBell feels like an upgrade of the Bowflex Dumbbells. It has a better design, a sturdier construction, and a better mechanism for adjusting the weights. 
They have a somewhat similar weight range, too. If you can afford to invest a bit more into quality, we recommend getting the NUOBell instead of the Bowflex.
But keep in mind that Bowflex carries a 50lbs option. If that's all you need, then it's a good deal for $350. NUOBell also has a 50lbs version, but it has a heftier price. Since the dumbbells are not as large, we can worry less about weak points and damage.
Ironmaster
NUOBells are very reminiscent of Ironmaster Adjustable Dumbbells. You have the pancake plates stacked side by side to display the difference in weights. Ironmaster uses a classic design that will last and last despite being mechanical and possibly a bit clunky. 
There isn't any fancy twisting or dial to show the different weights. The entire model uses very little plastic, meaning no weak or vulnerable points to possible damage. And they go above 100lbs, a wider range than NUOBells.
So what does NUOBells have over Ironmaster? Mostly convenience. Weight adjustment with the NUOBells takes only seconds, while the Ironmaster requires a bit more than that. NUOBells are also still a more practical option if you're not looking to lift anything over 80lbs.
But Ironmaster is a good alternative if you are on a budget. For $699, you get the set and stand, which is overall a better deal than NUOBlocks' $750 price point for the weights alone. So if you have a budget and prefer a wide weight range and classic design, check out Ironmaster.
Powerblock Dumbbells
Powerblock Dumbbells are almost three decades old now. They are still an insanely popular and reliable brand when it comes to adjustable dumbbells. 
Their design is classy, functional, sleek, and straightforward. And with weight options up to 175lbs, which is more than twice as much as NUOBell's limit. Just by that feature, Powerblock Dumbbells will automatically be a prime option for hardcore weightlifters.
Overall, NUOBells still takes the cake when it comes to innovative design for weight adjustment. Although Powerblocks have an excellent weight adjustment function, it's not as efficient or elegant as NUOBells can do.
Powerblocks also have a problem with stuck weights, similar to what we noticed with NUOBells. 
However, the big difference here will be the price. You get a much more comprehensive weight range from Powerblocks with a much lower cost of $550, while NUOBells goes at $750. Budget-wise, Powerblocks is still a more practical option.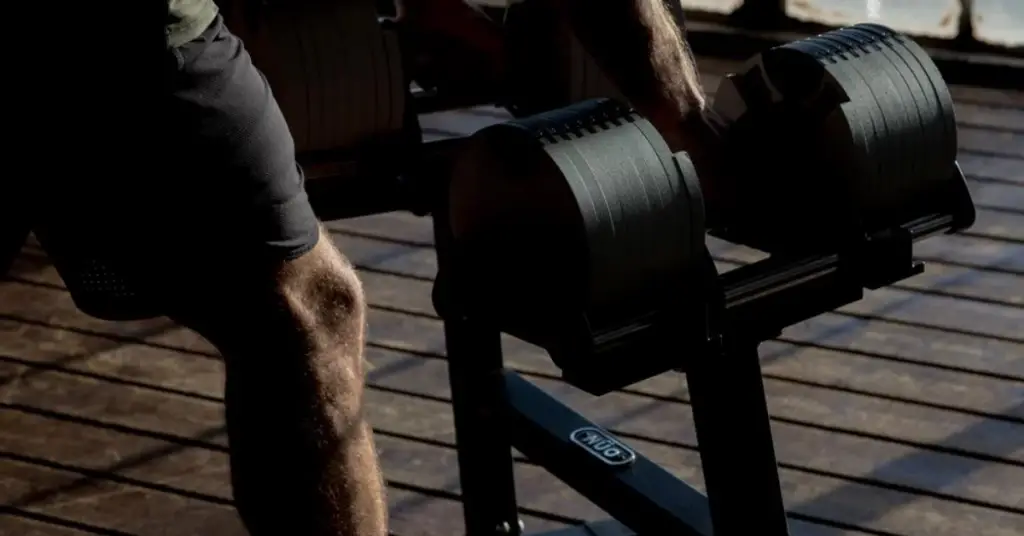 Nuobell Adjustable Dumbbell Review In A Nut Shell
SMRTFT's NUOBell stands out against the crowd thanks to its impressive and innovative design. Although technology is sure to keep coming up with new designs, we can hardly imagine one surpassing the ease and convenience that NUOBell offers. 
We think most of the athlete and home gym population will be happy with NUOBell's weight range, too.
Just watch out for the plastic points by taking extra care of the dumbbells during usage and storage. A product that expensive deserves whatever respect you can offer for it to last as long as possible.
But other than that, go ham! We're confident that the NUOBell will give you the home workout you're looking for with as little fuss as possible.
Pick up your set of NUObell adjustable dumbbells here and replace that pile of singles you have sitting around.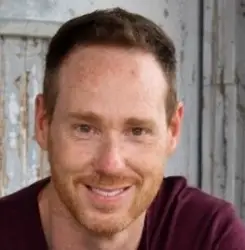 Latest posts by Jeff Carpenter
(see all)