Smith machines are made for the home gym. They eliminate the need for a spotter and can help novices develop proper lifting form. Some of them are capable of expansion into a setup that will rival any commercial gym.

With so many available, it can be easy to end up with a regrettable pile of junk. Cheap material and construction are common at discount sites. But I want you to have the best smith machine. Let me tell you what to look for and show you my picks.

Are Smith Machines Worth It?
Despite the controversy, I'm just going to say, right off the bat, that they can be worth every penny. In any gym or bodybuilding forum, you'll hear or see plenty of heated arguments about whether they're good or bad for the home gym. I don't get it myself. If it works for you, it's good. If it doesn't, it's bad.

But since it seems to be such a hotly contested subject, perhaps it's best that we cover the pros and cons of smith machines as a whole.

A smith machine in its simplest form is basically a set of vertical guides that stabilize a barbell. There are catches that can grab the bar when activated, usually by a flick of the wrists. The power bar carries weights on its ends, just like a regular bench bar.

Those who think smith machines are useful say that they help the lifter develop proper form by keeping the bar in a straight vertical plane. Detractors say that the fact that the vertical guides keep the bar on that plane prevent the lifter from developing the proper lifting form. I look at it the way I look at training wheels on a bike. You need a little help keeping everything on keel at first. The difference is that a smith machine continues to be useful even after you gain proper form. In fact, the safety catches can keep your neck or sternum from being crushed if you try one more rep than you're capable of.

Some say that a smith machine keeps the bar too steady. The argument is that you have to use a wider range of muscles to keep the bar steady during the lift, so you get a better workout with a regular bench.

That may be true, but is it really that important? I do full body workouts, so I'm not really concerned about working my back muscles while I'm doing presses.

Squats are another source of debate, even though they are generally considered as a secondary workout on smith machines. You do have to keep your back straighter when doing a squat while your bar is between a smith machine's guides. I can't figure a way around that. I don't think it's really that crucial of an issue, though. If it matters to you, just don't use your smith machine for squats. That's my take on the matter.

Well, there's some food for thought. It is what it is. Don't let anyone tell you that smith machines are useless or even harmful. Don't let anyone tell you that you need one, either. Like anything else, it's a personal choice. Read my little buyer's guide and the reviews of what I think are the best smith machines and make your own decision.

Making The Choice
The most affordable smith machine that's worth its salt is going to set you back almost $500, when all is said and done. So it's not as simple a choice as, say, a lifting belt or set of resistance bands. You want a machine that offers everything you need now and everything you'll want in the near future. If you get all that in a high-quality machine at a nice price, you got yourself a great value.

So let's dive in. These are the points you should consider when looking for your home gym's new smith machine.

Type
Looking at an online home gym supply site, it may seem like there are more kinds of smith machines than there are models of cars at a dealership. But there's really just two basic kinds.

Standalone smith machines, in their simplest form, are something like power racks. The main difference is in the way you can activate the catches to grab the power bar. These simple types are the most basic and the most affordable. If you just want a spotter, go with one of these.

If you're like me, you consider building and tweaking your home gym something of a hobby in itself. That's why I personally prefer the other kind: the all-in-one smith machine.

As the name implies, all-in-one machines can pretty much be a home gym by themselves. I can spend, and have spent, hours looking at all the different add-ons available for them. There's lat pulls, chin up bars, power towers and so many other cool pieces of workout equipment you find in commercial gyms.

If you want to put together an impressive and complete home gym, either right away or eventually, consider an all-in-one smith machine.

Weight Limit
The first thing you should look at is the weights. If you've never really looked at smith machines, you may be surprised that some aren't adjustable. That's right, there are some that have integral weights that cannot be taken off or added to.

That type of smith machine may be what you're looking for if you want something super cheap and you're only wanting to do some basic cardio or fat-burning workouts. The problem is you'll never be able to advance to more weight. And if there's not enough weight to begin with, you're not going to get the workout you need.

Regular smith machines, and to me that means ones that you add your own weights to, have maximum weight limits. In other words, you can only load the bar with so much weight. This usually isn't a problem, as the frames and hooks are made of steel and the cables are strong, but it is something you should check out before you spend your money. Make sure the machine is as tough as you are.

Durability
This is an important thing to consider when shopping for any piece of equipment for your home gym. It's an important factor for safety, obviously, but it also affects value. Do you want to spend several hundred to thousands of dollars on a machine that starts to wobble or squeak after a few months? You need something that can handle the stress of all that weight with style.

The frame should be made of tubular or angular steel. There are some made of composite material that are even stronger than steel. If it's not steel, take a bit of time and do some research on the material. Carbon fiber is the industry standard for strong non-ferrous frame material.

Cables and pulleys have to be able to stand up to years of use. I really scrutinized these two components when building the reviews below. There were a few machines I liked a lot, but couldn't recommend because they had thin cables or shoddy pulleys. What a shame.

Get one that's more durable than you think is necessary. As you progress and move on to more weight, you'll be glad you got something that can grow with you.

Safety
This is paramount. Half the idea of having a good smith machine is being able to lift and workout on your own, without a spotter. You're going to be relying on a machine. You have to be able to trust it to catch the weight when you can't. Imagine flicking your wrists to engage the catches, but the catches fail. You can trust the machines I've reviewed here, but you have to do your due diligence if you decide to look on your own.

The catches themselves are perhaps the most important safety feature. The mechanism that they work on has to be reliable.

Pulleys and cables are worthy of extra thought as well. If either one of those fail, it will be at the worst time, when the most weight is on them.

Another safety feature that most don't think about when they're shopping is ease of assembly. If putting it together is too difficult for you, you're liable to make a mistake that can manifest as a disaster later on. Instructions should be clear and in plain English. If in doubt, hire a trusted local handyman to do the assembly for you. You're better safe than sorry.

Size
I made this mistake when I bought my first power rack. I bought it without considering the size. I put it together in the main room of my basement. As I started taking everything out of the box, I started to think that it wouldn't leave much room for anything else in my gym. When I got it put together and tried to slide it into my gym, I found out that it was too tall for my gym's low ceiling!

Use a tape measure and your powers of visualization. Make sure you'll have room for the machine you're considering and all of your other equipment. Think about any additions that you're considering for the future as well. A well thought out gym is never short on space.

If you're thinking about an expandable smith machine, consider the space requirements for any add-ons that you may eventually want. A squat rack that goes on the back of the machine, for example, needs about three feet of buffer between the machine and the wall for a comfortable workout.

Add-ons
Higher-end smith machines have some truly innovative expansion capabilities. Pullup bars and squat stations are the two most popular ones. Power towers are pretty common options for the more expensive smith machines.

You may want to spend the extra money on one of those machines with seemingly endless expansion possibilities. It can be the heart and soul of your home gym. And the great thing is that you don't have to get all the add-ons when you buy the machine. Make sure you have the space, and you can get the options when you can afford them. They'll be available for years after you buy the machine. And even if the model you buy is discontinued, you'll still be able to find the add-ons pretty easily.

Press Bar
The quality of the press bar determines the smoothness of the lift. That quality mostly depends on the bushings. Bushings should be snug, with the right tolerance. Loose bushings make for a jerky lift that feels unstable. It can be a scary feeling during a heavy lift. I can tell you that from experience. Bushings that are too tight can catch, making for an annoyingly rough lift.

Bearings are a plus, but they aren't necessary. Good bearings can make the lifts feel as smooth as silk. But you can save money by getting a machine without bearings.

Best Smith Machines Reviewed
Here are the five best smith machines that I could find when I scoured the market looking for great value and superior function.

Body Solid Series 7 Smith Machine With 255-pound Oly Weight Set
This one is a sturdy, high-end all-in-one machine that can expand with your gym. Not just a smith machine, it's basically a half-cage with many add-on options.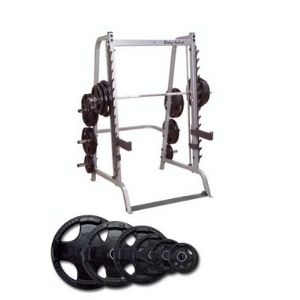 The lat attachment enables high and low cable exercises, like pulldowns, pressdowns, crossovers and what have you.

I like that there's a 25-pound bar and 225-pound rubber olympic bumper plate set included. If you'd rather have an oly bar, you can easily switch the bars out. There's no bench included, but you're better off using or getting your own anyway. You want one that's comfortable.

The seven-degree reverse pitch forces you to use your back and leg muscles and glutes to stabilize the bar during the lift, which kinda shoots down one of the anti-smith machiners' arguments. It's times like this when I actually wish I'd kept my neighborhood gym membership, just so I can gloat a little. Actually, I'm much better off without that place.

There's 20 lockouts to catch the bar for any lift. Rotate the bar about 15 degrees to lock it in. The gun rack has 14 lift-off points, which is all you should ever need.

With a footprint of 66"x64", it's probably not for a smaller gym. The 83" height is a bit tall for many basements, too. Use your tape measure. Your floors will be safe though, thanks to the rubberized feet.

Here's something amazing: It's covered forever under the warranty, and that includes both materials and workmanship.

In a nutshell, this is a solid, durable and expandable machine. It's a bit pricey, but you'll save money on plates if you don't have any right now.

Pros
Expandable
Comes with a set of oly weights
Lifetime warranty covers everything
Cons
On the expensive side
Body Solid Powerline Smith Machine
Here's our budget pick. At less than $500, you'd expect it to be a bare-bones frame with only safety stops. But it's much more.

I was impressed with the available add-ons. You can get lat and pec attachments, and an adjustable bench that goes from incline to flat to decline. The bench has a hold-down, and can be customized with a leg developer and preacher curl.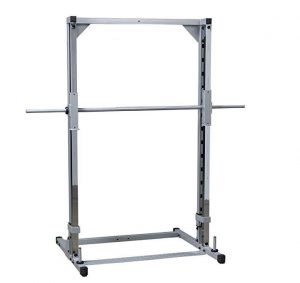 The spotter catch is engaged in the usual way, by twisting the bar about 15 degrees.
Just like the Series 7, there are 14 lockouts, but this one has a zero-degree smith angle.

All of this is supported by 2" 12-gauge pillars that can handle up to 400 pounds. The bar itself is supported with a carriage on each end that rides up and down the pillars. Stiff nylon bushings make everything nice and smooth.

The 32-pound bar that's included is 1" in diameter, but you can get an adaptor if you want to use oly plates.

It's not hard to assemble at all. It shouldn't take more than a couple hours with a few basic hand tools. I like the nice, clear instructions.

You'll need at least an 81" ceiling and a 76"x45" space to put it in for standing lifts. Add an appropriate amount of room to the 45" length to accommodate your bench.

The frame is covered by a generous 10-year warranty, but all other parts come out from under the warranty after one year. Three years would be better, but this is an economy model.

If you want a good, expandable smith machine at a great price, this may be your thing.

Pros
About one-third the price of high-end smith machines
Good expansion possibilities
Decent warranty for a machine of such a good price
Cons
Zero-degree pillars don't force you to work your stabilizing muscles
Valor Fitness BE-11 Smith Machine
This machine by Valor Fitness is double the price of our budget pick, but it has a few features that may make it worth the extra investment for you.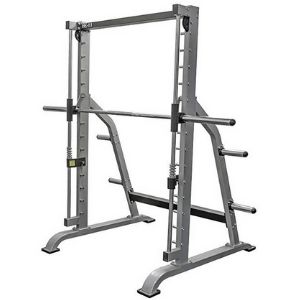 First, it's sturdier and can handle more weight. The 12-gauge 2"x4" steel frame lets you bench or deadlift up to 1,000 pounds. The linear bearings on the carriages make it smoother, too.

You have the option to upgrade with the counterbalance kit, which is basically a cable and pulley system that offsets the weight of the bar.

Oly weights are a must, unless you want to switch out the bar for a thinner one. You can store a full set of your oly weights on the four storage pegs. That can save you some wall or floor space in your gym.

The five-degree reverse pitch is pretty close to the standard seven in pitched smith machines. You won't be able to tell much of a difference in any lifts. Also following the standard is the 14-position gun rack.

If you have the room for this 65"Wx53"Dx80"H machine, it should last you for years if you keep the frame wiped down and grease the bearings about twice a year.

I'd recommend this one to any lifter who needs the extra stability and weight capacity and is willing to spend more to get it.

Pros
Very solid and sturdy
Bar counterweight available
Cons
Only for oly weights, not standard – Otherwise you have to go through the hassle and expense of replacing the bar
Yukon Caribou III Smith Machine
This is a decently priced and expandable machine for the budget-minded lifter.

The bushings are nice and tight, but they have to be oiled every few weeks or so to keep that smooth feeling in the lifts.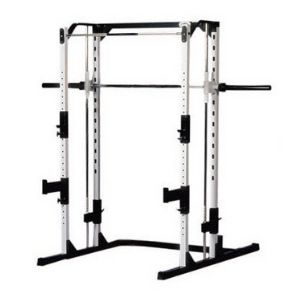 You can use regular plates or oly plates with the included adaptor. It'll handle about 500 pounds safely.

Check the height of your ceiling. This one is on the taller side at 82". The footprint is 68"x48".

A chin up bar is built in to the top, which is a curiously rare feature of smith machines. Add-ons include a dip attachment, lat pull down and cable crossover. So you can get a good full-body workout if you want to spend the extra cash on a full gym.

The thing I don't like is the plastic pins on the T-handles that set the safety catches. There haven't been any reports of failure of this component, not that I could find anyway, but metal pins would make me feel much safer.
Pros
Add-ons available for a full-body workout
Chin up bar included
Standard bar includes adapter for oly plates
Cons
Plastic locking pins
The Yukon Caribou Bottom Line
If you want a good, steady smith machine that you can add on to when you're ready, you can save some cash over similar models by scarfing up this one.

Marcy Diamond Elite Smith Machine Workout Cage
Here's the best value for the workout enthusiast who wants a complete home gym.

The oly bar can safely accommodate up to 300 pounds of plates, which store neatly on the built-in pegs, and the bench is rated at 600. This strength comes from the 2"x2 ¾" powder-coated steel frame and 2,000-pound cables.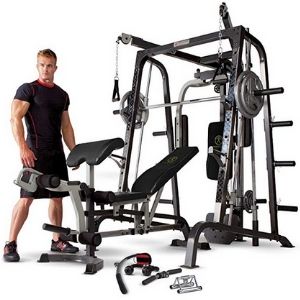 It comes with the bench, lat bar, tricep ropes, chrome row handle, two single handles and an ankle strap. You also get the pec fly station as a bonus.

The bench deserves a mention of its own here. It's fully adjustable and well-padded. The thing I really like is the included preacher curl and leg developer. That's usually an additional purchase.

Be aware that this thing is big. The 85" height is too tall for most basement gyms. Even the 65"x80" footprint is pushing it for smaller areas. Including the bench, you'll need at least 79"x80".

If you have the room for it in your gym and you are looking for a good deal on a complete workout station, carefully consider this one. It may be the best purchase you make for your workouts.

Pros
Basically a complete gym when purchased
Super sturdy
Storage pegs for plates
Awesome bench included
Cons
Pretty tall – 85"
Overkill for someone who wants to start small and add on
The Best Smith Machines in a nutshell
Do you feel like you have a good handle on smith machines now? You should be able to choose the best smith machine for your exact needs and budget that you'll be happy with for years.

The Powerline by Body Solid is our budget pick because it is a basic smith machine at a totally affordable price. Body Solid's Series 7 machine is the best of the high-end options.

For the ultimate in function and a great value, you may want to get Marcy's Diamond Elite. It's pretty much a complete home gym right out of the box.

Yukon's and Valor's models that made the list are stars in their own rights. They definitely deserve a look if you want a nice, solid smith machine that won't break your bank.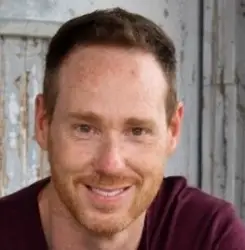 Latest posts by Jeff Carpenter
(see all)