The best weighted vests add resistance to your workouts without being one bit intrusive. That extra resistance can maximize your burn and help you make the most of your exercise time.
There are two kinds of vests for you: the best weight vest and junk. There's not much room between the two.
Relax, I've got you covered. Read and learn all about weighted vests so you know what to look for, if they're even for you. Then check out 20 that stand out from the rest.

Could A Weighted Vest Benefit You?
I'm not trying to sell you a vest. I want to help you decide if you need one. They're not for everyone. There's no need to spend your money on one if it won't benefit you.
Some people should actually avoid them. According to Harvard University, exercising while wearing a weighted vest can worsen back and joint problems. In this case, your doctor will be able to advise you of the best exercises you can do, but don't use a weight vest.
If your back and joints are pretty healthy, let's take a look at the three most common uses for these workout helpers.

Enhanced Workouts
I really can't think of any exercise that can't benefit from some added weight around the torso.
Pushups and pull-ups are obvious. So are jumping rope, windmills, lunges and the like. More weight equals more resistance.
But think about, say, doing bicep curls with dumbbells. A weight vest has no benefit here, right? Think about it. When you're sitting on the edge of your bench and curling, you are using many of your ab and torso muscles to stay upright, And your torso is heavier because you're wearing extra weight.
Of course, you're not going to burn a ton of extra calories wearing a vest while curling. I just want you to realize how a good weight vest can add at least some resistance to anything you do.
There's no better way to get more out of a runn or jog, or even a walk, than to wear a weight vest. That's a no-brainer. You won't even feel the difference if you go for a lighter one, say from 10 to 12 pounds. But you'll feel serious burn in your legs and abs with a 90-pounder.
If you're into HIIT, you'll notice that you get into the zone a lot quicker. Every movement takes more push.
The same goes for crossfit. This is where the versatility of wearing your resistance really shines through.
Calisthenics is only partly about strength. Half the idea is developing gracefulness and fluidity of movement. It takes repetitive muscle conditioning to achieve this. Wearing a weighted vest while performing calisthenic exercise can help with this conditioning by making your motor system more aware of the individual muscles that it controls.
Weight vests may even have benefits in yoga. Strength is one of many goals of the yogi, and extra weight around the torso can enhance many poses.
What it comes down to is this: When you add weight to yourself, all of your muscles work harder and get a better workout. And that's true of just about any exercise you can think of.

Passive Weight And Fat Loss
Losing weight and fat involves burning more calories that you consume. You knew that. But you don't burn calories only when you workout. You're always burning calories for energy, even when walking to your mailbox or cleaning your house.
Adding weight with a wearable vest is a great way to capitalize on this. Why not make your body work harder to do the things you have to do anyway?
I like to wear my vest with 30 pounds of weight in it when I rake leaves and mow. I sometimes even put it on when I play a quick game of catch with my son and daughter. Why not? It's like turning a game into exercise without even realizing it.
Here are some ideas of mundane, everyday chores that can be turned into a light workout with the aid of a weight vest:
House work
Yard work
Walking anywhere
Washing your car
Gardening
 You get the idea.

Treatment And Prevention Of Osteoporosis
Weight bearing physical activity with high loading forces is helpful for reducing, or even eliminating, bone loss due to osteoporosis and other bone conditions, according to  americanbonehealth.org.
In other words, adding weight resistance to exercise can prevent bone loss. One study showed that a group of senior women with osteoporosis who exercised regularly with a weighted vest showed no bone loss over a period of five years, while the group who did the same exercise without the vest showed an average of four percent bone loss over the same period.
Another study, which is also mentioned in the above link, showed that exercising with a weighted vest can improve balance. Better balance can prevent falls. That's important for someone with osteoporosis. Falls are one of the leading causes of injury among senior citizens.
Wearing a weight vest while doing moderate, doctor-approved exercises, or even while working around the house, can really benefit anyone with or at risk of osteoporosis.

Get The Best Weight Vest
So, do you think a weighted vest can be beneficial for you? If so, read on to see what separates the best from the rest.
First, we'll examine the features you'll find and see why they're important.
Size
Obviously, you want one that fits. Many are one-size-fits-all. They all adjust somehow, usually with velcro straps or buckles, to accommodate different waist sizes and sometimes different chest sizes.
Some vests aren't as adjustable. These ones come in S, M, L, and XL sizes. Go by your shirt size to choose the best fit.
One-size-fits-all vests, ironically, usually fit better than those that come in standard sizes. That's because they are made to be tightened around you. You'll get a snugger fit, which will keep the best from slipping and bouncing around when you workout.

adjustability And Comfort
This builds on what I was talking about above. The more adjustable the vest is, the more comfortable it will be to workout in. It's all about getting a good fit.
Look for velcro straps. They are infinitely adjustable, as opposed to something like a typical belt with a buckle and evenly spaced holes.
Another good thing to look for is elastic and spandex. They help keep the vest from moving around too much.

Material And Durability
The durability of a vest is mostly dependent on the material it's made from.
Nylon is strong. 500D is good, 1000D is better and 1200D is superior.
Neoprene is elasticity and clingy. That makes it good vest material. It's not quite as strong as nylon, but it's strong enough. It won't rip or abrade very easily. Those are the two biggest concerns as far as durability goes.
Polyester is sometimes used in combination with neoprene, or less commonly, nylon. It's usually used as side panels to add durability and stability to the vest.
Lycra and spandex offer a great fit when they are incorporated correctly. They often span the front and back portions of the vest to give you a firm hug. Vests like this rarely slip.
Full Vest Vs Short Stack
Short stacks basically cover the chest. They're ideal for sit ups, crunches, CrossFit, HIIT and other workouts where you bend at the waist a lot. The shorter length won't keep you from bending.
Full vests come down to around the middle of the abdomen. They're best for running, walking, jogging, wearing while doing chores and general exercise where you won't be doing much bending at the waist.
They have a more balanced feel to them because the weight is generally attached lower on the vest.

Fixed Weight Vs Adjustable Weight
Adjustable weight vests have removable weights. They usually slip into small pockets incorporated into the vest. Most weights are small and rectangular, like bars of soap, but some vests are made for wide, thin plates. Vests with rectangular weight pockets are the most common and cheapest, by far.
The weights themselves come in a few different forms. Some are simple iron or steel bars. Less expensive ones are pretty much tough cloth bags filled with sand or powdered iron. Solid metal weights are forever durable. Iron powder or sand bags rarely leak, but it can happen.
The advantage of adjustable weight vests is versatility. You can customize the weight according to the exercise you're doing. This is critical in workouts with highly varied exercises. If you're looking for the best weight vest for crossfit, you'll likely end up with an adjustable weight vest.
You can also start light and work your way up, just as you would gradually add weight to a barbell.
Fixed-weight vests have weights, usually made of sand or iron fines, that are permanently a part of the vest. There is no way to remove the weight, but some fixed-weight vests do have pockets for adding additional weights.
The main advantages of fixed-weight vests are simplicity, durability and the fact that they are less bulky. There are no weights to add or remove. You just slip it on and go. The lack of stitched pockets means there is less needlework to wear out over time. The weight is more evenly distributed throughout the vest. That makes them slimmer that a vest with iron bars here and there.
These are the best weight vests for running. Runners generally just want a little extra resistance, so they aren't going to be adding weight to the vest. A good weighted vest of around 10 pounds is great for running. If you want to really push it, you can go for 20 or 30.

Weight Range
Figure out how much weight you need. This will depend on what type of workouts you're doing and what kind of starting physical shape you're in.
For beginners, I recommend a weight equivalent to ten percent of body weight. That's a 15-pound vest for a 150-pound person. You can add to that as you progress if you wish. Or you may not want to.
There are heavy-duty vests that go up to 150 pounds. That's too much for me. Such a weight is for serious, dedicated or crazy fitness nuts.
Most fixed-weight vests fall in the 12 to 40 range. The lower end is good for seniors and casual walkers and runner. The higher end is best for those looking to lose a good amount of weight and fat or hardcore runners.
Adjustable-weight vests typically weigh around a pound or two without any weights added. Different models carry different capacities, but they commonly range from 20 to 100 pounds. That's what makes this type of weight vest so versatile.

Price
I've seen 10-pound fixed weight vests for $25. I've seen adjustable vests for well over $200, not including the weight plates.
As is almost always the case, more expensive is not necessarily better. Cost is important for everyone, but it should be a factor that you use to sort your options instead of something you look for first. Durable vests can last for over a decade. Spend the money and get one that's the best for you.
Pay attention to value. That's defined as what you get versus what you pay for it. Don't pay over $100 for a thin fixed-weight vest with no shoulder padding. In that case, there's no justification for such a high price. But, say you find a nice $60 adjustable vest with good padding, and it's made of 1000D nylon. That's a great deal. Pay attention to the value.

Additional Features
There are some bells and whistles that you may be interested in. Some are actually pretty practical. We'll check a couple out here.
One of the main features that sold me on my vest is the reflective stripes on the front and back. Sometimes I get the itch to ride my mountain bike at night. The stripes make me way more visible to cars. I like to ride the trails near my house too. One day, those reflective stripes may save me from being mistaken for a game animal.
Another feature I love about my vest is the cellphone pocket. It fits my phone perfectly, thanks to the elastic enclosure, and there's a little hole for my headphone wire to go through. Correct, I still don't have bluetooth earbuds.
Some vests have elastic water bottle holders. You're more likely to stay hydrated if you have a bottle of water with you. It's a convenient feature.

The 20 Best Weighted Vests
Now you have a good idea of what features you should look for to find the vest that's best for you.
I've put together a list of 20 that stood out to me when I was sorting through the hundreds on the market.
This list is not in any particular order, but of all the research I've done, these 20 typical rate above anything you can find out there based on consumer feedback, features and bang for the buck.
Cross101 Adjustable Weight Vest
First up is the best weight vest for camo lovers. It's available is both desert camo and arctic camo patterns. One size fits all, and it's adjustable for up to a 50″ waist and chest.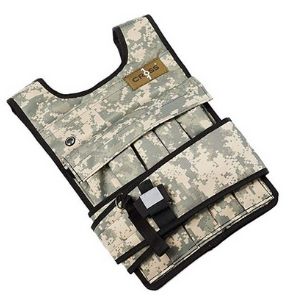 The strong nylon front and back are held tightly around you with a wide Velcro strap that won't come loose during even vigorous exercise.
Four weight classes are available: 20, 40, 60 and 80 pounds. As with any other weight vest, you can load it up from no weight to the maximum.
All of the stitching is reinforced, so you can machine wash it. A dryer may melt the nylon, so you'll have to air dry it.
If you decide this one is the best weight vest for you, be prepared to pay a bit over $100 for the 80-pounder. The lighter vests are cheaper because they come with less iron weight bars.
Pros:
Good weight range
Strong and durable
Camo patterns are more interesting than the typical boring black
 Cons:
Not enough shoulder padding for most to get that snug fit. This isn't a problem if you wear a sweatshirt underneath
5.11 Tactec Plate Carrier Vest
Here's one of those plate-weight vests I was talking about earlier.
You have to buy the weights separately and in pairs, one each for front and back. Pairs are available for totals of 10, 14, 20, and 30 pounds.
Heavier weights are more expensive. Figure on spending an extra $40 for 20 pounds of plates. The vest alone is around $200.
The vest itself weighs just over two pounds and is made of strong 500D nylon. It'll fit up to a 58" waist comfortably.
I like how easy it is to get on and off. It's easier to put it on by pulling it over your head, but you can take it off with one hand by pulling one of the wide velcro straps. 
Pros: 
Slim, less bulky than vests with iron bag or bar weights
Open-sided design makes for better airflow and a cooler workout 
Cons:
Expensive, especially by the time you buy all the weights you need
Despite the high price, the slim, open design may make this the best weight vest for calisthenics.

BOX Weight Vest
A lifetime warranty tells you that a manufacturer has confidence in their product's durability. And the black military-grade nylon sure is tough.
It weighs almost three pounds empty, and you can add as many of the 2 ½-pound weights as you need to up to the maximum of 45 pounds.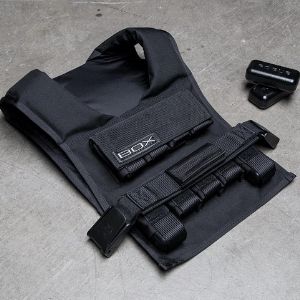 I like the unique removable belts. I didn't understand the purpose at first, but you can get a really good fit with the velcro belts when you take them completely off and reinstall them after you put the vest on.
One size fits all. The padded shoulders are narrow, only 3 ½", which allows plenty of unrestricted upper body motion. That may make this the best weight vest for crossfit, but it isn't limited to that. The slim design makes it great for practically all exercise.
This is one of the few vests that combine versatility with full padding. That's good for long periods of wear. But the padding does absorb sweat. You can throw this one in your washer by itself on the gentle cycle, but be sure to remove the weights and air dry.
With the removable belts and slim design, I'd call this the best adjustable weight vest.
Pros:
Highly adjustable
Thin, even with weights added
Tough nylon shell
Doesn't restrict movement
 Cons:
The thin shoulder straps are a con for some people. But keep in mind that the shoulders are padded. That helps.
Titan Fitness Adjustable Weighted Vest 
Like most other vests, this one is adjustable in 2 ½-pound increments. But unlike many others, the weights are solid steel. They'll last forever, and they shouldn't ever rust. You can add up to 60 pounds.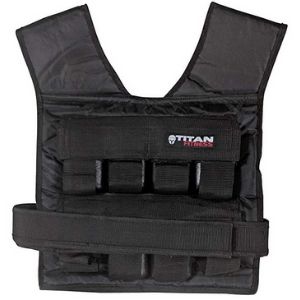 The weights are also well-rounded at the corners. That keeps them from eventually wearing holes in the corners of the pockets they fit into. Not that it would be easy to wear holes in this reinforced nylon.
It's available in five versions with 20, 30, 40, 50 and 60-pound limits.
The 20 to 40-pounders are 19" wide, and the bigger two are 24" wide. So if you're a slimmer person, you may find the 50 and 60-pound vests to be too bulky. They're all 17" long. That's a good all-around length for running, HIIT and crossfit.
Pros:
Very durable
Solid cast steel weights
64" belt fits even very large people
 Cons:
 The extra-long belt leaves a lot of excess for slimmer people to deal with. It can get in the way.
Zelus Weighted Vest
Function meets style here. It's a good looking vest. You can get the 12-pound vest in black, blue or grey. The 20-pound one is available in black only. All the weight is evenly distributed around the vest, so you don't have that clunky feeling that you can get when working out in an adjustable-weight vest with its iron bars.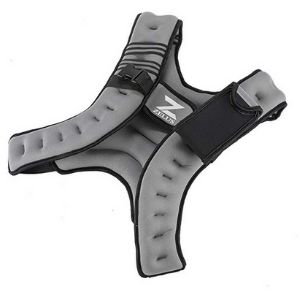 Women like it because the "X" shape fits the female form well. It can accommodate up to a 45" bust. The neoprene it's made of is really stretchy, so it can be cinched tightly for support while running or working out. Elastic straps connecting the front and back at the bottom sides of the vest provide extra tightness that can't be found in many other vests.
A florescent stripe all the way around makes it ideal for jogging or running, but it fits so well that it's good for all workouts. 
Rounding everything out is a small pocket with an elastic closure that's the perfect size for a cellphone or an MP3 player. 
Given the tight, stretchy fit and sleek styling, this could be the best weight vest for women. 
Pros: 
Fits women of all shapes and sizes great
Reflective stripe for safety
Pocket for phone or media player
Neoprene material can be rinsed in a sink
Good price makes a great value
Cons: 
Not unisex like most other vests – It wont fit most men very well
RUNmax Pro Vest 
Here's an affordable and versatile vest that's adjustable from 12 to 60 pounds. That's a nice weight range, but the weights are six pounds each. It's not a problem unless you are really particular about the load you want. 
It's a full-torso vest, so it isn't the best for some exercises. I wouldn't want to do situps with it, but it would be good for running, pullups and the like. It's slim enough to be worn around the house, like I mentioned earlier.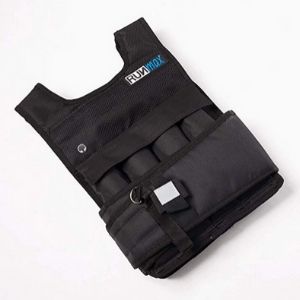 The shoulder pads are removable. I like vests with removable padding. The extra cushioning is good for higher impact workouts, but it's a little much when playing a game of catch or something like that. 
You have a cellphone pocket that will hold even larger phones. And there's a water bottle holder, too. It seems like this would be a more common feature of weighted vests, but it's actually pretty rare. 
Since it's nice and comfy and spreads its weight pretty evenly over the whole torso, I consider this one of the best weight vests for running. 
Pros: 
Great price
Good weight range
Cellphone pocket
Water bottle holder
Removable shoulder pads 
Cons: 
Adjusts in six-pound increments instead of two or three
ZFO Sports Short Weighted Vest
Shorter vests like this are really good for workouts with a lot of upper body movement. This one carries most of its weight low, near the abdomen. In my opinion, that one feature makes it the best weight vest for crossfit. Well, one of the best.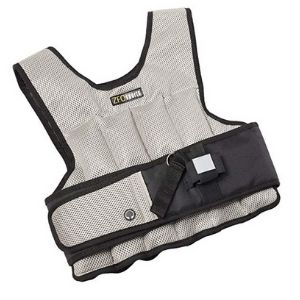 Its adjustable velcro belt tightens snugly around just about any size waist, but it's a little hard to get on. You have to pull it on over your head, instead of putting it on like a jacket.
You can exercise with an extra 12 to 50 pounds by adding or removing the solid iron weight bars from the two rows of pockets in the front and back. That even weight distribution is a plus for all workouts. 
Although the overall build of the vest itself is pretty slim, the weight rows are bulky. That can make it uncomfortable to do situps and crunches with it. 
The key attribute to look at on this vest is where the weights sit. They are low. You'd be more comfortable running with the weight sitting higher, and the weights will feel a bit awkward and may interfere with proper form of floor work. But it works out great for HIIT, crossfit, calisthenics and even yoga. 
Pros: 
Nice fit around the mid-section
Good weight range
Durable nylon construction 
Cons: 
Not ideal for floor exercises 
V-Force Weight Vest 
I liked this one from the very first moment I saw it. Its minimalist design is what sets it apart from most of the others on the market today. 
The weights sit a bit higher than on the ZFO Sports vest, which is right around my lower ribs. Your elbows may bump them while running or jogging, but that's not really a big deal. It's a great vest for everything else.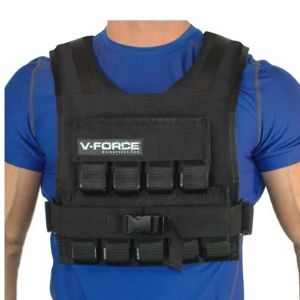 Narrow shoulder straps and open sides make for a lot of airflow. That can help keep you cool. It also makes it super easy to put on and take off. You just slip it on from the back and buckle it up.
The shell is made of military-grade 1000D nylon, and it's warrantied for life against rips, tears and stretching. 
It takes only a thumb to add or remove the 2 ½-pound weights. They're cool, too. This is the first time I've seen bullet-shaped iron vest weights. The rounded design pretty much guarantees they will never rip or wear their pockets. Twenty of these weights bring the vest up to its max of 45 pounds.
With such an open design, this may be the best weight vest for calisthenics. 
Pros: 
Easy on and off
Minimalist design
Cool weights
Tough construction
Lifetime warranty 
Cons: 
Mat rub on your elbows if used for running 
CAP Barbell Women's Weighted Vest 
Here's another vest with nice open shoulders and good airflow, but this one's made especially for women. It's designed for the female form. 
You can go up to 30 pounds, 2-½ pounds at a time. That's a decent weight from everything from working in the yard to the most intense interval training.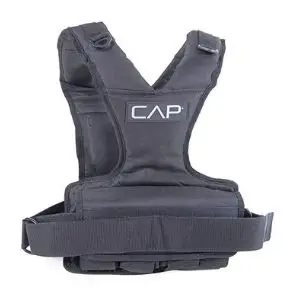 The wide velcro strap secures tightly around the waist to keep the weight in place. When properly adjusted, this vest won't slip around at all. You just have to take your time when you first put it on and get it right. 
Padded shoulders and polyester sides make it pretty comfortable to wear for extended periods. When you're done, you can just toss it in your washer and air dry it. 
The weight is spread out evenly around the waist, which can protect your back from being overworked during runs. That's not so good for situps and similar exercises, though. 
With such a wide, easy to close and adjust belt, this gets my nod for best adjustable weight vest. 
Pros: 
Open design
Comfortable and secure belt
Easy on the back during runs
Machine washable
Hooks for chute training 
Cons: 
Weights can get in the way of situps and the like 
Empower Women's Weighted Vest 
This one caught my eye because it looks like a machine gun ammo belt from a distance. But the open "X" design is made for a woman's curves. Running, HIIT, calisthenics, sit-ups, crunches and machine work are all totally comfortable with this vest. 
It's available in three fixed weights: 4, 8 and 16 pounds. You can't add any more, but you really don't need that much for cardio and toning. And you don't have to hassle with adding and removing iron weights. 
Instead of the usual nylon, its made of spandex and has adjustable side straps for the perfect fit, regardless of body shape or size. The spandex also makes adjustments easy. You don't have to get it perfect every time you put it on. 
You'll be safer jogging at night, thanks to the high visibility of the reflective accents on the front and back. You can carry your phone, keys or some money in the pocket, too. You can't fit much in there, though. But it's the perfect size for your phone. 
I'm impressed with the price. A vest like this normally retails for around $70. But you can get this one for about half that. 
This vest conforms to a woman's body. It doesn't demand that the body conform to it. That gives it superior comfort. So, this is the best weight vest for women. 
Pros: 
Made especially for women
Allows for a full, unrestricted range of motion
Very comfortable
Stretchy for an easy fit
Cons: 
May not have enough weight for some 
Tone Fitness Fixed Weight Vest 
Here's a small and simple 12-pound vest that you may not even realize you're wearing while you workout. 
It has that same basic "x" shape that many other women's vests have, and it is in fact described by Tone Fitness as a women's vest, but I see no reason why men can't wear it as well. The design is so simple and straightforward that anyone can wear it easily and comfortably.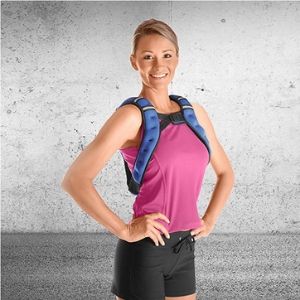 It looks much like one of those sleeveless winter vests. And you put it on the same way. Then you just snap the adjustable buckle around your waist and go. 
The soft black or blue neoprene is very flexible. Compare that to some of the bulkier nylon vests that can make you feel like you're wearing bulletproof body armor. 
Reflective accents keep you safer on night runs. That's a nice feature, especially on the black vest. 
You have trouble hearing your phone ring when you carry it in your pocket, don't you? This vest's removable phone pocket sits up near the shoulder, right by your ear. It'll be easier to hear your phone if you're out running near the bustle of traffic. 
Pros: 
Simple design is easy to put on and take off
Comfortable
Removable cell phone pocket 
Cons:
 Phone pocket will not fit bigger phones 
Swift360 Weight Vest 
This is one of those armor-like vests I was just talking about. It's bulky. But all that thick reinforced nylon makes it very durable. It may even last for a lifetime.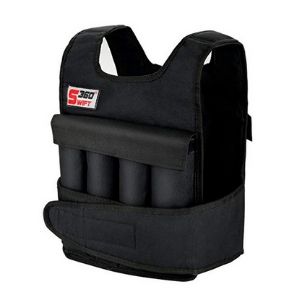 Once you adjust the waist for size and and cinch the velcro tight, the vest will stay secure and not flop around. Use the removable shoulder pads for a more snug fit.
Each weight weighs four pounds, and the vest has pockets for 10 of them. That's a total of 40 pounds. I like bigger weights like these. You save time and hassle by having less weights to add and remove each time you want to make an adjustment. 
If you want a basic, no-frills vest and like the idea of having a smaller number of heavier weights to mess with, this could be the best adjustable weight vest for you. 
Pros:
Simple
Includes 10 four-pound weights 
Cons: 
CAP Barbell Adjustable Weight Vest 
You can wear up to 150 pounds for the ultimate strength training workouts if you choose this vest by CAP Barbell.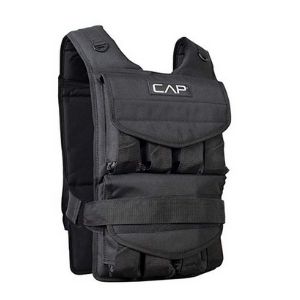 There are many sizes available, with maximum weights of 40, 50, 60, 70, 80, 90, 100, 120 and 150 pounds. Pick the one that you want as your goal, and add the removable iron weights as you progress to get to that goal. 
The nylon makes it durable, and the strategic polyester gives a bit of comfort. A good fit also makes for a more comfortable vest, and that's where the belt comes in. It's wide and fastens securely. 
The 40 through 70 pound vests are 17" long, which is great for gym workouts. Heavier vests are a bit longer. That restricts movement some, but it's not a deal breaker in my mind. 
If you want to workout with a lot of weight on your torso, this may be the adjustable weight vest for you. 
Pros:
Available with capacity of up to 150 pounds
Very durable 
Cons:
Expensive
Made for 2-½ pound weights – That's a lot of weights if you need close to the max resistance 
MIR Short Weighted Vest 
This vest has a pretty slim profile. You can add weight until you get up to the max of 60 pounds. That's the resistance I like when I run. Smaller vests are available in the 20, 30, 40 and 50-pound maximum ranges.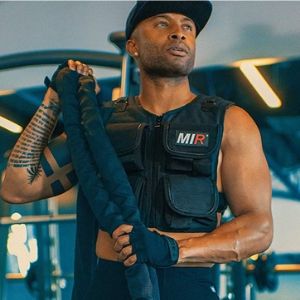 Although men love it, women have complained that it doesn't fit them very well. That's Ok: MIR makes a few different women's vests with pretty much the same features as this one. 
The nylon this vest is made form is thin, but it's tightly woven. That gives it the strength and durability of a thicker vest without causing excessive bulkiness. 
You have the option of the traditional buckle around the waist or a full-length zipper. The zipper is made of thick plastic, but it is a potential failure point. The choice is yours, though. 
Pros: 
Thin but strong
Optional zipper 
Cons: 
MIR Air Flow Weight Vest 
There are five weight ranges available: 20, 30, 40, 50 and 60. The iron weights made for this vest weigh about four pounds. That's good because there are less weights to fool with.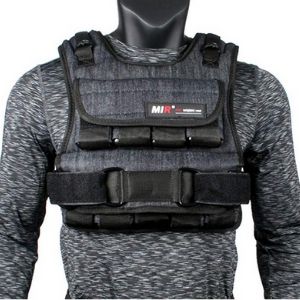 I don't know what material this vest is made of, and MIR isn't saying, but it does a wonderful job of wicking away sweat. It also allows more airflow than nylon vests. That helps to keep you comfortable and dry, too. 
You have a choice between the standard belt closure or a zipper. The zipper is the same as on the other MIR vest and seems pretty durable. You have to decide between the convenience of a zipper and the risk that it will snag at some point. 
This is a durable vest, and it's very comfortable. But I can't figure out why it's so expensive relative to similar vests. My money is on the hybrid material it's made from. If comfort is the number one issue for you, it's totally worth the extra cash.
Pros: 
Very comfortable
Sweat-wicking technology
Machine washable and dryable 
Cons: 
Aduro Sport Weight Vest 
I've seen some people use the six-pound vest for yoga. That's just enough weight to enhance the toning benefits of many yoga poses.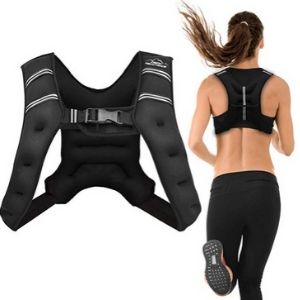 There are also 12, 16, 20, 25 and 30-pounders available. The lighter ones are great for wearing around the house. Heavier ones are good for enhancing weight and fat loss. 
It's easy to get a good, tight fit with the fully adjustable belt.
Even kids can wear the lighter ones comfortably. Less active children can benefit from a little extra resistance when playing or even walking to school. They usually have higher metabolism than we do, so it doesn't take much. 
Women can wear it in comfort. The chest is adjustable up to 50". 
Pros: 
Comfortable
Available in a light 6-pound weight
Removable mesh pocket 
Cons: 
Somewhat expensive for what it is 
HyperVest Pro 
The outstanding feature here, as far as I'm concerned, is the great fit and awesome comfort. 
Elastic side panels keep it snug against your sides, back and torso. No one wants their vest to slip around during a workout. This one won't.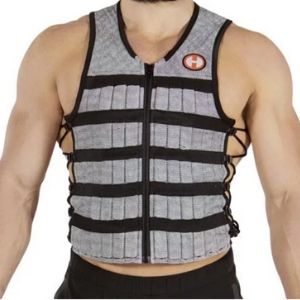 It's available in S, M, L and XL. The XL will fit a waist up to 54". Petite women will find the smallest size a good fit.
The wicking liner will keep you dry during even the most strenuous workouts. There isn't much airflow, due to the elastic sides, but the liner is a big plus. 
Now let's talk about cost. First, understand that there isn't many other vests with such a good fit and a wicking liner. It's pretty unique, but you'll pay for the superior comfort. 
All sizes are about $200, but that's just for the ten-pound vest. You'll likely want to add weights. And each five-pound weight costs around $40. So, for example, a total of 30 pounds of resistance will cost you an extra $160 in addition to the cost of the vest itself. 
The small vest carries a maximum of four weights. The medium will hold one more. The large will take six, and the XL will hold nine. 
Pros: 
The most comfortable weight vest I could find
Keeps you dry 
Cons: 
CFF Adjustable Weight Vest 
This well-fitting weight vest has a good, strong belt that goes right around the middle of your waist for great comfort and stability. The weight bars go high on the torso for good balance. That's good for running, but you'll also like it for other types of workouts. This is just a good all-around vest.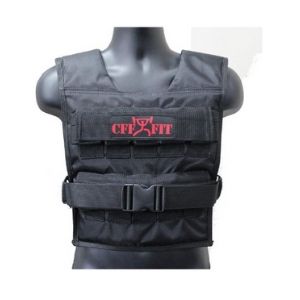 It's adjustable from three to 44 pounds. I like that kind of versatility. You will, too, if you so a variety of workouts. The length is adjustable by sliding buckles underneath, so it can be used for gym workouts and running. 
1200D nylon makes it very durable, and the mesh liner allows for some air flow and better breathability. 
Another feature I like is the extra belt that sits low on the chest. It gives you a really tight fit on top and bottom. That means no bouncing. You can jump on a trampoline while wearing this one, and it will barely shift a millimeter. 
Pros: 
Two belts for a great fit
Nice weight range
Mesh liner
Strong 1200D nylon 
Cons: 
Some people won't like the extra step of having to adjust the extra chest belt 
MIR Women's Adjustable Weight Vest 
This women's weight vest has the familiar "X" design, but it's wider at the bottom. that makes it more comfortable, because there is extra surface area to hold the weight to you. The waist belt isn't very wide, but it does fasten securely and adjusts for bigger waists.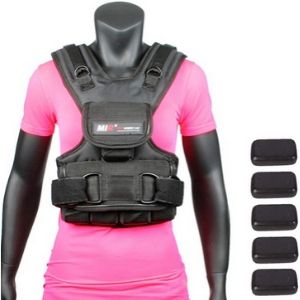 Adjust the weight from 10 to 50 pounds with the three-pound iron weights to customize your workout. The weight can be evenly distributed around the front and back. That makes for more comfort, especially when running or jogging. You can do any workout, though.
Sit-ups and crunches are better with the added resistance. 
This vest could really benefit from some extra shoulder padding, given that the shoulder straps are so thin. It is adjustable enough that you can wear a thicker shirt or sweatshirt underneath it, so you can do that for some extra padding if the weather allows. 
Pros: 
Pretty comfortable, especially around the waist
Open-shouldered design for good airflow
Secure velcro closure 
Cons: 
Could use some extra padding 
Strength Sport Systems S-Pro Short Weight Vest 
Adjustable velcro straps keep this vest tight around the waist to keep it in place. The thick shoulder padding helps prevent slippage up to, as well as making it comfortable for long periods of wear.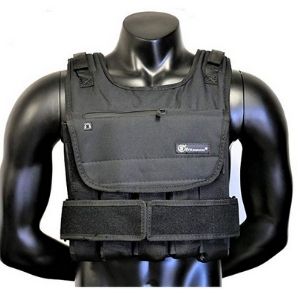 The one I checked out was made for up to 40 pounds of weight, supplied by removable iron fine-filled bags, but it is adjustable from 12 to 90 pounds with fine bags or solid iron bars. 
The durable 500D nylon is double-stitched and easy to hose off and air dry. 
Here's something cool: The mesh storage compartment is removable. That's great if you don't want it. It can get irritating having stuff jumbling around in your vest while you workout. 
At 17" long, taller people will be able to do sit ups and crunches with no problem. Shorter folks may find it a bit restrictive, though. 
Pros: 
Good weight range
Reflective stripe on back
Removable storage pouch
Can be cinched tightly around the waist 
Cons: 
The extra thick padding may be too much for some, and it can absorb sweat
Conclusion 
The best weighted vests come in a myriad of shapes and sizes, with many practical features. You have to understand what you need if you want to get the one you'll be happy with. 
That's why I reviewed so many here. With such a variety available, you can't just hold one up and say it's the best for everyone. 
But now you know all about weight vests, and you know how they can help get you in shape and keep you there. 
Get one of the longer ones for running. They have a more balanced feel and will be easier on your back. For gym workouts, you'll want a shorter one for the better teenage of motion. If your a woman, you'll find that women's vests offer the best comfort.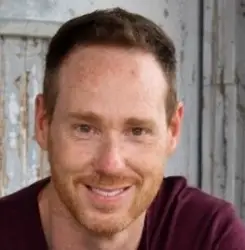 Latest posts by Jeff Carpenter
(see all)