The Best Suspension Trainer for Any Budget
Suspension trainers have at least three key features that we home gym enthusiasts love to see: versatility, functionality and a small footprint.
On top of all that, they're portable for travel and outdoor workouts. The first one was created by a Navy Seal out of parachute webbing. The ones you'll find for sale are a bit more complex than that, but most of them retain that straightforward simplicity.
The best suspension trainer system for your home gym is one that you can mount easily and securely yourself. It has to be strong enough to last, and it must be designed to offer you the workouts that you want it for.
Is It For You?
First, be sure that this is what you really want.
You'll want to be careful if you have a back or neck injury. Most of these exercises rely you keeping your spine straight.
This type of equipment shines when it comes to full-body workouts. You're looking in the right direction if your goal is to burn calories, lose weight or improve your overall muscle tone.
Are you thinking about high intensity interval training? Since you'll be using your own body weight for resistance, you can vary the intensity of your workout by speeding up or slowing down. Fast reps will give you that intensity you need for HIIT.
Maybe you're wanting to do some strength training. Slow, steady reps are best for building muscle. Just slow down and configure your form for more resistance from your body weight. The closer you are to parallel in relation to the floor, the more resistance you'll have.
The cardio sweet spot is somewhere between strength training and HIIT. Find a good point where you have a nice balance between resistance and speed, and you've found your cardio zone.
So, we've covered what a good trainer can do for you. Now let's look at how to find yours.
Which One's The Best For You?
You want the best, but there are millions of them out there. How about I help you understand what to look for? Once you see what kind of features they have and why they're important, you'll be able to pick the best out of the rest.
Consider the following important features.
Mounting Mechanisms
All of them mount to something. How they mount is key to their safety, effectiveness and portability.
Permanent Installation
If you just want one for your home gym and don't plan on taking it on trips, you want a mount that bolts directly into a wall stud or rafter. That will give you maximum safety and peace of mind.
The mount itself should be metal. Plastic mounts are a red flag. Not only is a plastic mount weaker, but it may indicate overall low quality of the trainer.
Portable Trainers
These are the moat popular, and they're great for the traveller. There are several types of mounts available. The simplest ones hook over a door. Some are made to secure to just about anything. The best trainers can mount either way.
Travelling isn't the only time a portable suspension trainer may come in handy. If you don't have a room or area that you can devote to working out, a portable trainer can setup in almost any room and be setup and taken down in a couple minutes.
Have you ever worked out outside? You need fresh air anyway. Some trainers can be secured to a tree or post. I can't think of many better ways to spend part of an afternoon than doing some cardio outside on a warm, sunny day.
Anchors that go between a door and frame should be non-marking.
Straps
Nylon webbed straps are the norm for better brands.
They should be thick and at least an inch wide. The advertised weight limits refer mainly to the anchors, not the straps.
Honestly, even the cheaper trainers have strong straps. Nylon isn't very expensive. When manufacturers cut corners, it's usually in the production process.
If you ever do have a problem with straps, it's likely to be caused by cheesy stitching. The stitch can get abraded and frayed. There's so much stitching in most straps, that you could still use a trainer with that kind of damage, but I wouldn't recommend it.
Handles and Foot Loops
Handles are important. I've used trainers with grips that weren't wide enough. It doesn't take long to burn some blisters with tiny handles. Make sure they're big enough for you to grip securely and comfortably.
Some handles are made of wood. They look awesome, I think, but I don't really see any benefit to them beyond that. You may want to invest in a good pair of workout gloves if you go with wooden handles. You may need that extra grip.
Molded plastic handles are my pick. They're light and they fit my hand like a glove.
Some handles have a rubber coating. That's not really my thing, but some people like them. They do give you a much better grip, but they can make your hands sweat more than regular plastic or wood handles.
I recommend getting one with foot loops. They allow a greater range of exercises.
Some of the decent models have handles that double as foot loops. That's OK, but then you give up molded handles. This can actually be a plus for you if you don't want molded handles, because you'll have handles and foot loops without any extra strapping.
The best suspension trainers have separate foot loops built into the handles. You won't even notice them when you're using your hands.
I think that built-in foot loops are so important for a trainer's versatility that I made that feature mandatory for a review here.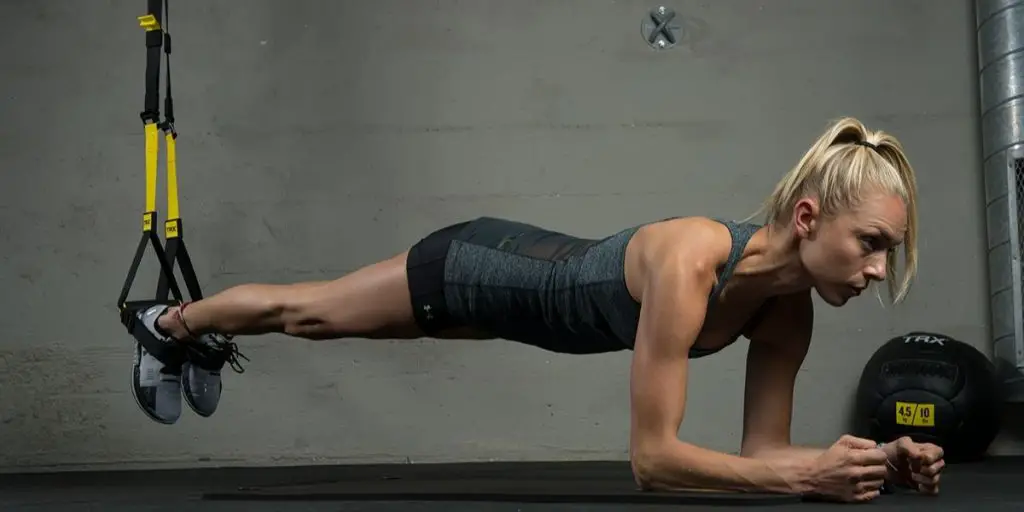 Carrying Case
You may not think this is important, and it may not be if you're going to install your trainer permanently in your home gym. But how do you know you'll never want to take it anywhere?
A good one should come with a case. Sure, you could carry it in a gym bag, but the trainer will store and carry so much better in a case that was specially made for it.
Weight Limit
Quality trainers carry a weight limit of at least 300 pounds.
I've seen cheap, crappy ones with a limit of 250. I would avoid anything with such a low limit, even if your weight falls under it.
Low limits indicate poor strap and stitch quality. Look for something rated for 300+ pounds, even if you're a featherweight.
Instructions And Videos
It's crucial to know how to use this type of resistance gear before you start a workout regimen with it. It's just like any other kind of exercise equipment. If you don't know what you're doing, you can hurt yourself.
At the very least, it should come with instructions on how to set it up safely.
All of the good ones I've seen include instructions for some exercises, as well. These workout descriptions are important to help you develop a proper effective form.
Printed workouts with illustrations are good, but videos are better. DVD or online access, it's up to your preference. But a video is more useful than pictures or drawings as far as I'm concerned.
Some even come with a complete workout program. That can save you some money if you planned on buying a separate program.
Price
The best suspension trainer isn't necessarily the most expensive.
There are some totally decent options available for less than $70. They generally offer only one mounting option and may have thinner straps. They're good, but are usually bare-bones. You can save money with them if you don't need features like multiple mounting options and detailed workout plans.
Most fall into the $80-$200 range. There are winners and losers. I've reviewed a few really good, moderately priced trainers below. Compare the trainers you consider to them.
There are more expensive options. They're usually commercial models with ridiculously thick straps and big metal mounting hooks. I honestly don't see a place for them in a home gym.
Warranties
If you're still not sure whether or not suspension training is your thing, you may want to get one with a no-questions-asked type of return policy. Most manufacturers and stores that allow this kind of return set a time limit of 30 days. That'll be plenty of time for you to check out how it sets up and try some exercises with it.
Most material and workmanship warranties run for a year.
Here's Our Picks
We looked at dozens of trainers to get a good idea of what's on the market today.
These five stuck out as being worthy of a mention here.
Top Pick – TRX Pro3 Suspension Resistance Trainer System
The TRX Pro3 has the most suspension trainer mounting options I've seen. It comes with three anchors that allow it to be secured to a mount, door, rafter, tree or just about anything else you can think of.
The carabiner that attaches the trainer to the anchor locks. That's great for travel. You can leave it set up in a hotel room while you're out and not have to worry about it getting stolen.
A rare feature is the padded foot loops. Do you ever like to workout barefooted? Some people do. That's another thing that's great about a home gym. But the padding doesn't just make barefoot workouts more comfortable. They provide a better grip for your shoes. The padding molds around them better than a nylon strap can on its own.
These ergonomic molded plastic handles have a nice textured pattern on them. You'll get a good grip with or without gloves.
Purchase includes an eight-week workout program and online access to eight exercise videos. You'll also get a 30-day free trial of their app, which features workouts, tips and additional videos.
Pros:
Strong and durable – 350-pound weight limit
Comfortable handles and foot loops
Locking carabiner
Three anchors for attaching to almost anything
Access to a workout program, videos and a free app trial
Cons:
On the more expensive end of quality models
Overall, this is one of the best suspension trainers. It's very travel-friendly and comes with all the instructional videos that you'll need for almost 100 different exercises.
Full Trainer For Travel – TRX All-In-One Suspension Training System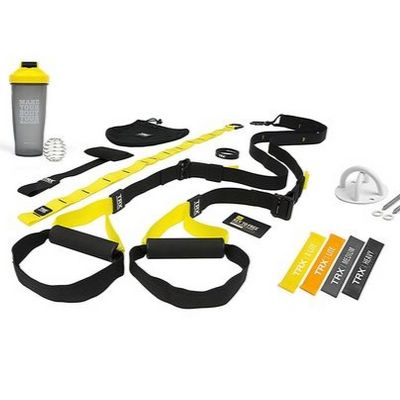 Workout equipment, and just about anything else, intended for travel sometimes consists of pared-down originals. You have to sacrifice useful features for better portability.
Then you have exceptions, like this trainer.
The whole system fits neatly into the included mesh carry case. At about a pound, you'll never even notice the extra weight among your other travel gear. For comparison, the TRX Pro3 weighs just over two pounds.
This travel kit has the same comfortable molded plastic grips and foot loops as the TRX Pro3 reviewed above.
Other than the suspension straps, this deal comes with two anchors: one for a door and one anchor strap that goes around any other solid object.
A 35-page workout guide can get you started quickly. You'll also have access to the TRX app.
Pros:
Same strength as the TRX Pro3 – 350-pound limit
Lightweight – one pound
Comfortable grips and loops
Includes access to the app
Cons:
Price of this travel unit compares to at-home units offered by other brands
Here we have a strong, full-featured travel trainer that gives most home gym units a run for their money.
Most Portable – TRX Go Portable Suspension Resistance Trainer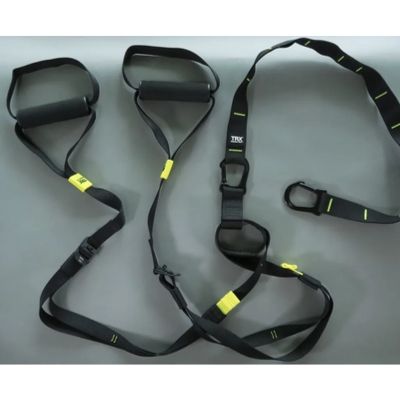 The TRX Go's straps are about half as wide and half as thick as those of the Pro3 and All-In-One. This makes it lighter and smaller when packed into its mesh travel case. Everything together weighs a bit less than a pound.
This isn't your best bet for heavy use. It's really nice for frequent travel, but the straps will fray pretty quickly when used several times per week. That's the only drawback I could find with this portable trainer. Material and workmanship are covered by warranty for a year, so youll get a new trainer or a full refund if the straps wear out too quickly.
It could last for years if used specifically as a travel trainer. Well, that's what it's marketed as, so TRX doesn't lose any points in my book.
Two anchors, one for a door and a strap for everything else, make this one just as versatile as any other portable trainer.
The anchors are just as strong as TRX's other offerings, so it carries the same 350-pound limit.
You'll get the same 30-day TRX app trial that you get with the Pro3. This is an info-dense app, so you'll probably want to keep it. If not, you still have the two workout guides and the illustrated exercise poster that are included.
Pros:
Small, light and ultra portable
Includes the app trial and a small workout guide and poster
Two anchors for indoors and outside
Good price
Cons:
Not durable enough for frequent use
I love this one as a portable travel trainer, but would not recommend it as a regular fixture in your home gym.
Affordable Starter – Intent Sports' Bodyweight Resistance Training Kit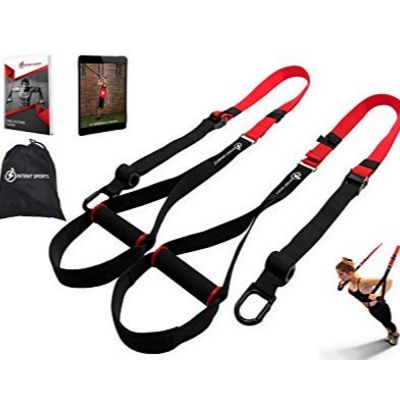 You may not want to spend well over a hundred bucks getting started with suspension training. I know. I don't like sinking money into something that I'm not sure I'll want to stick with.
Maybe you've made up your mind and already like the idea of suspension training, but you're on a budget. I understand that too.
If you fall into either of those two categories, but still want a high-quality trainer, spend some time looking at this one.
It's priced at a fraction of the higher end models, but still comes with everything you need to get started right away.
These straps aren't joined to a single anchor point. There's two independent straps with an anchor on one end and the handle and foot loops on the other.
One neat thing about this set is that there isn't a separate door anchor that you hook the straps to. Each strap has a cylindrical stop built into it near the anchors. You just toss the straps over the door, close it and pull the straps until the stops come into contact with the other side of the door.
A double-ended strap is included, along with a heavy duty steel carabiner, for attaching to other solid objects.
Other than a carrying bag and an instruction manual and videos with some workout suggestions, that's all that comes with this trainer. But that's all you really need to get started.
Pros:
1.5″ straps offer strength comparable to models thrice the price – 350-pound limit
Minimal equipment and no extras make for a great price
Good for the beginner
Ebook and 77 exercise videos
Cons:
Not as versatile as premium rigs
Consider this trainer if you are new to this type of workout and want a nice, quality kit for a low investment.
Most Extras – Qonquill Resistance Trainer Bundle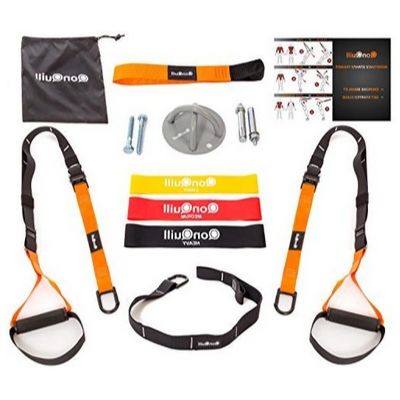 I like all the mounting options with this set.
It comes with a mounting plate complete with wood and concrete screws. That's great for permanent installation. It can also be secured to a door or anything else you can get the mounting strap around. The straps are looped near the anchors, so you can pass a portable pullup bar through them. That can save some space in your home gym.
The straps' hardware is not the best. The anchors are OK, but the adjustment slides are made of cheap plastic. They may last for a long time, or they may last a few months. That's the only problem I could find as far as quality goes. Qonquill offers a lifetime warranty, so they'll replace it if any of the hardware does break.
This kit comes with three latex resistance bands. They can be used by themselves or combined with the straps for extra resistance beyond your own body weight. The instruction manual and workout guide illustrates some workouts that incorporate the bands.
Pros:
Multiple mounting options
Includes wall/ceiling mounting plate
Great value
Cons:
It seems that the hardware is a crapshoot – The slides may last, or they may not
Overall, this kit offers a great value. But the hardware could use some improvement.
We Have A Winner
There really isn't a one-size-fits-all option, but there is one that stands out as an all-around great trainer that everyone should be happy with.
The TRX Pro3 is priced on the higher end, but it carries the best value. It doesn't have the durability issues you might find with the Qonquill or the TRX Go.
It's among the strongest trainers, and it can be mounted to most any solid object. I haven't seen any other option of this quality and strength that comes with a locking carabiner.
Although it costs around three times more than our featured low cost suspension trainer, it should last more than three times longer.
The non-slip handles are comfortable, and the foot loops are even padded. You don't see those kind of foot loops on any other model here, except for the TRX All-In-One.
The Pro3 is among the best suspension trainers available today. It's one and done type thing,. If you are looking for something that will last, this is it.
If budget is a priority, any of these are worthy.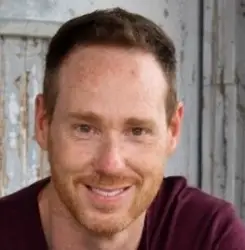 Latest posts by Jeff Carpenter
(see all)