Bodyweight resistance is a great way to define muscle, build strength and lose fat and weight.
Gliding bench-type trainers use up to 55 percent of your bodyweight to provide the optimum resistance for the various exercises they offer. They're a great addition to the home gym that lacks incline resistance equipment.
In this Weider Ultimate Body Works review, we'll check out a surprisingly affordable, totally functional trainer that can help you get in shape or stay that way using your own body weight and gravity.
The Weider Ultimate Body Works is a good kit for the money and packs a lot of value. If you are looking for a nice entry into glinding bench trainers give this one a look.
Otherwise, read on. We have a lot to cover here in depth.
Things To Consider Before Buying A Gliding Incline Trainer
If you're wanting to add dense muscle, you'd be better off with free weights. A power rack with a bench would be a good investment too.
You can add bulk using this type of machine, but it would take much longer and require more commitment. Think of this as a strength training and body toning machine. If that's your goal, this is right up your alley.
Also, decide whether you actually need it or not. If you already have a cable machine and an incline bench, you won't gain much variety for your workout regimen with this kind of equipment.
Then again, there are several reasonably priced models in this category. If you have some extra cash and want a versatile body weight machine, look at your options.
Of course, you want to make sure you have enough room in your home gym. Sizes vary, but benches like this usually run about 80″ long and a couple feet wide. Check the size before you buy.
If you're short on space, look into a regular bench or rack with a cable attachment. You'll still be able to row and do pulldowns, among other exercises, with that kind of equipment.
What It Is
The Weider Ultimate Body Works is a bodyweight resistance incline trainer that promises to aid in full-body sculpting with the capability of up to 70 exercises.
It doesn't offer many improvements over its predecessor, the Weider Total Body Works 5000, other than a squat attachment and firmer, thicker padding on the bench.
There are a few other similar machines that we'll compare it to later in this post. Welder's most serious competition comes from Total Gym, who offers an impressive line of trainers like this. We're going to examine Total Gym's lineup in detail soon.
For now, suffice it to say that Weider is a better option for anyone on a tighter budget.
Here's the pros and cons.
Pros:
Totally affordable
Comfortable bench
Option to add up to 50 extra pounds of resistance with bands so you can go beyond bodyweight resistance
Good for resistance training and cardio
Simple adjustments
Easy to assemble and maintain
Cons:
Resistance is limited by the user's body weight
Considering that home gym space is usually limited, this is a pretty long machine and it's not easy to fold and store
How It Works
Here we'll break it all down and see what it can do for you.
Size
The total size of this trainer is 71″ long, 26″ wide and 49″ tall. When folded, the length is 59″. So you will save a little room if you plan on storing it away when you're not using it.
The bench itself is 13″ wide and 49″ long. That'll comfortably accommodate people up to about 6'4″. Taller folks are used to modifying their exercises on their equipment, and many bigger than 6'4″ use this machine.
The maximum user weight is listed as 250 pounds. That's reasonable, but I think it'll handle more. You shouldn't run into any issues until the 13″ wide board becomes a problem.
With a footprint of 71″x26″, this trainer would take up about as much space in your gym as a couple weight benches placed end to end, to give you an idea of the practical size.
You can actually store it vertically or even under a bed. Folding this unit isn't an easy process. You have to lock the incline into a horizontal position and remove the handles. Then you unlatch the top part of the frame from the bottom and nest one in the other. I'd recommend vertical storage. At just a hair under 80 pounds, it's not going to be easy to slide around.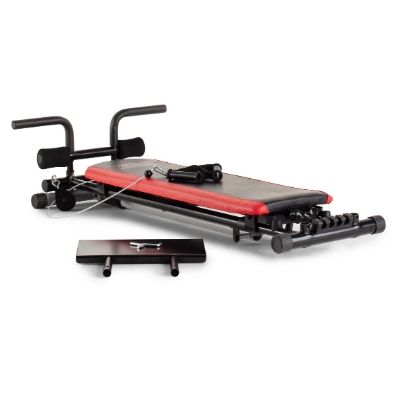 Design And Function
Let's assume that you've never seen a trainer like this. You want to know how it works and how you use it, right?
The bench part is more properly referred to as a gliding board. That's what we'll call it from here on out. Anyway, the board attaches to the frame with industrial-grade rollers. The board glides easily up and down the length of the frame.
There is one folding leg that adjusts to seven incline positions. The higher the incline, the more of your body weight you have to work against.
Most of the exercises involve you sitting or reclining on the board and pulling yourself up the incline with the cable pulley handles. The trainer comes with bands, which are kind of like bungee cords, than attach between the bottom of the board and the frame to add up to 50 pounds of extra resistance.
Don't worry about that one leg making the unit unstable. The feet are wide and it doesn't wobble much at all.
At the bottom, you have the foot plate. At the top are the fixed handles and cable pulleys, which have their own handles at the ends.
That's really all there is to it. It bears mentioning that the board's upholstery is thick, tear-resistant vinyl. Under that is two inches of high-density foam padding. That's thick enough to make it comfortable, but not so thick that you'll have to worry about permanent dents in the padding material.
Weider Body Works Exercises
Weider makes good on their promise of a full-body workout. This trainer is versatile enough to offer the 70+ exercises advertised, as long as you count a few slight variations as totally different exercises themselves. I forgive Weider for this. Slight variations in exercise actually do work different muscle groups.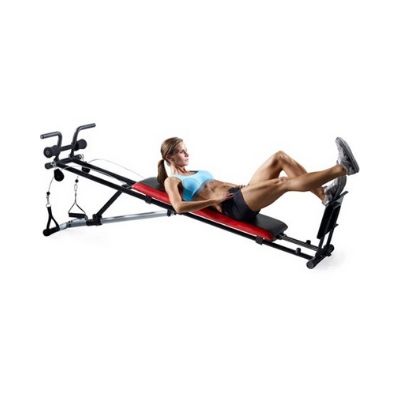 Here's the chest workouts you can do:
Pullovers, including twisting and crunch pullovers
Chest flies, including lateral and decline variations
Chest presses, both wide and close grip
Incline push-ups
Don't forget about your back:
Back flies, prone back flies and back flies with leg curl
Aerobic, crossover and kneeling rows
Hyperextensions
Pull-ups
Lateral pulldowns, with or without squats
For your abs:
Crunches with or without added resistance
Incline crunches
Situps trunk rotations
Side planks
High and low pull-ins
Legs:
Straight and reverse leg curls
Calf raises
Squats: wide, twisting, kneeling, jumping, single and double leg
Front lunges
Hip extensions, adductions and abductions
Some impressive shoulder exercises:
Lateral and front deltoid raises
Front deltoid raises with leg curl, hyperextension and supination grip
Upright rows, including with leg curl and hyperextension
Shoulder presses
Shoulder extension, including with leg curl and hyperextension
Upright rows, including with leg curls and hyperextensions
Lateral arm pulls
And the Weider Ultimate Body Works exercises for the arms:
Regular, lateral and lying bicep curls
Bicep curls with leg curl and hyperextension
Bicep curl integrating crunches
Tricep extensions
Chin-ups
Prone, lateral and kneeling triceps extensions
That's a long list of possibilities, and it's not even complete.
The Weider Ultimate Body Works exercise charts can help you plan and keep track of your routine.
Keep in mind that you can use free weights too. For example, you may want to do some incline dumbbell presses.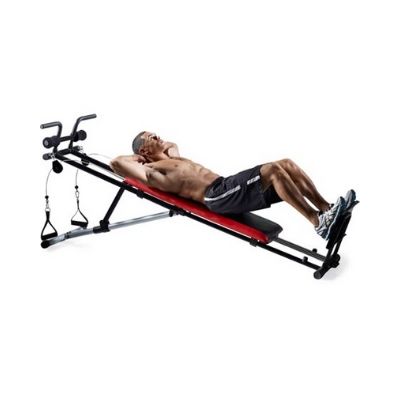 Price And Value
This Weider model is by far the most affordable of all the comparable machines. Check prices here on Amazon.
Compare that to Total Gym's cheapest, which is the 2000. That'll run you around $600. The Total Gym line has several models with different features and prices. The costliest one is over seven times the price of the Weider Ultimate.
The Buzz
I checked out what people are saying about the Weider Ultimate online. There are few complaints. Most of the reviews from people who actually bought and use it are net positive.
Some have complained that they can't do all of the exercises that are advertised. Maybe they don't understand how variations work. If you do count variations, you can do 70 different exercises.
I did find reviews from a few tall guys who say that they can't get a good form on the machine. That's understandable, considering the nature of the machine. If you're under 6'5″, you should be OK.
The price is perhaps what makes people the happiest. They could have spent a lot more for the same basic trainer. Although the Total Body 2000 definitely has its merits, I didn't see anyone lament that they should have went with it instead of the Weider Ultimate. There were a few who wished they would have went with the Total Body 3000 or XLS, though.
No one got buff, but many lost weight and gained tone and definition with this trainer. Some of the most successful weight losers combined training on this machine with cardio. That's a terrific combo if weight loss is your goal.
I saw many brags about gains in upper and lower body strength. Although bodyweight resistance isn't really enough to add mass, it's great for strength training.
Weider Ultimate Body Works Vs Total Gym
We've touched a little on Total Body's lineup. Now it's time to compare them to the Weider Ultimate.
First, here's a little about Total Body. They offer three versions of this type of trainer. All of them are more expensive than this Weider, some much more.
They all share the same basic design, but the features vary.
The Total Body 2000 is most like the Weider Ultimate, at four times the cost. They offer some the same basic exercises, all of which are detailed on the Weider Ultimate Body Works exercise charts.
Although the Weider Body Works 5000 comes with a squat stand, the Weider Ultimate and the Total Body 2000 do not.
You can do around 40 exercises on the Total Body 2000, not counting close variations.
The Total Body 3000's main advantage over the Weider Ultimate is that it comes with a squat stand, just like the Weider 5000. It's huge disadvantage is its price tag, which is almost six times heavier than the Weider Ultimate's.
Weider Ultimate Body Works vs Total Gym XLS is like an economy sedan vs a Cadillac. That comparison rings true whether you are talking about features or price.
The XLS is great for someone wanting a highly functioning bodyweight resistance gliding incline trainer for a smaller home gym. It comes with the same squat stand that the Total Body 3000 has, and it also includes a leg pull and a Pilates kit.
I've seen power racks that come with an incline bench and preacher curl that cost about the same as the XLS. It's priced well over a grand.
If you're looking for a step up from what the Weider Ultimate has to offer, start at the Total Body 3000. But be prepared to pay a much higher price.
If you are looking for more information about alternative incline trainers, check out our Total Gym Buyer's guide.
Weider Ultimate Body Works – My Two Cents
If you're looking to gain strength and muscle definition, or if you're wanting to stay in shape, incline training on a gliding machine can help you meet your fitness goals.
In this Weider Ultimate Body Works review, we've checked out how this trainer works and how many varied exercises you can perform on it. We've also compared it to its competition.
The Weider Ultimate is economical and versatile enough to be a star in any home gym.
If you still don't believe that the Weider Ultimate can deliver all of its promises, click here to learn even more about it on Amazon.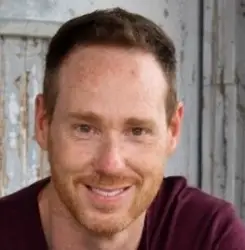 Latest posts by Jeff Carpenter
(see all)