Kettlebells have been around for decades, but they're just now starting to make a big splash in fitness circles. That's good, because "kettlercising" can work your entire body and help you build strength that you'll actually notice in everyday life.
They're a perfect fit in a home gym, but the average complete set of kettlebells can cost over $400 and take up a lot of precious floor space.
So, get an adjustable kettlebell. The best adjustable kettlebells take up as much room as a single fixed-weight bell and cost only a fraction of the price.
Adjustable Vs Fixed-Weight Kettlebells
You've probably seen cast iron kettlebells in commercial gyms. Many workout DVD series are beginning to incorporate them into their exercises. Many of these programs jump from bell to bell to add the right amount of resistance to each exercise.
Do you want to spend several hundred bucks for that kind of flexibility, or would you rather buy one unit with a selection of weights and save a few hundred?
You see, just like most other types of adjustable-weight home gym equipment, versatility and cost savings are two huge advantages of going this route.
The $400 set of kettlebells I looked at came with 11 bells ranging from two to 50 pounds in weight. That would take up several square feet of floor space. You can spend more and get a rack for them, but a rack takes up almost as much room as a line of bells against your wall.
One adjustable kettlebell can sit out of the way in a corner, taking up less than one square foot. Most of us will expand our home gyms by adding more equipment as time goes on, whether we plan on it or not, but few of us can knock down walls to make our gyms bigger. Adjustable kettlebells can greatly enhance our gyms while taking up almost zero space.
If you have the money to spend and you just want several individual bells that will last forever, then maybe fixed-weight bells are for you.
The Drawback Of Adjustable Kettlebells
I hope you're interested at this point. Adjustable bells will benefit most home gyms, and I want everyone to have a fully functional and efficient gym. But I also want you to see the disadvantages so you can make the best choice.
Say I gave you a rubber-coated chunk of cast iron. Could you break it? I'd guess not. Then you couldn't break a fixed-weight kettlebell, either.
But I have seen adjustable kettlebells break. It's always the weight selection mechanism, which has plastic parts. This is also a problem with some cheaper adjustable dumbbells.
The best adjustable kettlebells will likely last for many years. I paid special attention to durability when I chose the five best for these reviews.
But doesn't it take time to adjust the weight? That's another drawback, right? Well, it takes about as much time to change the weight of an adjustable as it does to walk a few feet and pick up different fixed-weight bell from a rack. So, no, you won't lose any time.
The Functionality Factor
The last thing anyone wants to do in the middle of their workout is deal with anything other than working out. Equipment has to be simple to set up and change over, and it has to work as expected. In other words, functionality rules.
So, how do they work? As you'll see in the reviews, most of the best ones adjust with the turn of a dial. After you select the weight you want, you lift the bell and proceed with your workout. Any weights not needed remain in their neat little cradle.
Changing weight, either up or down, with this type of adjustable kettlebell is quick and easy. You place the bell back into its cradle, right over any weights that may be there, and select your new weight. Then you pick the bell up and go. It picks up or drops the correct plates as needed.
Not all adjustable bells work exactly like this. You'll see a couple different kinds in the reviews.
Make The Choice
Whatcha think? Are adjustable kettlebells the right kind for you? Read on for a tutorial on how to pick the best for your needs.
Decide On Weight Range And Increments
You need an adjustable bell that will be a part of your gym for years. You'll be wasting money if you get one that you're going to outgrow.
On the other hand, you don't want one that is too heavy at its lightest weight. Beachbody on Demand features some kettlercises in several of their programs. They generally call for kettle weights of two to five pounds. So if you're going to be doing BBoD-style cardio and HIIT workouts, for example, you want to look at the lower end of the weight range.
Although different adjustable kettlebells have different ranges, most go from around 10 or 15 pounds, minimum, to 40 or 50 on the high end.
There's really no mystery here. Figure out the weight you need now and what you'd like to progress to. Think of all the workouts you'll be doing and what weights you'll need for them. Then get a bell that offers the range you need.
Adjustable bells have a minimum weight, which is the combined weight of the handle and base, and they increase in weight by about four pounds per plate added to the handle. This varies some from model to model.
Apex makes a cool one that uses standard barbell weight plates. Check out that review.
Durability
There are two ways to judge the durability of any particular adjustable kettlebell: trust the brand name or trust the online reviews.
Big brands rely on the quality of their products to keep their reputation up. So they can be trusted up to a point. More popular brands almost always have better warranties too. So if something does go wrong, they'll make it right.
But you can often save money by going with less popular or up-and-coming brands. Sometimes, these brands actually make a better product.
Reviews can help you sort things out.
Generally, the less plastic and moving parts involved, the more durable the adjustable bell will be.
Adjustment Mechanism
You basically have two options here: easy and not easy.
The dial system I mentioned earlier is super easy. It also has moving plastic parts.
The simplest adjustable kettlebells pretty much involve you unscrewing a big nut from the bottom, removing the weight you don't need or adding the weight you do, then replacing that big nut. It's a lot of work, relatively speaking, but the metal nut is the only moving part.
So, you see that the adjustment mechanism has some play in durability and convenience.
The 5 Best Adjustable Kettlebell Sets Reviewed
You have choices. My goal is to present the best of all available models. Each bell is here for a reason, such as the best price, easiest to use, best overall and so forth.
Let's dive in.
Stamina 36-Pound Adjustable Kettle Set Versa-Bell
The Versa Bell's base and cast iron handle add up to 16 pounds. There are five four-pound weights included for a total max weight of 36 pounds. That's a good range for more seasoned exercisers.
You adjust the weight by placing the bell in its cradle and sliding a locking pin into the hole that corresponds to the weight you want. It's just as quick and simple as twisting a dial.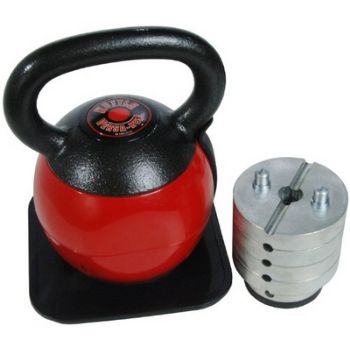 There's a rubber gasket between each steel weight plate that allows the pin room to lock and keep the plates from clanging together. Every durability issue I've seen, and that's just a few, has to do with these gaskets.
The warranty only extends 90 days, so you may be on your own if the gaskets split.
I like that the handle is wide enough for a comfortable two-handed grip. That adds a wider dimension of versatility to your kettlercising.
There have been reports of the rubber base of this bell stinking to high heaven. If you've ever been around a new set of crumb-rubber bumper plates, you know what I mean. This is only a minor inconvenience to most. At the worst, you may have to let your new Versa Bell air out outdoors for a few days to a week.
This one gets the Most Comfortable Handle award.
pros
Quick and easy adjustment
Wide handle
cons
Rubber gaskets may present a problem
PowerBlock KettleBlock
PowerBlock makes awesome adjustable dumbbells, so I had to check out their KettleBlock.
There's no dial here, either. The plates stack up on end along each side of the 5-pound handle. Everything sits neatly in place in the cradle. You use color-coded pins to select your weight. Just snap the pin in place and all the weights you need get locked together with the handle.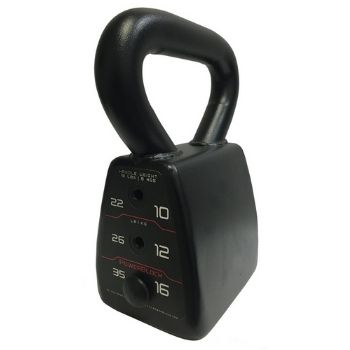 The innermost weights weigh 1-½ pounds each. The remaining six each weigh two pounds. They're added in pairs, one weight on each side, so your weight choices are 5, 8, 12, 16 and 20 pounds. That's great for cardio and some isolation exercises. There's also a 40-pound version of this model available for strength training.
The KettleBlock retains the square-ish shape of PowerBlock's adjustable dumbbells. And it's only 11″ high. It's a real space saver.
Due to the simple and efficient adjustment mechanism, there's not much that can go wrong. But there's a three-year warranty in case something does. The plates are warrantied for five years.
Congratulations to PowerBlock. They've made the best lightweight adjustable kettlebell.
Pros
Great for cardio and HIIT
Durable
Small size
Nice warranty
Cons
Maxes out at 20 pounds – You'll have to buy the 40-pound model to progress past 20
Rep Fitness Adjustable Kettlebell
OMG, Rep Fitness and Bowflex are in a dead heat for both the Best Overall and the Easiest Adjustment awards. Scoot to the edge of your seat, and we'll sort this out.
Rep Fitness offers three different models with different weight ranges. Since they're hell-bent on the metric system, the lightest and heaviest ones come with kilogram weights.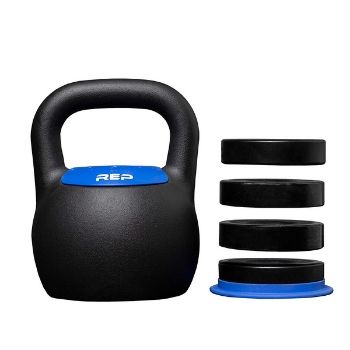 16 kg model: 8, 10, 12, 14 and 16 kg. That's 17.6, 22, 26.4, 30.8 and 35.2 pounds. It's good for serious cardio and light to medium strength training.
40-pound model: 20, 25, 30, 35 and 40 pounds. Now we're getting into serious training mode.
24 kg model: 16, 18, 20, 22 and 24 kg. That's 35.2, 39.6, 44, 48.4 and 52.8 pounds. This is best for those who are looking to progress into the buff zone.
The steel weights sit fully inside the powder-coated bell. Combine that feature with the pro-style handle and you have a competition kettlebell.
To adjust, you push the dial down and twist so the arrow points to the weight you want. It doesn't get any easier than that. Or does it?
Rep Fitness extends their standard one-year warranty to their adjustable kettlebells.
So which award does this one get? We'll talk about that later. Don't scroll. That's cheating.
Pros
Comes on three good weight ranges
Easy to adjust
Competition-style design
Cons
The metric weight designations can drive some people crazy
Bowflex SelectTech Adjustable Kettlebell
We looked at the SelectTech adjustable dumbbells in another review. Now it's time for the SelectTech adjustable bell.
You turn the dial to choose from 8, 12, 20, 25, 30, 35 or 40 pounds. The dial also displays the kilogram equivalent of each pound weight, but the adjustments are in pounds. That's a good range for HIIT to serious body sculpting. It's also a fantastic range for the beginner who wants to progress to a high plateau.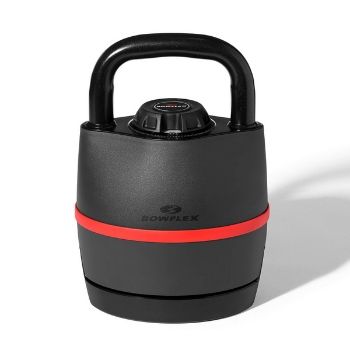 Just like the Rep Fitness adjustable bell, the weights sit inside the bell. It also has the same pro handle. The warranty, however is twice as long at two years.
You also have the Bowflex name. As we've seen, that may indicate good quality. The bell I've reviewed here certainly ranks high in the quality and value categories.
What do you think the SelectTech is gonna get, the Best Overall or Easiest to Adjust? Stay with me, there's one more to go.
Pros
Weight range is great for everything from cardio to muscle building
Easy to adjust
Great warranty
Cons
This really isn't much of a con, but a little more weight would be perfect
Apex Adjustable Heavy-Duty Exercise Kettlebell
This one is too cool to pass up here. It's not what you'd call easy to adjust. There's no powder coating. You won't find any dials or pins, either. It doesn't even come with weights.
What you get is a 15-pound handle, a five-pound base and four non-weighted standard spacer plates. You use your own 2-½, 5 or 10-pound standard plates. Oly plates won't work. They'll shift around too much. The spacers are for when you use fewer than four weight plates. You throw spacers on to make up the space.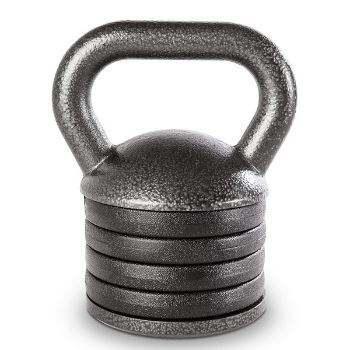 The bell with four spacers weighs just a hair over 15 pounds. The max, with four 10-pound plates, is 55 pounds. So your range is 15 to 55. That's a good range for toning to bulking up.
To adjust, you lay the bell on its side. Twist the screw on the bottom to detach the base from the handle. Then you pull the base off. Now it's all taken apart. Put it back together with the plates and spacers you need to get the weight you want.
The handle and base are made of cast iron, which is practically indestructible. The bar that goes through the plates and spacers and holds everything together is steel. The warranty runs two years, but it's doubtful you'll need it.
And get this: It's priced less than $65. Of course, you have to factor in the price of plates if you need them. But most of you reading this already have a good assortment of plates. Think of the money you'll save. And even if you have to buy plates, you'll probably want then for a bar one day anyhow.
Apex has made the Best Budget Adjustable Kettlebell.
Pros
Affordable
Very durable
Uses standard plates
Cons
You'll have to buy plates if you don't already have some
Adjustment is fairly easy, but it takes a minute.
The Bottom Line
By now, you've likely decided whether or not an adjustable kettlebell will be a good fit in your home gym.
Remember to carefully consider the weight range you need. Think about what you're going to be doing a few years down the road. You're very likely to have the same bell at that point.
If you're mostly into cardio and HIIT, PowerBlock's KettleBlock offers a great value in a lightweight adjustable bell.
Stamina's adjustable kettlebell has a nice wide and easy-to-grip handle. That'd be a good choice for you if you do a lot of two-handed kettlercises. And "kettlercise" is a word.
You can get Apex's super tough and simple, yet not so easy to adjust, adjustable bell for about $65. It'll work with your standard weight plates.
That brings us to that whole Rep Fitness vs Bowflex thing. Which is easiest to adjust, and which is the overall best adjustable kettlebell?
They match each other in durability, quality, price, comfort and even ease of adjustment. But the Best Overall nod goes to the Bowflex SelectTech. It's a top of the line adjustable bell, and its 8 to 40-pound weight range will suit most for their entire lives.
The Rep Fitness bell has a much wider range when you consider all three versions. The heaviest goes to almost 53 pounds. The lightest model goes down to eight. The middle goes from 20 to 40 pounds, while the Bowflex runs from 8 to 40.
Rep Fitness just can't beat Bowflex in the range department, but it does get the Easiest Adjustment recognition.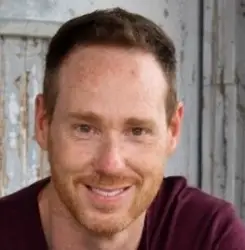 Latest posts by Jeff Carpenter
(see all)