Shift Shop Review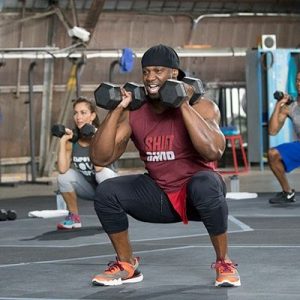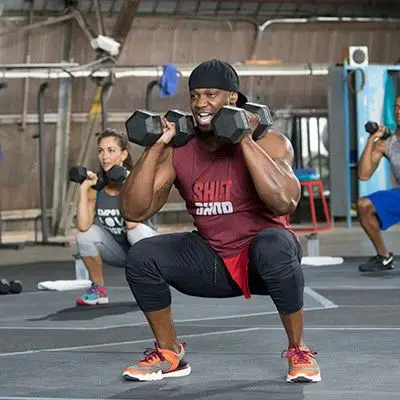 Product Name: Shift Shop
Product Description: SHIFT SHOP is a training camp style workout designed to be a proving ground for your fitness. The system is a full course that adds increasingly difficult workouts over the schedule and sets things straight with a top notch nutrition plan. Expect to burn 400 to 500 calories per workout. More if you put maximum effort into it over 28 days. This program is a lot of fun and is a nice mash-up of different workouts to keep things from being too robotic.
Brand: BeachBody
Summary
Chris Downing is a fantastic coach and instructor. He keeps you wanting to come back for more. If you are looking for a workout that will produce great results in just 28 days, Shift Shop is worth adding to your bucket list of workout programs. Its not uncommon for people to go a couple of rounds through the course. Why don't you?
Pros
Great entry level program that will help get you to your fitness goals. Easy to start with and follow through.
Cons
The high calorie burns I mentioned are mostly what beginners would experience. People who see themselves at intermediate or advanced might want for an alternative like LIIFT4 or Insanity.
HIIT, which is all the rage nowadays, combines fast cardio and strength training for the ultimate toning and endurance-building workouts.
But it's so intense that it can be intimidating to a beginner.
Along comes Shift Shop by Beachbody on Demand (my article here gets into the details). It bills itself as a HIIT program that's designed to ease a beginner into an intense fat-burning, muscle-toning regimen.
If true, that would be great for people who are out of shape but want to get fit. Does that sound like you? Check out our long-awaited Shift Shop review and see what the fuss is about.
Short on time?
SHIFT SHOP IN-A-NUTSHELL
SHIP SHOP is a fast paced entry level program and definitely worth a try if you on the fence about working out at home. Not only is it fun and functional, its a great place to start doing Beachbody on demand workouts.
You can access SHIFT SHOP through Beachbody on Demand for 14-days FREE.
What To Consider Before Starting A Beginner-to-Intermediate HIIT And Strength Training Program
Getting into shape is a serious commitment. You know the benefits, like better body tone, more muscle, less fat, a stronger heart and overall good health.
But starting with little or no background in exercise raises some things you need to think about before jumping into this kind of commitment.
You have to be able to physically handle the hardcore workouts that come as the program progresses from light to moderate. You'll also have to be able to ease into a low-carb diet.
Is your heart healthy enough for strenuous exercise? Can you safely cut carbs without causing blood-sugar problems? If in doubt, check with your physician.
On the other hand, if you're already in pretty good shape and have a good bit of endurance, a moderate HIIT program like this may not be tough enough for you. In that case, Beachbody on Demand has over a thousand workouts ranging from light to absolutely insane. Check out their 21 Day Fix and LIIFT4 programs.
If high-intensity cardio is too much, though, you may want to start with light aerobics. Take it easy with the weights. Wrist weights can be your best friend in beginner's aerobics.
Let's put it all together. Here's what you need to think about before starting this kind of beginners' program:
Are you in good enough health to start a moderately intense cardio program?
Can you do a low-carb diet?
Are you really a beginner? If you can handle 35-minute HIIT sessions, you probably want to start with a more advanced regimen.
The Full Shift Shop Review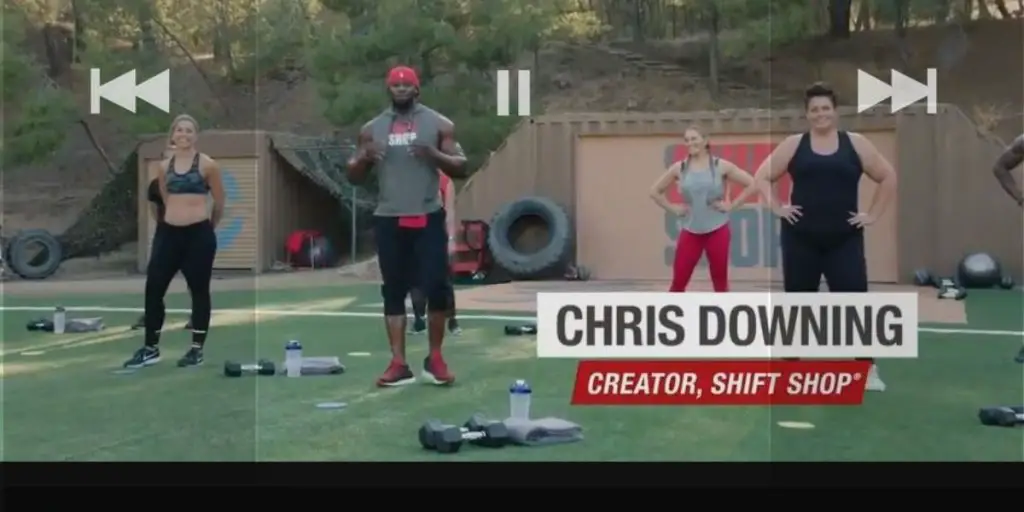 Shift Shop is a 28-day program that promises fat loss, lean muscle gain, higher endurance and one very specific weight loss claim: 10 pounds.
Only Beachbody on Demand members have access to it, but there's a free trial version available. If you're on the fence, get the trial and do one of the beginner's workouts.
This program is less intense than most any other HIIT/strength training regimen out there, at least at first. The intensity level increases, or "ramps up," as the program progresses. That's what makes it so effective for out-of-shape beginners.
While great for noobs, anyone who can already handle HIIT should look for a more advanced option.
You can access SHIFT SHOP through Beachbody on Demand for 14-days FREE.
Here's the pros and cons.
Shift Shop pros:
Shift Shop cons:
Features And Benefits
Now we'll check out Shift Shop in depth with my review.
The Shift shop Workout Schedule
Chris Downing, a professional trainer and gym owner, leads each workout with the help of his crew.
I like Chris. He's fun. Even though the workouts don't really change that much throughout the 28 days, Chris's lighthearted, encouraging attitude makes the workouts interesting.
He also had a big role in developing Shift Shop. That's apparent by the transition from light to moderate exercise. He's gentle.
Prep Week
The workout cycle itself starts out with a prep week.
The first two days feature easy 15-minute workouts meant to get you ready for the the speed and weight involved during the next two days, which are referred to as the "Proving Ground."
The third day focuses on agility and speed for thirty minutes. The idea is to ease you into the cardio part of it. Expect short bursts of activity followed by shorter periods of rest.
Day four begins the strength training. Your muscles are unlikely to burn after this thirty minutes, unless you haven't lifted anything heavier than a donut in the past year.
The fifth day is basically a recovery day. The stretching is meant to relax wound-up muscles and prepare them for the next four weeks of increasingly harder workouts.
Weeks One, Two And Three
The heart of this program follows the same general outline of the prep week, with some tweaks.
The first two days of each week are still focused on getting you used to the difficulty of the workouts you'll do in the following two days.
The proving ground days will push you to your limit.
The fifth day of every week is the "Shift Core" day. As the name implies, it features exercises that burn fat around your midsection.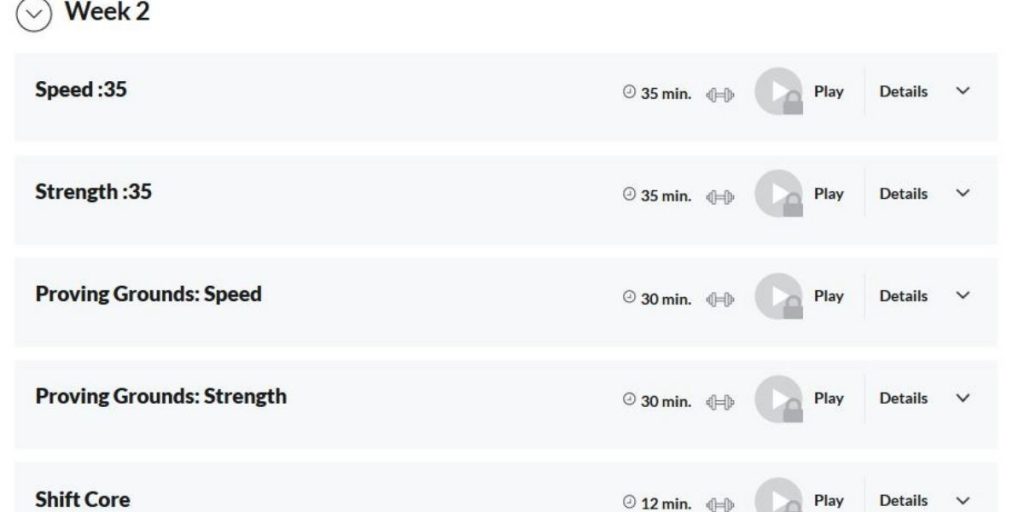 Day number six, "Core Mobility," is a recovery day. But it's actually more than that. The stretches are very important. You need to condition your muscles and get them ready for more and more exhausting workouts.
And on the seventh day, you rest. If you are feeling up to it, walk. You can jog a bit if you aren't sore. The point is to give your body a break. Still, don't allow yourself to get stiff. And don't go off the diet!
Week one's workouts go for 25 minutes. Since it's a HIIT-based program, you can expect to go all out for a little while, then take a short rest.
The workouts get ten minutes longer in week two. Week three's exercise periods are 45 minutes in length. The exceptions are the core and mobility days. They stay a respective 12 and 20 minutes long.
Week Four – Advanced
At this point, you may be surprised that you made it this far. A more advanced exercise nut would have quit out of boredom, but beginners often wonder what they've gotten themselves into.
That's the genius of this program. It doesn't just get you into shape. It conditions your body to be able to get through all the steps that follow.
One amazing thing you'll probably notice here is your new confidence. Tripling the length and intensity of your workouts in less than a month is a major accomplishment!
Anyway, the final week involves three hardcore workouts. You got a 50-minute speed day, a 50-minute strength day and a 15-minute core day. This is the ultimate proving ground, to steal one of Chris's terms.
Once you've completed the program, you'll either be happy with the fat and weight you've lost, or you'll want to go further.
If you're pleased with your new healthy physique, just continue with a sensible and balanced diet. Get regular exercise to keep the weight off and stay healthy.
If you want to lose more weight and get an even better overall tone, you have two options. You can run through the program again or look into a more advanced program.
Going through the regimen the second time is easier than the first. And you might even lose more than ten pounds this time. That's because your metabolism will be in overdrive. Don't waste that. Keep going if you feel the need.
If you're going to restart Shift Shop or start another Beachbody on Demand program, do it soon so you don't lose your metabolic gains.
You can access SHIFT SHOP through Beachbody on Demand for 14-days FREE.
The Shift Shop Nutrition Plan
You have to follow the nutritional program to get the results you're after. If you disregard the diet, you'll probably barely see any weight loss. You may gain some muscle, but you won't notice it.
This diet is low in carbs and high in protein, but it's more paleo than it is Atkins or South Beach.
First, you choose the Shift Shop meal plan that's best for you. The startup guide makes it easy.
Once you have selected a meal plan, you download your food list and go shopping.
Can you cook? If not, can you read? Reading is the only prerequisite for following the easy recipes that you'll have access to as a Beachbody on Demand member. Even I can make most of these recipes work, so everyone else will be able to as well.
You don't have to use the recipes. Prepare your meals however you want to. But refer to the food list and stick to the diet.
In the beginning, the eating plan calls for meals that are balanced with proper ratios of carbs, proteins and fats. You may already eat like this now.
As the days go by, the diet becomes more and more restrictive. You get much less carbs, less fat and more protein.
During the final week, starch is out, just like in a keto diet.
This gradual eradication of carbs starts a shift in your metabolism. Your body becomes primed to burn fat and pack on lean muscle mass.
As your carb intake is reduced, your physical activity is increased through the workouts. This is the type of perfectly timed one-two punch that Beachbody on Demand is famous for. It's been proven effective clinically and by millions of members throughout the world.
Check Amazon here for Shift Shop availability
Do You Need Supplements?
Supplements aren't completely necessary, but there's a wide range available to give you every advantage. Right off the bat, I want to tell you they're not cheap.
Energize is a pre-workout supplement that boosts energy, mostly with natural caffeine.
Hydrate is an easily absorbed electrolyte solution that replaces what you sweat out.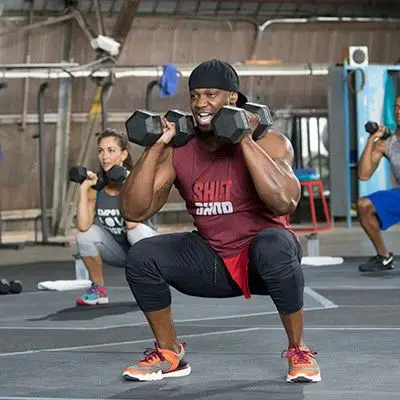 Post-workout recovery calls for a lot of protein.
The Recover supplement is packed with proteins that are absorbed over a long period of time.
This not only helps prevent soreness, but it gives your muscles the material they need to grow and harden.
Taken before bedtime, Recharge supplies your body with casein protein all night long.
The creatine supplement can give your muscles that extra bit of strength and endurance to get a couple more reps in. That's really useful in HIIT exercises, where you push yourself as far as you can go.
The Shakeology line supplies protein, macronutrients, micronutrients and probiotics in an easy to drink form. Like the other supplements, the shakes aren't required. But they do help to make sure your body has everything it needs to do what you're demanding of it throughout this program.
Both the supplements and the Shakeology line are available as a recurring monthly subscription. You'll get a new shipment every 30 days unless you cancel. That's convenient, but it can really add up in terms of cost over a four week period.
Shift Shop Program Materials
You really don't need much as far as equipment goes.
There is strength training involved every week, so you'll need dumbbells for resistance. Make sure you have ones that you're comfortable lifting now, and get some a few pounds heavier for the last couple weeks of the program.
A PT sandbag is recommended for the final week, but you can use dumbbells for this too.
You'll want a good mat for the mobility days. A foam roller, while not called for, can help you roll the tension and soreness out of your muscles and get your blood flowing for a quick, effective recovery.
The Shift Shop calendar is printable. You can also view it online, but you may want to have it tacked to your wall. It shows you at a glance what to expect in the coming days and weeks.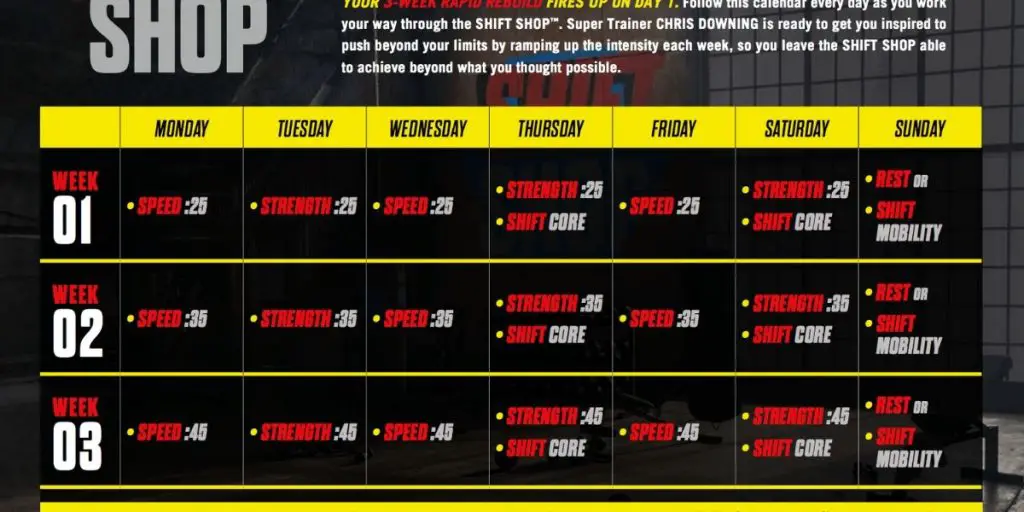 You also get the Hybrid Calendar, which combines Shift Shop workouts with those from seven other Beachbody on Demand programs. You can do the extra workouts to enhance your routine.
Agility markers replace the agility ladders that you may have seen in other HIIT programs. You can buy them from Beachbody on Demand's website, print some for free, or pick-up a set from the image below (Amazon) .
The agility markers are basically targets that go in strategic places on the floor. You reach for them during the workouts to improve your flexibility and add to the intensity of the exercises.
You'll also print out some Proving Ground Scoresheets. They're basically progress trackers. The calendar tells you where you're going; the Proving Ground Scoresheets show you how far you've come. Many program graduates like to post these sheets in their online Shift Shop reviews and social media brags.
The Jumpstart Guide gives you four simple tips to get off to a strong start. Follow these tips. They don't cost any extra money, but they will give you a leg-up on the program.
Shift Shop Results
Like any fitness program, individual results will vary. It's important to stick with the schedules and nutritional plans for maximum benefits.
I've seen it countless times. Someone inevitably says: "I'm not getting enough out of it" or "the program doesn't work" or the dreaded; "I'll do the workouts and eat whatever I want".
All of these are recipes for disaster and will put an immediate end to any progress you hope to make. Trust me. I've been there.
Stick with the plan and you will experience positive results.
I snagged a few results cases from the official Beach Body on Demand website as quick reference. Keep in mind, these results most likely aren't typical. What I mean by that is that these people stuck with the program. Beach Body wouldn't publish the results otherwise.
Beachbody Coach results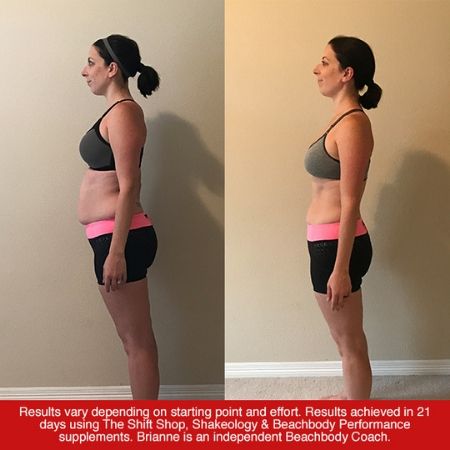 Brianne followed Shift Shop for 21 days and lost 7.1 pounds.
Her results were complimented by using Beacbody supplements. She is also a Beachbody coach.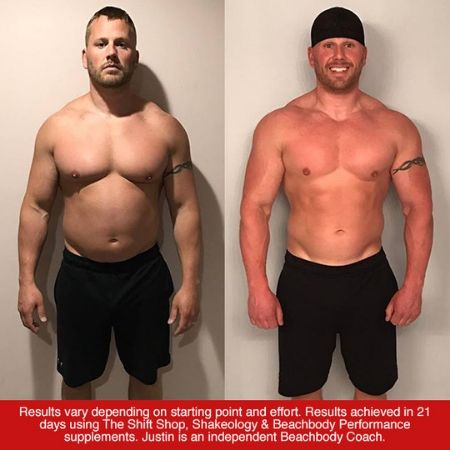 Justin O. lost 10 pounds in 21 days while following the Shift Shop program.
Justin is also a Beachbody coach. He also used their supplements.
Even though the two folks above are Beachbody coaches it's worth noting what results can be experienced in just 21 days. Still important to say that REALLY sticking with the routine is the key to success.
You can access SHIFT SHOP through Beachbody on Demand for 14-days FREE.
What are the alternatives to Shift Shop?
Shift Shop is great for beginners who want to use HIIT for quick weight and fat loss, higher endurance and speedier metabolism. But if it's not for you, you may still want something similar.
There are several good aerobic programs our there that incorporate light resistance, like the kind you'd get from wrist and ankle weights. Look in that direction if Shift Shop seems to be a little too much for you.
21 Day Fix, also available to Beachbody on Demand members or (Amazon), is more intense than Shift Shop. It's good for anyone who is somewhat used to HIIT workouts. The diet is less restrictive, which is a big advantage for some. The fact that treats are allowed make it more palatable to people who aren't ready to stick to a strict diet.
While Shift Shop is designed to bring beginners up to an intermediate level, 21 Day Fix Extreme is meant to bring intermediate-level folks up to the advanced stages of HIIT and strength training. If you are a beginner, but you're in pretty good physical shape and overall health, you may want to start with it.
Both 21 Day Fix and its extreme cousin feature 30-minute workouts. They both have modifiers, so you can take them a little easier if you need to.
Shift Shop in a Nutshell…
Starting a diet and exercise program can feel like a big step to a beginner. And you know what? It is.
You may browse some online programs and get discouraged by the difficulty of the workouts.
But Shift Shop is designed for beginners. The goal of the program is to leave you ten pounds lighter with a slimmer midsection, less fat, more lean muscle and a higher metabolism.
It achieves this by ramping the workouts up from easy to nice, steady sweat-inducing shred sessions.
Even the diet starts off easy. This helps you get used to the tighter restrictions to come.
Can Shift Shop be the program that helps you get into shape and starts you down the road to better health? You bet it can. Click here to join Beachbody on Demand and give it a shot.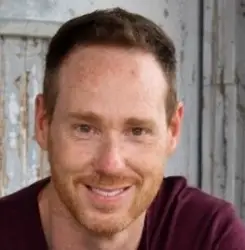 Latest posts by Jeff Carpenter
(see all)