Exercise is important to me. Not only do I like to stay in good physical shape, but the activity helps to keep me clear-headed and in good spirits.

But it's not easy to follow an exercise regimen with the way I travel. A gym membership is out of the question. And hotel gyms, when available, are usually bare of equipment or crowded with people. I can't stand either scenario.

Well, I ran across this product that claims to be a portable home gym. Is there substance behind this big claim? Check out my Bodyboss Home Gym 2.0 review and decide for yourself.
If you don't have time to read through the entire article, checkout the BodyBoss 2.0 on their website. Many reviews to read there. Pound for pound, we've found this portable and compact home gym to be the best bang for your buck.
How Much Does The Budyboss Portable Gym cost?
The website lists retail around $255.00, but sales will often be much lower than that. Be sure to use the my bodyboss 2.0 home gym discount code. It works whether it's on sale or not.
I've been fortunate enough to secure a discount code for you. Use the BodyBoss 2.0 discount code RIVAL when you check out to active your discount. This code is not available anywhere else.
Click here to pick-up your BodyBoss 2.0 (be sure to use RIVAL as your discount code)
About Portable Home Gyms
Do you travel often? Do you want a home gym, but you don't have the room? Is the cost of exercise equipment prohibitive on your budget? Would you prefer a simple machine over a big, expensive and complicated contraption?

If you say yes to any of the above questions, a portable home gym may be right up your alley.

Portability and compactness are the keywords here. You need something small enough to store in a closet or under a bed. It has to fit well in a car and be air travel-friendly.

Portable gyms can go with you anywhere, and are small enough to set up and use at work, a hotel or even a park's gazebo. They should also be small enough so you can leave them set up at home without sacrificing precious floor space.

Don't let the size of hulking exercise machines scare you. If you need to stay active, and we all do, check into space-saving options.

If you like to do a lot of different exercises, you may have to spend thousands of dollars on dedicated equipment needed to do them all. But a good portable gym is capable of being set up in numerous configurations to suit many exercises. I like that kind of flexibility for my routine.

On the other hand, if you only do one type of exercise, like lifting weights, you would only need one specific piece of equipment in most cases. Then a portable gym might be overkill for you.

If you have plenty of room, don't travel much and can afford to spend up to $1,000 or more, a traditional multi-activity machine may be your best bet. They are often sturdier and offer more consistent resistance.

Do you have a pretty cool gym already? How well are you set up for cardio? Do you have something for ab twists and shoulder rows?

Adding a small, yet versatile, piece of equipment like one of these can fill in any gaps quite nicely.
The BodyBoss Home Gym 2.0 Review
Bodyboss claims that this piece of foldable exercise equipment is easy to take along anywhere, simple enough for anyone to use and so versatile that you can use it for 300 different exercises.

Can you name 300 exercises? Neither can I.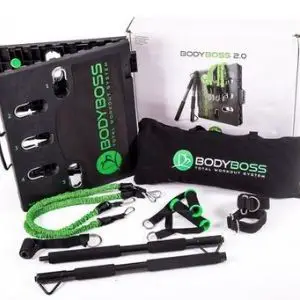 Bodyboss further claims that there is nothing else like it on the market. While this is a wide open claim, it is true.
I like to compare the products I review with similar ones. But there really isn't any other portable equipment that offers nearly as many exercise possibilities as this one.

If you want to do a variety of exercises on the road or in a small space, this simple machine can save you from buying a ton of those cheap glorified elastic bands that you see advertised on t.v. at 3 o'clock in the morning.

Let's outline the pros and cons before we move on and look at this mini-gym in detail.

Pros:

Folds to 17″ by 20″ and 2″ thick
All attachments fit into a small bag
It's easy to adjust for different exercises and resistance levels
Suitable for all ages, heights and body weights
Several packages are available – you choose one based on the resistance and accessories you need
1-year warranty
Excellent customer service
Cons:
No band can offer the smooth, even resistance of weights
If you're used to using a weighted bar for squats and curls, the Bodyboss's workout bar will feel a little awkward at first
Bodyboss 2.0 Features
Let's pick this thing apart and see if the company's claims have any teeth, shall we?

What Comes With The Bodyboss 2.0 home gym
You get one folding VectorFit base that's rated for 500 pounds of force.

The basic package comes with two power bands. Extra bands are available separately or as part of higher priced premium packages.

One workout bar, which breaks down for easy transport and storage, and two handles are included. Most of your exercises will be done with either the bar or the handles.

You get two adjustable, padded ankle/wrist straps that attach to the resistance bands. They're good for leg lifts, reaches and other exercises that don't involve the handles or workout bar.

The door anchor with ring is a nice little extra that comes with the basic package. The anchor fits over most any door, and it has an attachment point for one or more bands. The ring, which is basically a handle, attaches on the other side of the bands. Use your imagination. Tricep extensions, ab twists and lat pulls are all possible.

All of the accessories store in a neat little bag. Also included is an instruction manual and a free three-week online program trial. Of course, you don't have to subscribe to the program to use the equipment you buy.

Bodyboss's official YouTube channel and home page has instructional videos and verified purchaser reviews that show (and report) how to do numerous exercises with their Home Gym 2.0.

The color scheme is black with your choice of green or pink accents.

How It Works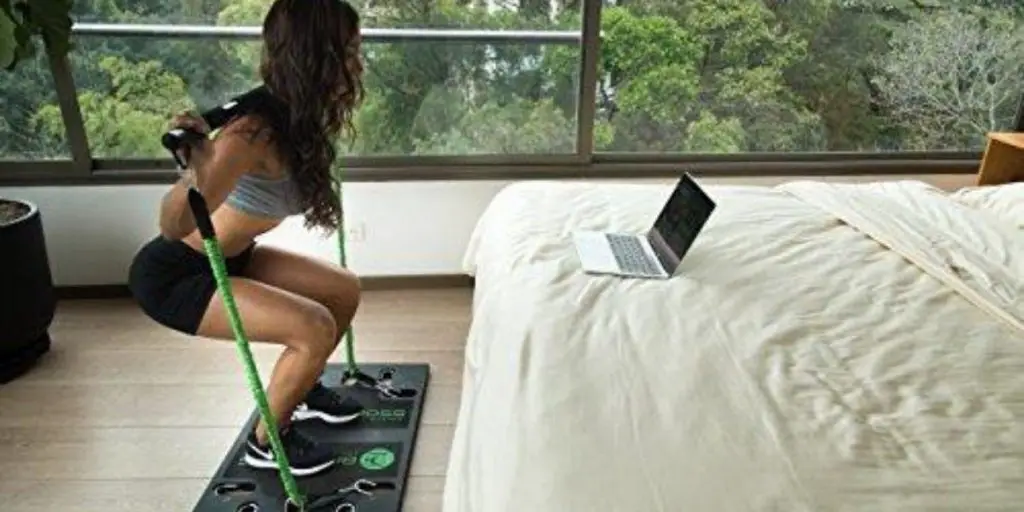 You set up the bodyboss portable gym by unfolding it, setting it on the floor and attaching the bands to the base and accessories you want to use. Well, that's pretty simple.

Bands secure to the base and accessories with strong clips. That's it. No tools are required.

When you're ready to pack it up, you unclip the bands and accessories so you can store them away in the little bag that comes with it. Then you fold the base up and go.

Is it sturdy? The base has flat no-slip nubs on the bottom, so it doesn't slip around on any type of flooring. You're standing on the base while you do your exercises, so it's not going anywhere.

You add more resistance by adding one or two extra pairs of bands. It's just as simple as adding extra weight plates to a bar.

How Portable Is It?
The base folds to the size of a large, yet slim, briefcase. The bag full of accessories is comparable to a largish purse or attaché.

Everything will easily fit into a trunk or back seat. You could even fly with the accessory bag as carry-on, but you'll have to check the base.

You can slide the base between a desk and wall for out-of-the-way storage at work. The bag would fit into one of my desk's side drawers with plenty of room to spare.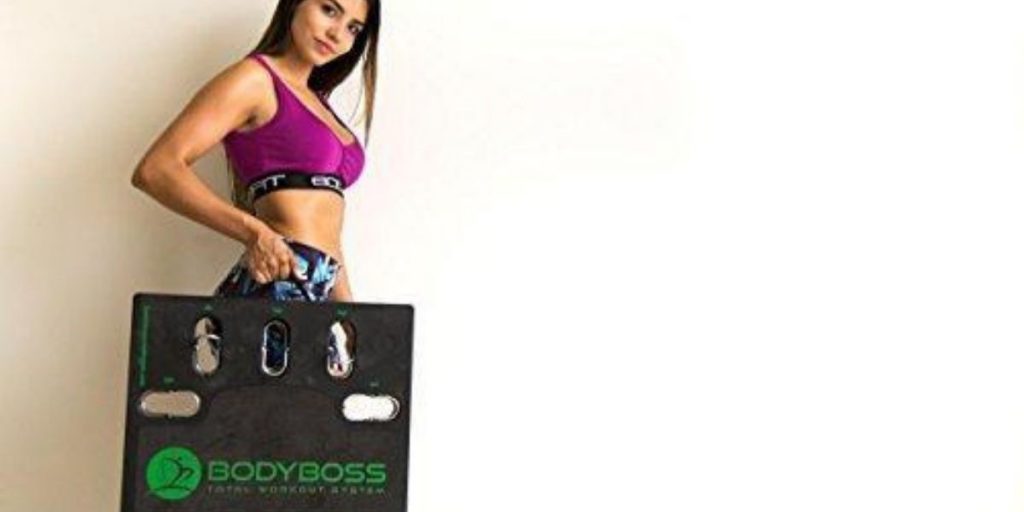 Is It Quiet?
It will be quieter than your breathing.

The bands make no noise as they stretch. The base doesn't creak. There aren't any weights to thump on the floor.

You can workout in the same room as your sleeping significant other or roommate and not disturb them at all.

Setting it up and.packing it away is also as silent as it is quick.

What Kind Of Exercises Does It Do?
I still can't think of 300 exercises at all, let alone that many that can be done on this piece of equipment.

You can use the workout bar for squats to work your thighs and glutes. Squats burn a lot of calories as well.

Use the handles for ab twists to strengthen your core and maybe even get a six-pack going on.

Other possible exercises include single-leg deadlifts, triceps extensions and shoulder rows. This is by no means a complete list, but it should serve to give you an idea of the variety that's possible.

One area where this is lacking is any type of bench lift. You could theoretically put a bench over the base and maneuver the workout bar over your chest. Then you can do a watered-down press.

You can't do any He-Man olympic lifting either. You could extend your arms and push the bar over your head, but the resistance at the bottom of the lift would be light. The top of the lift would be awkward and unsteady.

Is It Safe?
If you're in good enough general health to do low-impact exercise, like elliptical training or power walking, you shouldnt have any problems here. You just have to know your own health and any limitations that it may place on your physical activity.

The bodyboss portable gym attachment points on the base and accessories are made of strong metal and are designed to handle the maximum amount of stress that the bands can place on them. They don't break easily.

The bands themselves are tough, and they're encased in a fabric sheath to protect them from abrasions. Scratches, gouges and other damage is what weakens resistance bands.

Social Media Buzz
Have you checked to see what people are saying online?
Actually, looking at others' opinions may be a good way to gauge how well you may or may not like a product of this type.
Amazon reviews are very favorable and are worth a look since people who post there are verified buyers. Opinions there should carry some weight about the usefulness of this portable gym.
I also pulled-in some reviews from the official website, which are in alignment with the positives posted elsewhere (like on Amazon).
Here are a few from veried buyers at BodyBoss website.
"Love My BodyBoss"

Look forward to my work outs with BodyBoss, first exposure to resistance band work, and your system makes it so easy and much more ! Well thought out and built product, also very pleased with price, throw in the great In the box and online work out guide and videos, can't beat it !

RF (2019, Feb 1). Verified user review from. bodybossportablegym.com
" Love it"

The bands are no joke lol it will take a while before I get to two. I mainly bought this because living in Nebraska it's easy to have days I can't get to the gym or it's too cold/icy to leave the house. Now nothing can stop my goals!

Meliss Ross (2019, Jan 22). Verified user review. from bodybossportablegym.com
Bodyboss Alternatives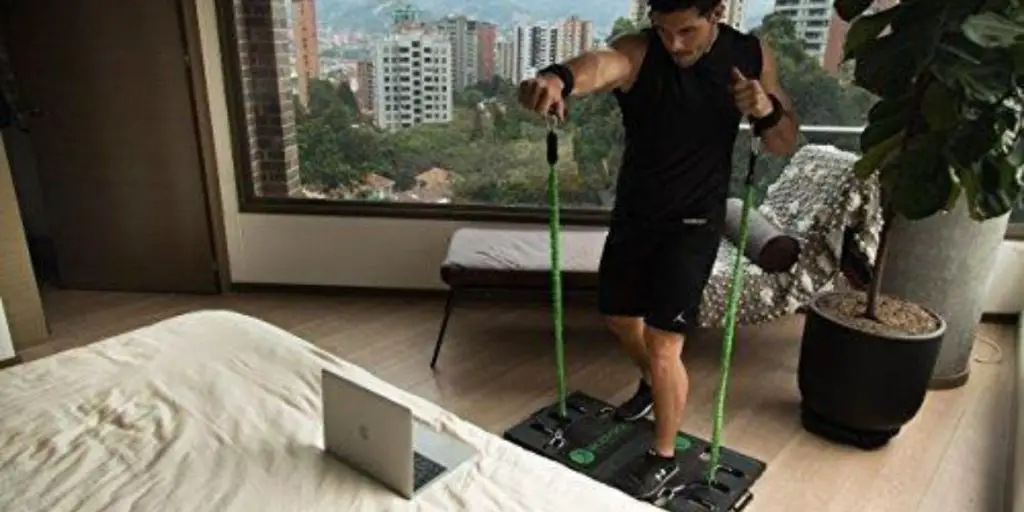 Like I said earlier, there really isn't anything like this on the market right now. But, as of the time of this writing, there is at least one website claiming that there are over a dozen alternatives to this portable home gym.

I'm not here to pitch for this or any of Bodyboss's products. I just want to show you what it's about and how it performs so you can decide if you want one.

I'll just give a few short, honest and non-biased reviews on some of these so-called alternatives and let you be the judge.

W8 Gym-in-a-box
This setup includes a platform just big enough to stand on with two attachment points for two very short bands. There isn't enough maneuvering room to do nearly as many band-based exercises as you can with the Bodyboss.

The W8 comes with three sets of dumbbells. Most exercises on this equipment requires the dumbbells or multiple resistance bands. It's heavy and not very portable.

Lynx Travel Board
It's touted as being a cheaper alternative to the Bodyboss. So what is it? It's a mat that rolls up for easy storage and transportation. It comes with pads that reduce friction between your hands, feet or knees and the mat. So, I guess you can do.some yoga-like exercises with it.

It is a quality mat, and it rolls up small for really easy transportation and storage. But it's basically an exercise mat and nothing like a portable home gym.

Pocket Monkii
For all practical purposes, it's the door anchor with ring that comes with the Bodyboss. The main difference is that the Pocket Monkii can easily attach securely to things other than doors. It's a high-quality product that's good at what it does, but a home gym it is not.

So, there you have the top three "alternatives."

Of these, the W8 is the closest to being a contender, but it's in a different category. It's a collection of workout equipment that would make a good addition to a home gym. But it isn't portable or as versatile as the Bodyboss.

The Pocket Monkii is pretty much a resistance band that can anchor to almost anything. That's it.

The Lynx Travel Board is a good low-friction yoga mat with slidey knee and hand pads.

Summary
The Bodyboss 2.0 Home Gym is a versatile, simple and portable piece of equipment that supports a wide variety of exercises.

Anyone who wants to work out while traveling should really like it. It's easy to take along on car trips and flights.

You can even take it to work for quick lunchtime workouts. That's not only a great way to get some extra exercise in, but it's a very effective way to relieve stress and find your happy place.

This portable gym is just as useful at home. If left setup, it has a footprint of only 34″ by 20″. It's only 17″ by 20″ when folded. And at 2″ thick, it can slide right under a bed or behind a couch.

The Bodyboss Home Gym's results speak for themselves, but there's still more to learn about this neat little exercise machine. Click here to see some more details and find out how to get one of your own directly from BodyBoss.
Don't forget to use the discount code RIVAL when you checkout to save money. This code is not available on any other website.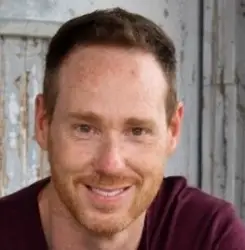 Latest posts by Jeff Carpenter
(see all)