We're on a mission to help you find the best compact home gym. The right one can last you for years and be your platform for every workout you do. The wrong one will be a headache that sits in your basement gathering dust.
Are you ready? First, we'll look at how to pick the best. After that, we'll take a brief look at five that stood out when we studied the most popular ones out there.
How To Choose A Compact Home Gym
To get the best value in a gym that you'll be happy with for years to come, you have to figure out what you actually need and find a gym that delivers it.
 Let's go over the important features that you should consider when shopping around.
 Budget 
This is an important consideration, because good gyms range from a couple hundred to almost $3,000. If you get only what you need, you won't be stuck paying for features that are useless to you.
Don't let a high price tag prohibit you, though. Some manufacturers, like Bowflex, offer financing for qualified buyers. The interest rate will vary depending on your credit score and other factors. If you need financing, check out what interest rate the manufacturer offers you and see if you wouldn't be better off using your credit card or a small bank loan. 
Size 
How much room do you have for it? You don't want to find out too late that you'll be cramped in your workout area. 
It's not just the size of the gym. You have to figure on how much room you need to workout on it. Think about leg extensions and presses. You won't have to have a ton of extra room, but you should allow yourself a decent buffer zone between the gym and walls. 
Bowflexes and similar gyms don't fold. They can be scooted into a corner when you're done using them, but you have to look at the size as a constant. 
Other gyms, like the BodyBoss 2.0, are foldable. In this case, you just need to make sure you have the room to workout on it. When you're done, you can fold it up and stick it in a closet or even behind your couch.
Consider the weight if you want to take your gym with you when you travel. You're not going to find one that can fly with you as carry on, but there are some simpler ones that can be checked. 
Resistance 
Compact home gyms provide resistance with resistance bands, stackable weights or composite power bars. Some are even compatible with oly or rubber bumper plates. 
No matter how it's supplied, you need to make sure that there's enough of it. Don't be discouraged if you find a gym you really want, but it doesn't have enough resistance. Most gyms are upgradable to offer more. This means buying extra bands, weights or bars. Of course, this adds to the cost, so you should factor this in to your budget consideration. 
What if the gym you like has too much resistance? Don't worry, you probably won't run into that problem. They all adjust in some way, and they all go down to a light resistance that's suitable for light cardio and warm-up or cool-down workouts. 
Type Of Resistance 
No one talks about this enough. It matters. 
Low-impact workouts are trending now. There's a good reason for that. It makes sense to protect your joints from exercise damage. Going easy on your muscles makes for a quicker recovery time, and it can actually help you get a more effective workout. 
Inertia is the keyword here. Weight doesn't want to move. Dead-lifters and olympic weight-lifters know this all too well. You ask a lot of your muscles and joints to break inertia. Over time, this strain can cause damage. 
Weight plates have the most inertia. Power bars have less because their resistance curve is less dramatic. Resistance bands have even less of a curve. Have you noticed how they are easy to pull at first, but they get harder as they reach their limit of length? That makes them ideal for lower-impact workouts. 
There's nothing wrong with weight plates. I just mentioned the inertia dilemma here so you can make a good choice, even if you want a home gym for low-impact workouts. 
Type Of Exercises 
Don't buy a gym just because it says that it offers upper and lower body workouts. Look for the specifics. If squats, curls and lat exercises are important to you, look for a gym that has a bar for curling and squats as well as a lat tower. 
Check out the claims. A gym can advertise itself as being capable of dozens of exercises, but that doesn't mean it's ideal for those particular workouts. 
Scrutinize the gym and try to imagine what it's like to use it. You can also search YouTube to see the gym in action. Don't just look at the manufacturer's channel. Try to find videos of real people using it in real situations, preferably in a home gym like yours. 
Stability 
This is a prime example of why you should check out reviews, like this post. You can't tell how stable a gym is by looking at a picture of it online. All of the images are carefully chosen to make it look as good as possible. 
If you happen to see any reviews by buyers, see if there are any by people about your size and weight. Otherwise, trusted sites, like this one, are an invaluable tool. 
Durability 
You don't have to take other people's word for this. Do some investigating and see what the gym is made of. And I'm not just talking about the platform or frame. Those are usually the most durable parts of the gym. The weakest link always fails first, so look at the cables, pulleys, upholstery and padding, bands, plates, bars and anything else that moves or bears weight. 
Warranty And Return Policy 
These policies vary wildly. I wouldn't buy any equipment of this type without at least a year of warranty coverage on materials and craftsmanship. 
This is where a manufacturer's reputation comes into play. What good is a warranty if the company isn't going to honor it? The more you spend on the gym, the more important this becomes. I speak from experience. Don't set yourself up to get screwed. 
A return policy is different that a warranty. A warranty covers defects and premature wear and breakage. A return policy lets you return a gym because it isn't what you thought it was or you just changed your mind and want something else instead. 
Absence of a return policy isn't a deal breaker for me. Researching exercise and gym equipment is kinda my job, so I pretty much know exactly what I'm getting when I place my order. But you may want to check for a return policy if you are apt to change your mind or you're not too confident when you buy. 
Is A Compact Home Gym Really For You? 
At this point, you're either really excited and ready to dive into the reviews to decide which one you're going to get, or you are wondering if you really want one at all. 
Most of you will benefit from one, but some may be better off setting up your home gym some other way. 
The main benefit of a compact home gym is convenience. You get a piece of equipment that allows you to do many workouts that you would normally have to go to a commercial gym for. Commercial gyms suck. 
Price is another plus. Even if you end up going for a high-dollar $3,000 compact home gym, it'll end up paying for itself by saving you commercial gym membership dues, hidden fees and gas to get there. 
And have you seen the price of dumbbells, barbells and weights recently? How about lat towers or even benches? A compact home gym that has everything you need, or at least most of it, can save you a bunch of money by keeping you from having to buy all that stuff separately. 
Avoiding the neighborhood gym means having a complete gym in your home. A compact home gym can be a big part of your setup, or even all of it. 
So, without further ado, let's jump into the reviews. 
Our Top 5 Compact Home Gym Picks 
BodyBoss 2.0 
This is a totally affordable model for users of any weight and height. It'll handle up to 500 pounds on the platform, and my 6'6" friend has no problem doing standing bicep curls on it. 
It has a 20"x34" footprint. That's small enough to fit between the beds in a small motel room. It folds in half to a size of 20"x17", with a thickness of 2". That'll fit behind your sofa. At just over 10 pounds, anyone can carry it in one hand.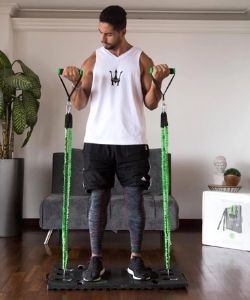 Setup is super easy. You just thread the cloth-covered resistance bands through loops in the platform.
Then you attach the bands to either the collapsible workout bar, handles or wrist/ankle straps. There's four bands included, and more are available for extra resistance. 
The claim is that you can do over 300 exercises with it, but that includes many slight variations on every basic workout. You can do curls, squats, olympic-style lifts and many others, though.
A door anchor is also included. You can do lat pulls and chest cables with it. 
All of the attachments and bands fit into the carry bag. 
As a bonus, you get access to live workouts and pre-recorded workout videos on the BodyBoss site. This is a great way to learn how to get the most out of this gym. 
This is the best one for travel and for those on a budget. The only drawback is that the platform feels a little flimsy. It won't break. It just gives a bit when you pull on the bands. 
Learn more about the BodyBoss 2.0 in my more in-depth review here. 
Bowflex Xtreme 2 SE 
The Xtreme 2 SE is similar to the original Bowflex, but there's no cable changes, and it's more versatile. You'll need an 8'x7' workout area for this one. 
You can workout all of your muscle groups with this sweet gym. There's even a lat tower and adjustable lat bar for working your lats and back.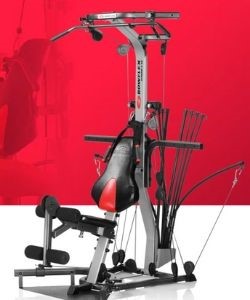 Resistance is provided with the ubiquitous Bowflex power bars. There's a little inertia, but not nearly what you'd get with stackable weights.
You can work up a sweat pretty quickly with up to 210 pounds of resistance.
You can upgrade to 310 or even 410 pounds. Other upgrades include preacher curl and ab crunch attachments, but these cost extra. 
Squat and lat bars are included with the basic model, and so is an ab-training strap. 
The biggest con is the resistance bar themselves. If you use the gym frequently, and you should, you may notice a loss of resistance due to the rods weakening in as little as two years. This is considered normal wear and isn't covered by the warranty. 
Parts are warrantied against defects for seven years. The rods are covered for life against breakage, but loss of elasticity isn't included. 
The $1,600-ish price tag is a good deal if you want a basic home gym that's versatile enough to deliver a total-body workout at home. 
Extensive assembly is required. Allen wrenches are included in the box, but you'll need a few screwdrivers, an adjustable wrench and maybe a rubber mallet. It shouldn't take more than a few hours to put together. 
Bowflex Revolution
This Bowflex has no bows. The resistance is a product of Bowflex's patented SpiraFlex technology, which basically involves wrapping an elastic belt around a center post. 
SpiraFlex provides steady, zero-inertia resistance over the entire range of motion. That's easy on your joints, yet better for building lean or bulky muscle, depending on how much resistance you choose. You have up to 210 pounds, or 300 if you upgrade to more resistance. For your legs, you got up to 440 pounds out of the box and 600 with the upgrade.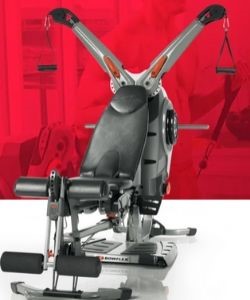 There's two handles for pulls. They're attached to the two arms that you use for butterflies and similar moves. The leg press is included in the basic model.
It doesn't cost any extra. What's more, a preacher curl attachment is included. Cheers to Bowflex for making the basic model a complete gym. 
All said, you can do about 100 different exercises. 
It's comfortable and well-built, like all Bowflexes. The sliding seat rail is a nice touch. So are the 10-position arms and the 170-degree adjustment on the padded bench. 
Expect to pay around $2,800. The resistance upgrade adds a couple hundred more. Parts are warrantied for 10 years, and labor is provided for free for up to 90 days from purchase. 
You'll need a 10'x7' space for your workouts, but the gym folds up to 4'7"'x3'2". You may need help moving it around; it weighs a whopping 336 pounds. 
Overall, I'm impressed with Bowflex's SpiraFlex tech and the Revolution in general. I just wish the weight was adjustable in smaller increments. Each step is 10 pounds. Five would be better. 
Bowflex HVT 
HVT stands for "Hybrid Velocity Trainer." The hybrid refers to the 50+ strength/cardio workouts available on the included free app. I checked these workouts out on the trial version, and these are killer HIIT sessions! Some of them are as short as 18 minutes, but they are all calorie-torching exercises that will push you as hard as you want to go.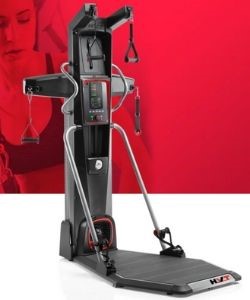 You set your phone or tablet up on the holder, right next to the cooling fan, and connect it to the LCD console via Bluetooth. The console tracks how many calories you burn and gives you a score based on the resistance you're pulling, the range you're pulling it and how fast you're going. This way you can graph your progress. 
You get full body workouts: chest, abs, back, arms, legs and glutes. That's how you lose weight and stay in shape. You can also build some serious muscle. 
The gym stands 6'6" tall, but it's narrow enough to fit in an average coat closet. It's good for any size person up to 300 pounds. 
Shorter people may have a bit of trouble and find it awkward to do some of the exercises on this standing trainer. You should be OK as long as you're 5'6" or taller. 
It's a great value at only about $1,800. The frame, parts and electronics are covered by a two-year warranty. Labor is on the house for three months. 
If you're into HIIT, or if you need to be, this may be the best compact home gym for you.
TotalGym XLS 
You can do over 80 different exercises with the TotalGym XLS, all using your own bodyweight. Weight plates can be added for extra resistance and a meaner workout. 
There are six different incline levels, from 6 to 26 degrees, that translate to roughly 6 to 55 percent of your bodyweight. It's worth mentioning real quick that it folds quite nicely and can be stored in a small space. This makes for a compact gym indeed.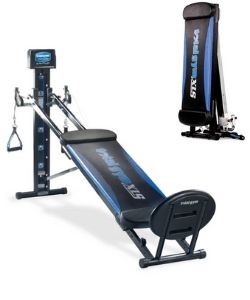 The amazing thing is that you can get a total-body workout with this one. That's pretty rare among bodyweight resistance machines. It's even better with the AbCrunch add-on, which adds another 10 workouts to your regimen. 
The cables are rated at 1,000 pounds and warrantied for two years, like all the other moving parts. The frame is covered for life. 
I like the glideboard. It's got an inch and a half of high-density foam padding, but it's not too soft. The firmness is just right. 
The frame is super-strong tubular steel. It'll last forever. It supports 400 pounds, but that includes both your weight and the weight of any plates you add. You can exceed that pretty easily if you add enough extra weight, as you would for most leg exercises. 
Best Compact Home Gyms In A Nutshell… 
So, there you have it. Are you pretty confident in your ability to pick the best compact home gym now? Check out the section on how to choose again if you need to. 
For the traveler or the budget-minded workout enthusiast, the BodyBoss 2.0 is the clear winner. It gives a full-body workout in a small, foldable package. 
If you are into HIIT, the Bowflex HVT will push you to your limit. 
Bowflex's Revolution is awesome and versatile. It's a complete gym, but it's a little on the bigger side and a lot on the expensive side.
If you want a bodyweight-resistance trainer that you can add extra weight to, check out the TotalGym XLS. 
The Xtreme 2 SE by Bowflex is also a complete gym that uses the good old-fashioned power bars for resistance. You'll be familiar with it if you had one of the original Bowflexes back in the day. 
Now you can make a great choice. Are you ready? The sooner you make up your mind, the sooner your home workout area will become a true home gym.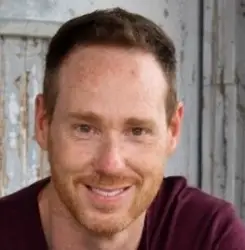 Latest posts by Jeff Carpenter
(see all)