How to pick the best bumper plates
The Best Bumper plates combine quality and durability in a value friendly package. Rogue Fitness tops my list of the best. But don't overlook other contenders in this Top 5 Bumper Plate review and buyer's guide.
Bumper plates are gaining traction among lifters. They're quieter and easier on flooring, to name a couple advantages. Oly and crossfit lifters like them because they sit higher off the floor, so they're easier to do power lifts with.
The best bumper plate sets for your home gym are the ones with the best quality in your price range. You have to watch the pros and cons and how they factor into the price.
Make The Best Choice for you
You'll have your bumper plates for a long time. If you get good ones, they'll last for many years. They're not cheap, so you won't want to run out and get a new set if you find something you don't like with the ones you buy.
Get one of the best bumper plate sets the first time. Here's a mini-guide to help you out.
What Type Do You Need?
There are three basic types of bumper plates. If you get the wrong one, you'll have a case of buyer's regret.
Competition Plates
These are high-priced plates that are made to the most exacting standards.
The dimensions and weight are so uniform that very precise and sensitive equipment is needed to find any variance between plates of the same weight.
This type of plate is required for some competitions, but they're not the best for the average lifter. The price usually doesn't justify the astronomical quality.
Training Plates
These are probably the ones you want. Nearly all commercial gyms use them.
They're basic plates that come in all of the standard weights and are made to stringent specifications. Some are so uniform in size and weight that they rival competition plates.
For the vast majority of us who workout in home gyms, these are the best bumper plate sets.
Technique Plates
As the name implies, this type of bumper plate is often used to perfect lifting techniques. They're generally light and very durable.
I've never actually used them. It took me a while to develop good form for my clean and jerk routine. I just used a couple 10-pound weights on my 45-pound oly bar. Sixty-five pounds was a good, easy weight that allowed me to concentrate on form and posture.
Technique plates are sometimes used for rehabilitation. An olympic bar is often heavy enough for lifters who are recovering from muscle strain or an injury. Adding a couple 5-pound tech weights at a time helps to ease the lifter back up to their normal weight.
Choose Your bumper plate material
There are also three kinds of rubber to pick from. The kind of rubber a set of plates is made of affects its price, durability and function.
| | |
| --- | --- |
| Bumper Plate Material | Features at-a-glance |
| Virgin Rubber | Premium quality and durability that will outlast most other materials. You find that Virgin plates are typically higher in cost than Recycled and Crumb rubber. |
| Recycled Rubber | Decent durability and a less cost than virgin rubber. It gets the job done, but some complain about a "rubber" odor. |
| Crumb Rubber | Least costly material and lower durability than both Virgin and Recycled rubber. Good entry level or budget friendly sets can be found. |
Virgin Rubber
Premium weights are made of virgin, or non-recycled, rubber.
This kind of rubber is more costly to produce and manufacture, so plates made of it are more expensive than those made of recycled and crumb rubber.
It is very durable. Virgin rubber bumper plates from reputable manufacturers can literally last a lifetime.
Let's look at function. If you're doing olympic, crossfit or any other kind of lift that involves dropping the bar, you want plates that bounce as little as possible.
I can tell you from experience that a bouncy bar is dangerous. What goes up must come down. It's no fun when a 250-pound sleeve full of plates comes down on your toes.
Virgin rubber plates have the least bounce. That makes them the safest and least annoying. You want dead-bounce, meaning the bar basically hits the floor and stays there.
Check out this 30-second YouTube video to see the difference in bounce between virgin and crumb rubber.
Get virgin rubber plates if you want very durable, commercial gym-quality plates that don't bounce much when dropped from overhead.
Recycled Rubber
This type isn't as durable as virgin rubber, and it has a bit more bounce.
Its only real advantage is price. It's cheaper, and so are the bumper plates that are made from it.
Be aware that recycled rubber plates can be smelly when you first get them. I recommend letting them sit outside for about a week or so to let that new tire smell dissipate before bringing them into your gym.
A strong rubbery smell can actually be harmful, so it's always best to let them off-gas outside until the smell is almost gone. Look here real quick for a doctor's take on the matter.
If you mostly bench press and curl rather than do overhead lifts, you may be better off with recycled rubber plates. You don't need the superior strength of more expensive virgin rubber if you're not dropping your bar often.
Crumb Rubber
Crumb rubber is cheap to make. That's why crumb rubber bumper plates are the cheapest.
This kind of rubber is basically rubber pellets pressed and glued together, like press board wood sheets.
I wouldn't use crumb rubber plates for any lifts that involve a drop. I've seen these things split and chip. There's no way to fix them when this happens.
They also bounce a lot. And crumb rubber may be toxic.
You could use these as landmine weights. Other uses include presses, curls and rack-based lifts. Just don't drop them.
If you're on a tight budget and don't do oly lifts, you may be able to save a bunch of money with crumb rubber plates.
Check The bumper plate Hub
The hub is basically a bushing in the center of the plate. It's what slides onto the bar's sleeve. They're made of steel. Sometimes they're plated, usually with chrome.
Many bumper plates fit onto their hubs the same way a tire fits onto a rim. These are OK, but they are not as durable as the ones made with hubs that have hooks.
Hook hubs have curved spokes coming out of them. The rubber plates are molded around them. Hook hubs can't separate from the plate.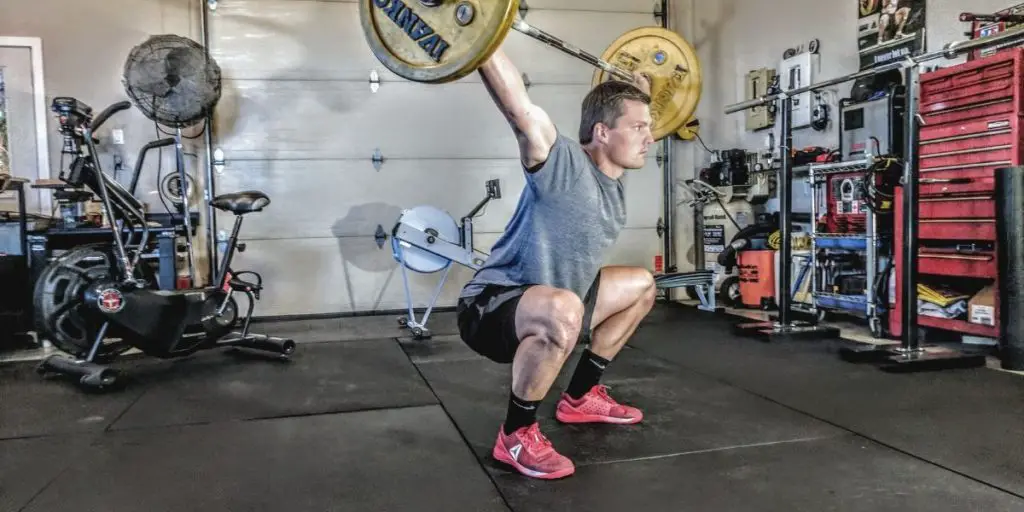 What Do The Colors Mean?
Some bumper plates are color-coded to make identification easier when picking them from storage pegs. Plates coded as such are said o have an olympic finish.
This is pretty useful because plates are made to a standard diameter and look identical, except for the thickness.
It's usually the lettering that's colored. Sometimes there's a stripe around the diameter or around the outside of the plate.
Here's the IWF, or International Weightlifting Federation, coding system:
Red – 55 pounds
Blue – 45 pounds
Yellow – 35 pounds
Green – 25 pounds
If you want to brighten up your home gym, you can find plates that are solid red, blue, yellow or green, instead of just being accented with the color.
Or you may just prefer solid black bumper plates. It's your money and your choice.
Are Certifications Necessary?
You'll run across bumper plates that are certified by one group or another. By far, the most well-known weightlifting organization is the IWF. Their certification means that the plate is fit for competitions.
But should you look for a certification when shopping for the best bumper plates for your home gym? I never did.
Unless you're going to use the plates in an actual competition that requires certified plates, don't worry about it.
Here's Some Good Ones
Each of these sets has some good qualities that make them candidates for the best bumper plates. I research a significant number of brands and narrowed it down to 5 that cover the entry to elite level as far as cost and quality is concerned.
Rep Fitness Bumper Plate Sets
Rep Fitness offers sets of 160, 190, 210, 230, 250, 260 and 370 pounds, as well as pairs of plates.
The set I checked out was the black 160-pounder.
It's made of a special virgin rubber that is strong and almost odorless. Thats nice because you don't want your gym smelling like a tire showroom for a month after you unbox your new plates.
They all have the standard 17.7″ diameter, except for the 10-pound training and 5-pound technique plates. They're slightly smaller at 17.5″.
This smaller diameter protects these thinner plates from the shock of drops. When combined on a bar with the larger plates, the bigger ones hit the floor, not the thin ones.
I'm impressed with the combination of strong virgin rubber and hooked hubs. These plates shouldn't ever get damaged with normal use. And of course normal use includes overhead drops.
Speaking of overhead drops, Rep Fitness tests its bumper plates by dropping them from eight feet onto their edges 15,000 times. Other manufacturers perform this same test, but I think these plates could have easily gone twice that number of drops before splitting or chipping.
PROS:
Durable, low-odor virgin rubber
Hooked hubs
Simple classic design – black plates with white lettering
CONS:
You'll pay a higher price for these premium bumper plates
These plates may be the best for you if you want a high-end set that will last for a decade or more of heavy use.
The Rep Fitness Bumper plates can be found here on Amazon.
X Training Equipment Solid Black Bumper Plates
Although these are made of recycled rubber, they are formulated to have only a very slight bounce.
Sets are available in 160, 230, 260 and 350 pounds. Singles and pairs are also for sale in the standard weights.
Although I picked the black plates to review, X Training Equipment also offers them in olympic finish. All of the sets are also available in pink!
The colored plates look good with this shiny rubber formulation, but not so much with the black.
Another thing I couldn't help but notice is the strong smell. They're advertised as being low-odor, but that is simply not the case. They stink. It takes weeks for the smell to wane.
The rubber itself is durable. I just wish that the hubs were hooked. That would add so much to the set's durability.
Oh, and what's up with the warranty? Dropping the weights voids it? Come on, X Training Equipment. Weights get dropped all the time. That's what oly weights are for.
PROS:
Durable Rubber
They come in black, pink and color-coded olympic finish options
CONS:
Strong, lingering rubber smell
Hubs aren't hooked
I'm still scratching my head over the warranty
These plates are mid-priced and should last for years. When they do eventually fail, it will likely be because the hub separated from the plate.
The X Training Bumper plate sets can be found here on Amazon.
OneFitWonder Contrast Bumper Plates – 260-pound Set
These are built as tough as the Rep Fitness plates I reviewed here.
The virgin rubber used for them have very little of that troublesome rubbery smell. And most of it will be gone in less than a week.
OneFitWonder must guard their rubber formula closely, because I don't think I have ever seen any other bumper plates with so little bounce. There's just a dull thud when the 260 pounds of rubber hits my concrete gym floor, and that's pretty much it.
My favorite thing about this set, other than its durability, is its use of the IWF color-coding system on the lettering. I prefer black plates, but the raised colored writing on the sides make it easy for me to quickly pull the right plates.
If you change your mind about them after purchase, you can return any of the plates for any reason within a year. There are no questions asked, and return shipping is on the house. That's a warranty I can get behind!
PROS:
Superior durability
IWF color-coded lettering
Dead-bounce
Least smelliest rubber plates on the market
No-questions-asked 1-year warranty
CONS:
A bit on the expensive side
Impressive durability, almost no rubber smell and a no-nonsense warranty make this set a winner in my book. You might like it too if you don't mind paying a little more.
OneFit Wonder Bumper Plate sets can be found on Amazon here.
ETHOS 205-pound Rubber Bumper Plate Set with Olympic Bar
Here is a nice budget-friendly starter set. I wish this deal was around years ago when I was a young man just starting to lift. I could have saved some serious money.
Included are a total of six plates: two 45's, two 25's and two 10's. You will have to make a tripe to Dick's Sporting Goods to get a fll set, but Amazon has singles available too.
The plates are solid black recycled rubber, but they only smell a little. Let them sit outside for a few days and they'll be fine.
As with most recycled rubber plates, there is a bit of bounce. This wouldn't be a deal breaker for me. For such a nice price on a starter set like this, I could deal with a little bounce.
The 45-pound bar that comes with this set isn't the best. It meets IWF weight and dimension standards for an oly bar, but the knurling is too soft.
The black anodized finish is rust-resistant, but it can still rust if scratched. And it will eventually get scratched. For the cost, the bar is still a good deal. You can upgrade later if you need to.
PROS:
Complete 205-pound set with olympic bar
Decent quality, low-odor plates
Bar meets IWF oly specs
All in all, a good price
CONS:
Hubs aren't hooked
Clamps that cone with bar are a bit flimsy
This practical set is great for those of us on a budget. It also makes a good starter set. I was thinking of getting this kit for my nephew on his birthday.
You can sometimes find single plates on Amazon, but its more worthwhile to get a complete Ethos Bumper Plate set from Dick's Sporting Goods.
Rogue Fitness Black LB Training Bumper Plates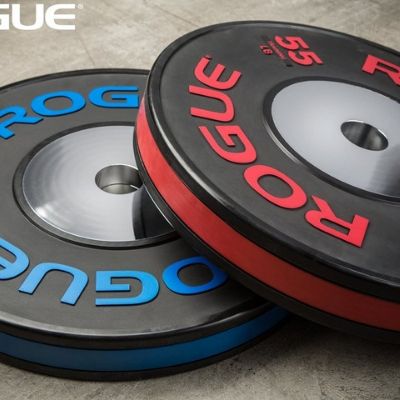 Here are some super high-quality plates for the serious lifter. They are the product of precise engineering and impeccable manufacturing.
The 25, 35, 45 and 55-pound plates come as pairs, and there are 210, 300 and 320-pound sets available.
You would need a micrometer to measure the bounce of these plates, even when dropped from overhead. That's pure, high-quality virgin rubber for you.
I have never heard tale of the chrome-plated hubs coming loose. They're integral with the rubber.
You can count the weight from across the room in a few seconds. Not only is the big,
bold lettering on the sides coded as to the weight, but there is a colored stripe around the circumference of each weight. Rubber flanges keep scuffing to a minimum, and a raised lip going around the perimeter makes it easy for you to pick them up off the floor.
PROS:
Extremely durable
Dead-bounce
Bold, high-visibility coloring
Design makes plates sit securely on the bar and easy to get off the floor
CONS:
No 10 or 5-pound plates available
Premium plates carry a premium price
Are you ready to start building a pro lifting setup? If so, these plates may be a solid foundation for you to start with. They can only be purchased direct from Rogue Fitness. Click here to visit Rogue.
The Takeaway
Finding the best bumper plate sets for your home gym isn't hard.
Quality is directly related to price. Good rubber and hub construction cost extra, but makes for a long-lasting and low-bounce set of plates.
The Rep Fitness and OneFitWonder sets I've reviewed here are premium. They're built to last.
I found some problems with X Training Equipment's entry on our list, but they'll work if you can find a good deal on them.
ETHOS makes a nice, affordable starter set that can also be a good deal for anyone on a budget.
Rogue Fitness gets the award for the best overall. Dollar for dollar, they are the best deal. Although their plates cost more, they'll last practically forever.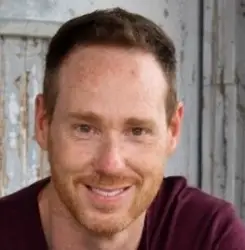 Latest posts by Jeff Carpenter
(see all)