I've looked at several high-dollar air bikes recently, and they are all awesome in their own right. But what about folks that can't spend close to a grand on an exercise bike?
The truth is that many budget-minded people end up settling for a low-quality bike. But you won't.
If you want a great air bike for less than $150, let me show you the Body Rider Fan Bike. Yes, I said less than $150.
Things To Consider Before Buying A Budget Fan Bike
Obviously, you can save a ton of cash by choosing a budget air bike. But you have to know what you'll end up getting for the much smaller investment.
You won't get junk if you read and understand this post. Check out my roundup air bike review to learn all about how to choose the best in your price range.
When you go cheap, you're going to have to settle for less durability and comfort. But you can still get the workout you want, whether it's super intense or slow and steady.
That's one thing that makes air bikes so great, and you shouldn't make any sacrifices there.
A good budget air bike should last for at least a few years of normal use with minimal problems. When you do have a problem, chances are you'll be out of your warranty period.
But look at it like this. I used to spend about a hundred bucks a month to workout at my local gym. If I spent a couple hundred on an exercise bike, and it lasted for two years, would I come out ahead?
If you can spend $750 on an air bike, you can get a really high-quality bike that may last for decades. If your budget is more limited, examine budget models.
Introducing The Body Rider Fan Bike
Let's take a look at the Body Rider Fan bike made by Body Flex Sports. Here we have an air bike of fair quality that can give you any kind of cardio workout you want.
The body rider upright exercise fan bike doesn't make many specific claims, but they say that their air bike is durable, versatile and can give you a tough workout.
We're going look at all of that in the sections below. Here's a quick look at the pros and cons to give you a good idea of what we're dealing with first.
Pros:
Totally affordable on almost any budget
Easy to assemble
Console rivals bikes of four times the price
Light enough for one person to move around
Compact size
Cons:
Wobbles a bit
Very hard seat
250-pound weight limit
Taller people find it very uncomfortable
The BRF700 Body Rider Exercise Fan Bike Review
Pay attention here. You need to know what it can do for you and what it can't.
The Workout
As with all air bikes, you'll encounter increasingly intense resistance as you work harder. That's what makes them so good for all types of cardio. But this bike has an adjustment knob.
It lets you opt for higher resistance at lower RPMs. That's a cool feature if you want to focus more on your upper body and core.
The console shows you the amount of calories you've burned, the distance you would have traveled if you'd been riding a regular bicycle, the watts of electricity you've generated and the RPMs that you're generating.
The only thing that's missing from this console that you'd find in a more expensive bike if the heart rate sensor input.
The console's display is rather small. The numbers are pretty big, though. It shows you only one stat at a time.
The feel is a bit shaky. It's not really a craftsmanship issue. This bike is light, and the frame's steel is kinda thin. So it does wobble some. You won't notice it during easy workouts, but HIIT sessions will have it rocking.
You can get sweet cardio workouts on this bike. But it's not very stable.
Construction And Durability
The frame is made of steel, instead of the plastic that most bikes of this price are made of. But it's only covered by a one-year warranty.
All other parts fall under a 90-day warranty. The only major issues involve the nylon belt getting abraded and nuts and bolts coming loose.
The belt thing can be a real problem. The manufacturer will send a replacement during the warranty period, but you'd have to fix it yourself.
There is no labor warranty. If you are unlucky enough to get a bike that eats belts, you'll have to pay for replacements after the warranty period expires.
Although all of the nuts and bolts you need for assembly are included, they're cheap ones. That's why they sometimes come loose. You can get better nuts and bolts for a few dollars.
So this isn't the most durable or the sturdiest bike. But people really love it for what it is, as we'll see later on in this post.
Quick and easy to assemble:
Comfort And Adjustability
Forget it if you're over 6′ tall. The seat won't go high enough. It will be the most uncomfortable workout you've ever had on an exercise bike, and you'll probably never use it again.
If you're not tall, you'll still find the seat to be too hard. The seat's size is good for most people, but you'll have to get a gel or sheepskin cover for it.
The pedals are on the smaller side, too. They're something like 4″ wide and just over 4″ long. You can replace them with any standard bicycle pedals if you want to.
This air bike seems to be made for smaller people, say, 5'10" and under. You sacrifice some comfort and the ability to make fine adjustments, but it's a great deal when you consider the price.
What People Are Saying
I checked out what people thought when they first got their Body Rider and whether their opinions changed over time.
Most gave it stellar reviews at first. Some complained that it was too small, but others liked how it took up less space than an average treadmill.
There were complaints about the bike becoming noisy over time. But many people said they could hear their TV and music just fine, even over the wind noise generated by the fan.
The main cons are the hard seat, the possibility of the belt shredding and loose hardware.
Almost all who bought this bike were happy enough with it after a year that they would make the same choice again.
Alternatives
One other budget air bikes that you may want to consider, is the Stamina Air Resistance bike.
The Stamina Air Resistance Exercise Bike is very similar, although it's priced about $30 higher. It has that tension adjustment knob for fine tuning the resistance, too. The big advantage it has is a more adjustable seat. It can accommodate people up to about 6'2″.
If you're a taller person, that alone is worth the extra dough. The main drawback is its cheap pedals. They are more like oddly-shaped plastic flanges than they are bike pedals.
Compared to the Body Rider, the Stamina Air Resistance Exercise Bike is:
A bit more expensive
Cheesier on the pedals
Better for taller folks
This one is very budget friendly and can be picked-up here on Amazon.
In Conclusion…
This is a good quality air bike at a fantastic price. Although it's not for anyone over 6′, regular-sized people love it. It's highly functional, but not very comfortable.
At the end of the day, it offers an outstanding value. If you're on a budget, you should be happy with this exercise bike. Pick up the Body Rider Fan Bike here.
Or if you are on the hunt for something more robust, check out my Top 5 Air Bike article.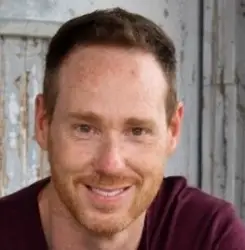 Latest posts by Jeff Carpenter
(see all)