The information in this article is not meant to be medical advice or instructions. You should always consult with a qualified doctor before taking on any weight loss program. The content here is based on our research and user reviews. Not our results.
Calibrate Weight Loss is a weight loss program incorporating doctor-prescribed medications, video coaching, and lifestyle tweaks for a guaranteed 10% weight loss.
This Is A Calibrate Weight Loss Review
Most weight loss programs restrict food intake or intense training and exercise. All of this is based on the premise that your body works like a Math formula: consume fewer calories than you burn.
However, anyone who has tried to lose weight and still failed knows that it's a lot more complicated than that. You can have psychological issues that affect your relationship with food; your metabolism (Harvard University) may be slow, so your weight plateaus even when you follow your recommended intake.
And that's why Calibrate weight loss program works. It uses a holistic, personalized, and science-based approach to weight loss that considers your unique body chemistry and the personal factors in your own life that affect your weight.
What Is The Calibrate Weight Loss Program?
Calibrate has two aspects: one-on-one coaching sessions with licensed experts in nutrition, metabolic health, endocrinology, and psychology, and FDA-approved weight loss medication.
Unlike other holistic weight loss programs, Calibrate isn't all just big words and empty promises. Instead, calibrate guarantees that as long as you're committed to following its steps, you will lose as much as 10% of your body weight in 6 months.
Calibrate was established by Isabelle Kenyon, an investment banker. In an interview with Forbes, she revealed that her mother had struggled to lose weight for years.
But only found actual results when she started seeing an obesity doctor in New York who specialized in metabolic medicine.
That led her to see that weight loss is not just about willpower. People need the guidance of doctors who understand how their body burns and stores food, which is affected by personal factors like age, health history, or even blood chemistry.
However, obesity doctors can be challenging to find if you don't live near a large hospital since it's not a common specialization. Even if you find a doctor, it can take months to book an appointment, and in-clinic fees can be higher than most people can afford. 
That's why Kenyon established Calibrate—which allows people to do online consultations—so it could be more accessible and affordable. Its initial launch in 2020 was only available in New York, Texas, and California; now, it is available in all 50 states.
Is The Calibrate Weight Loss Program Right For You?
Calibrate is more expensive than other online weight loss coaching programs, and you have to commit to following the program for a whole year. So, it's normal to ask, "Is it going to work for me? Is it worth the money?"
It depends. Suppose any of the following has happened or is happening to you. In that case, Calibrate may be the weight loss coaching program you're looking for. These 4 items below are indicators that it "might" be worth looking into.
1. If Your weight loss is slow, or you always gain back the weight
You exercise regularly, use a food app to count calories, and follow all the advice about reducing sugars and fats. Maybe you've even tried meal replacement shakes or intermittent fasting.
But unlike other people, you seem to have worked twice as hard to lose any weight, and you gain it back faster when you return to regular eating schedules. Taking just a few days off your diet, like during holidays or vacations, will make you gain extra pounds. 
That could be a sign that your problem is your metabolism. Your body burns food inefficiently, so only the most restrictive programs work for you – which is not sustainable in the long run. Calibrate fixes the metabolism so you can lose weight even on a more flexible diet.
2. You need motivation and support
Losing weight isn't easy, and feeling frustrated or even tempted to give up is normal. 
That's why you need emotional support. Someone who'll be there to remind you of your goals, celebrate your victories with you, and gently but firmly remind you when you're slipping back into bad habits. 
Do you have that kind of "weight loss" buddy in your life? Or do you often feel that you're doing it alone? Perhaps your family and friends are derailing your diet because they have unhealthy lifestyles. 
"Hey, let's go out for drinks and raid the buffet!"
If you need support, Calibrate can give it. But, best of all, you'll be talking to an expert. Who will not just motivate you or provide a random tip they found on TikTok, but sound research-based advice.
3. You have a metabolic condition
Since the program will essentially "reboot your metabolism, "that presumes that metabolism is a significant personal factor. 
For example, metabolism issues, diabetes or pre-diabetes, cardiovascular disease, high blood pressure or high cholesterol, PCOS, fatty liver disease, sleep apnea, etc.
You do not have certain conditions that can make you sensitive to the prescribed medicine Calibrate incorporates the use of prescription pills called GLP-is to improve your metabolic functions. 
While it is safe, it is not recommended for people undergoing cancer or having conditions like gallbladder disease, MEN syndrome, or pancreatitis.
4. You meet eligibility requirements
Before you sign up for Calibrate, you'll be asked to take the eligibility quiz. Aside from clearing you as medically fit for the program, it will also see if you meet their criteria, including:
You are between 18 to 64 years old
You have a body mass index (BMI) that is greater than 30 or less than 27
You have insurance (either commercial or provided by your employer)
You are not pregnant, planning to get pregnant, or breastfeeding
You do not have an eating disorder or substance use disorder
You did not have bariatric surgery within the last 18 months
What we like about the Calibrate weight loss program
We've reviewed a lot of weight loss programs and treatments, and the problem we often see is that they're either one-sided or not run by medical professionals.
For example, apps like MyFitnessPal or Lose It are calculators where you input exercise and calories, with the option to join community discussions. 
WW (formerly Weight Watchers) also focuses more on selecting certain kinds of food. Noom—slightly better because there's a virtual coaching team and some daily lessons and tools—also revolves around calorie density.
Calibrate is unique in that it recognizes how the body uses food, not just counting calories in and of itself. It's also much safer than trying to fix your metabolism with supplements, which can have side effects (Cleveland Clinic). 
Plus, many people with weight problems already have pre-existing conditions like high blood pressure or heart disease. Your maintenance medicines can interact with your diet pills.
With Calibrate, you do take prescription pills, but under medical supervision. When you're matched with a doctor, they will order lab tests and have an hour-long initial consultation with you. 
They determine your medical history, risks, and other factors that could contribute to your weight issues and resolve them.
This also sets it apart from Noom—which personalizes a program but has no lab tests or appointments.
That said, people who've used Calibrate report that they have benefited from just seeing a doctor in the clinic. If you're lucky, a hospital doctor will see you once or twice and then ask for a follow-up a few months later. 
You're left on your own in between. Because weight loss is not just metabolism: it can also be lifestyle and habits.
Calibrate's team of experts supports you throughout your weight loss journey. You get regular online consultations and follow a well-designed program that helps you set goals and be accountable for them. 
You're also given tools and readings that can help you change your mindset and habits—and throughout each step, you've got someone encouraging and challenging you.
So in this way, Calibrate addresses all possible factors that affect weight: your body (metabolism), your mind (attitudes, habits), your emotions (coaching and motivation), and your personal lifestyle and needs.
That's why Calibrate is confident about guaranteeing that you will lose 10% of your body weight in 6 months.
Most weight loss programs fail because they don't really know why you're not shedding pounds—they're just giving you a formula that works for some but may not work for you.
With Calibrate, every program is personalized and has the highest possible chance of succeeding, as long as you're willing to do the work.
What We Don't Like About The Calibrate Weight Loss Program
The biggest problem we see with Calibrate is its eligibility criteria and price. Because, unlike other apps, you have to pass their eligibility quiz before you can join. 
You can even be declared ineligible if you don't have insurance or if your insurance company isn't on their list.
Calibrate is also expensive. You get billed $249 from the get-go for the Metabolic Health Assessment. From then on, you must pay for the monthly subscription and the cost of the prescription medication.
Since you have to sign up for the whole year, with monthly subscriptions starting at $135, you'll be charged around $1,620. That doesn't include the cost of the medicine. That can be pretty hefty, and your insurance might not be able to cover everything.
There are also complaints that the Calibrate app is not user-friendly. in fact, on the Google Play store, the app gets a dismal 2.4/5 stars. 
As a result, some users end up using a third-party app to track their calories and exercise or even for journaling and just use the Calibrate app for mandatory requirements.
However, the iOS version is considerably better, with few complaints from Apple users. And according to replies from the customer service team, they are working on improving the Android version. 
Until then, the website has complete information, and you can benefit from the program itself, even if the app has hiccups.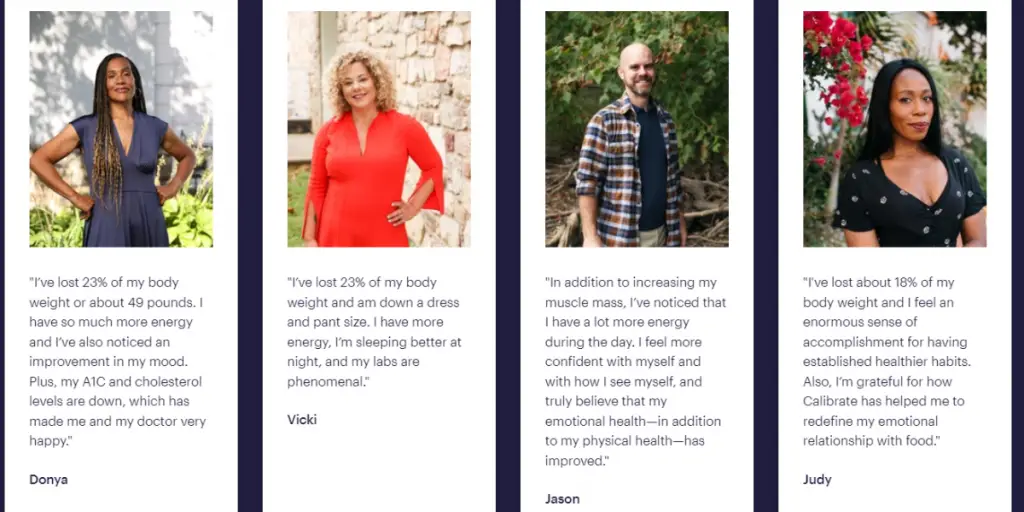 Pros and Cons
With a $1,620-ish price tag, you need to weigh the pros and cons—and we spell it out here for you.
  Pros
 Medical experts make the program from different fields related to weight loss and metabolism
The one-on-one support and regular goal-setting can help you develop habits that will support not just weight loss, but healthy eating and living
Guarantee to lose 10% of body weight is achievable and safe because it is done under medical supervision
Since the program fixes metabolism and arms you with tools for weight management, you are more likely to keep off the weight
One of the few weight loss programs that can work with insurance
Cons
High costs and insurance requirements can limit who can afford it
People with certain health conditions can't take the program
The Android version of the app is very buggy
What's Included?
Metabolic Health Assessment, including blood chemistry and other lab tests
One-on-one video coaching from medical experts (average of 15 minutes per session)
The one-year personalized program that addresses diet, regular exercise, proper sleep, and emotional well-being
Doctor-prescribed medication that is clinically proven to improve metabolism
Medication coverage, under your insurance plan
The free welcome kit that includes a smart weighing scale, blood pressure cuff, and access to an interactive app that will help you monitor your progress
Features
The Calibrate program has two unique features: the coaching plan and the medication. This is essentially what you're paying for—and what can make a difference in your weight loss journey.
1. Coaching plan
Here's what to expect during your one-year subscription.
Level One: Learning 
This spans three months and focuses on teaching you more about metabolic health. 
Some people may be frustrated, expecting to jump straight into intense workouts and fast results. 
However, it makes sense that you need to understand your body to make sustainable results. And learn small changes that you can make to boost your metabolism.
In this stage, you'll read about 1 or 2 lessons a week and meet with your coaching team twice a month to set bi-weekly goals.
Level Two (Practicing)
Once you've gotten the basics of metabolism and weight loss, you now start by working more closely with your coach. 
This goes on from Month 3 to Month 6. So it's a critical time when you start applying what you learned. You will identify the habits you have to change and the little tweaks you can make with your lifestyle that can make a big difference.
You'll still be reading about two weekly lessons, but this time you can dive into more critical areas for your personal goals. The lessons are modular, and there are "focus classes" that can meet specific needs or concerns.
Level Three (Setting)
You are now halfway through your program, and from months 6 to 9, you will refine your habits and see what works for you. 
There is no cookie-cutter approach to weight loss. So don't be surprised if your coach decides to try something new. They might teach habits or tips that are more feasible for you; if you see that the others aren't getting the results you like.
You can also continue lessons, choosing pillars and focus classes for areas where you think you need more help.
Level Four (Sustaining) 
You are in the last three months of the program, and this is the litmus test of whether you're ready to stick to the program and have the tools and habits to sustain your weight loss even without the help of your coach.
While you still meet your coach twice a month. The sessions will develop your confidence and independence and finalize that you've got the right mindset, habits, and routines.
2. Medication
The Calibrate weight loss program includes the use of FDA-approved prescription medications. These are GLP-1 medications that help you fight feelings of hunger or cravings, improve your metabolic functions, and help with your digestion.
GLP-1 includes various medications, including liraglutide (MedlinePlus), semaglutide (MedlinePlus), and dulaglutide (MedlinePlus). You may know of them under their brand names, such as Saxenda and Wegovy.
Final breakdown:
We've reviewed a lot of weight loss programs and products, and Calibrate stands out for three reasons: 
The guaranteed results 
Its medical and scientific basis
The holistic one-on-one support
From the beginning, Calibrate promises you'll lose 10% of your body weight. The testimonials and reviews back that up, and there is a medical reason they can deliver on this claim. 
By working on metabolism, you are improving your body's internal ability to burn calories. It's like upgrading your body to become a lean, mean, fat-burning machine.
And unlike those suspicious diet pills, you can buy on shady sites, the Calibrate program is safe and scientifically sound. At each step, you are guided by licensed, board-certified physicians. 
The FDA also cleared the prescription medicine widely used in clinics. So you know it works, and you know it's safe.
The holistic, one-on-one support is also a differentiating factor. Since it's personalized — and even based on your lab results and health history — you are more likely to get the program, information, and support you need.
Thus, it can be a powerful weight loss tool for people who have tried many diet and exercise programs but failed.
Why didn't we give it a perfect 10? Because of the Android app issues. It's not a deal-breaker, but any digital or online service has to provide a good user experience. 
That's part of customer service and a big part of letting customers monitor results and be accountable.
Hopefully, Calibrate's tech team will fix that soon. Otherwise, the actual weight loss program is worth every penny.
FAQ
References & Citations
Harvard University, https://www.health.harvard.edu/diet-and-weight-loss/does-metabolism-matter-in-weight-loss#:~:text=If%20your%20metabolism%20is%20%22high,than%20others%20without%20gaining%20weight. Accessed 8 August 2022.
Cleveland Clinic, https://health.clevelandclinic.org/metabolism-plays-a-major-role-in-weight-loss/. Accessed 8 August 2022.
MedlinePlus, https://medlineplus.gov/druginfo/meds/a611003.html#:~:text=Liraglutide%20injection%20is%20in%20a,it%20is%20used%20for%20energy. Access 8 August 2022.
MedlinePlus, https://medlineplus.gov/druginfo/meds/a619057.html. Accessed 8 August 2022.
MedlinePlus, https://medlineplus.gov/druginfo/meds/a614047.html. Accessed 8 August 2022.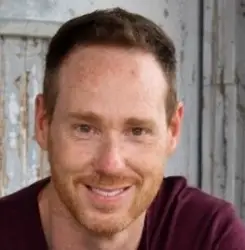 Latest posts by Jeff Carpenter
(see all)